Earlier this month Foo Fighters headlined the CalJam festival, taking place at Glen Helen Regional Park in San Bernardino, California. It was the second annual outing for the festival since being revived by Dave Grohl a year ago.
The musical events of the festival have already been well documented in the press including, of course, that much talked about NIRVANA reunion. The music wasn't the only attraction at the Foo Fighters curated festival, however.
Attractions were spread across the huge festival grounds including a water park, outdoor movie theater and the "Foo Fighters Rock N Roll Museum", situated inside a tent on the grounds.
Thanks to fan Michael Yanoska we can share just what was inside the specially curated museum, with lots of rare and previously unseen to the public items on show.
Demo listening station
Perhaps the most exciting area inside the museum was a listening station, with headphones provided for fans to check out some Foo Fighters related audio. Whilst many might have expected the station to merely feature regular album tracks, or perhaps the odd B-Side, what in fact was being played was far more interesting – unheard demos!
Michael explains – "it was about 20-30 seconds of each, no vocals, and they'd be interspersed with clips of studio chatter. Then [album] songs that would have their stems isolated as they played".
Those clips included an early version of 'The Pretender', which many hardcore fans and readers of this site will probably know was originally titled 'Silver Heart'. According to Michael this was an early version with no orchestration and the main riff of the song played in half-time.
A demo version of 'Long Road To Ruin' followed as well as 'White Limo', 'Something From Nothing', 'Dear Rosemary' and what Michael describes as a "Really fuzzy, grungy version" of 'Run'.
All of the demos were instrumental versions with the exception of 'Long Road To Ruin', which featured simple phonetic placeholder lyrics. The studio chatter was from various sessions, with one snippet featuring discussion about Butch Vig and another from Electrical Audio in Chicago, during recording of 'Something From Nothing' in 2014.
Will these demos soon see release for the rest of the fans to enjoy? We can only hope.
Rare tapes
Moving onto the physical museum exhibits, the first point of interest are several cassette tapes. The first is interesting in itself if not unique in content, one of the original tapes that the self-titled album was recorded onto.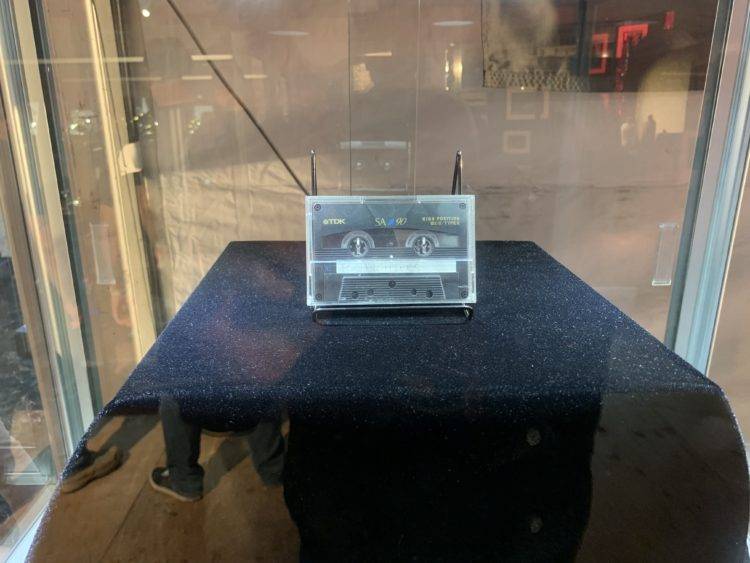 In the next display case was something quite special, and an item that we didn't know existed previously.
A demo cassette labelled "This Is A Call Demo – Me & Chris". As this was included alongside other self-titled era items, one has to make the conclusion that the Chris here is Novoselic, not Shiflett. Despite his legal name being Krist, throughout the 90s he did switch between that, and the English version of the name. We've long known that Dave recorded a handful of his songs with Novoselic, but this is the first indication we have that the pair specifically recorded together on 'This Is A Call'.
There were rumours in British media in late 1994 that Foo Fighters would include Krist as a member, and that they'd recorded demos together, so this tape seemingly backs up that report.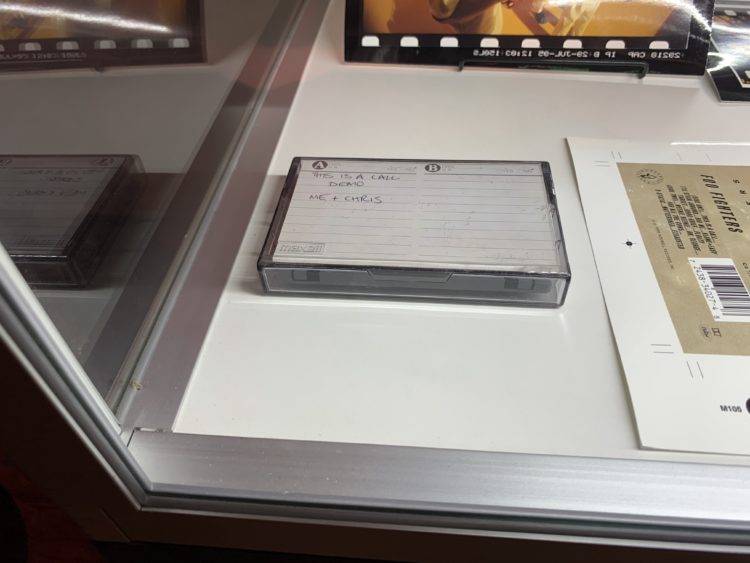 Just as exciting is the next cassette. Record Store Day 2015 saw release of 'Songs From The Laundry Room', an EP featuring four demos recorded by Dave in the early nineties. In an interview with Rolling Stone magazine at the time Dave explained that he actually wanted to put out a recording of Foo Fighters first ever show, but they couldn't source the tape.
"There's a tape, we've been searching for that tape for fucking years," he told the magazine. "Somebody has it. I think I know who has it, but someone's got it and we've been trying to get it, and that's actually what I wanted to release – but we just couldn't get our fucking hands on it."
Well, three years on and apparently, here it is.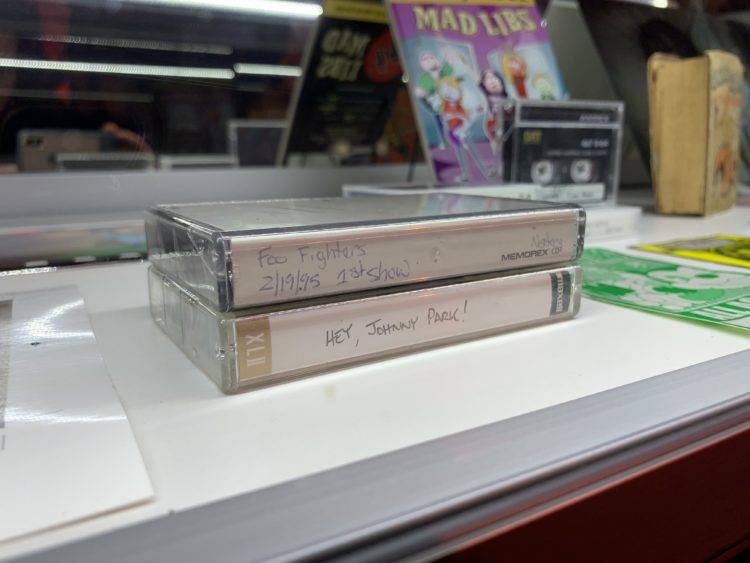 Unless this was a dummy/fake just for show, the fabled cassette has seemingly been found and is in Dave's hands. Once again, we can only hope the recording will now see release in the near future.
Other tapes were also on display in the same case, including final mixes of the Probot record and on top of that a mysterious DAT which appears to read "D.G. @ 606 Running #1 7/20/06". The date is three days after the first leg of the 2006 US acoustic tour, but what Dave was recording in the studio around this time is a complete mystery.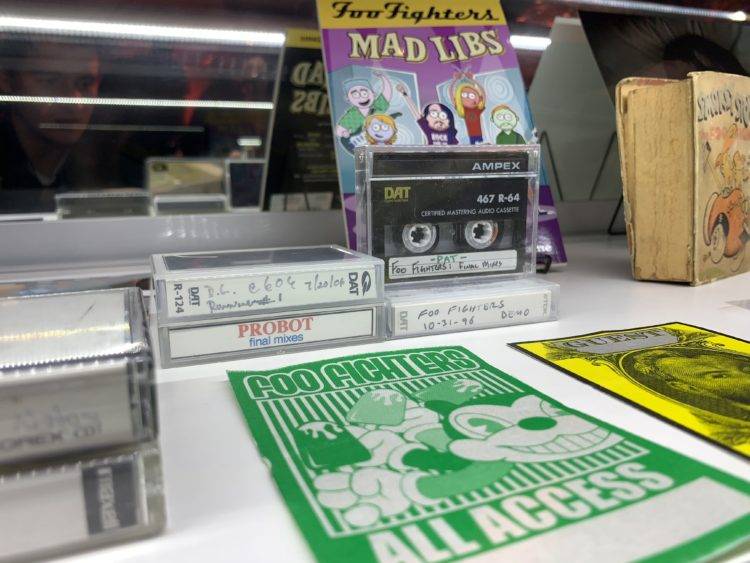 Next to that are two further DATs, firstly a demo dated 10/31/1996. This is almost certainly the complete pre-production demo we know to have taken place that month at Barrett Jones' Laundry Room Studio in Seattle. Early versions of 'Hey, Johnny Park!, 'Monkey Wrench' and 'New Way Home' among others were recorded here, as the band prepared for recording second album 'The Colour And The Shape'.
On top of that is again another ambiguous tape, simply listed as being final mixes of something either featuring Pat, or intended for Pat to listen to.
One final cassette is rather intriguing, featuring five songs that appear to have been written and recorded for/with Wool. Wool were a band formed by Franz and Pete Stahl following the demise of Scream in 1990. Dave Grohl had joined Nirvana and bassist Skeeter Thompson had gone AWOL, so the Stahl brothers therefore decided to move on and form a new band. Wool supported Foo Fighters on several shows in 1995, and this tape only further highlights how close Dave stayed with the Stahl brothers, despite him leaving Scream.
'Rock song for Wool', 'Test', 'Happy 4 Wool', 'Me + Franz' and 'Another jam' are the rather generic titles listed as being on Side A of the tape. What these songs actually manifested into, if anything, we don't know. With no date on the tape, it's impossible to say whether they pre-date Foo Fighters or not.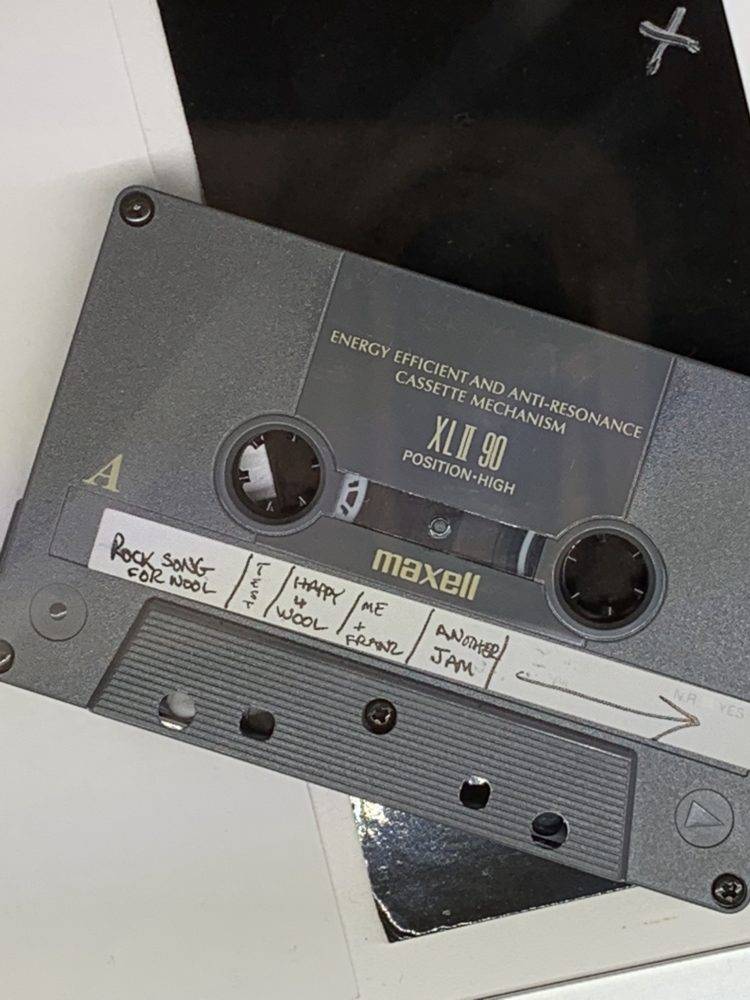 Lyric Sheets
Moving away from tapes also on display were many original lyric sheets for Foo Fighters songs, featuring Dave's handwritten layout of the songs. Songs included are 'The One', 'Have It All', 'DOA', 'The Feast And The Famine', 'Something From Nothing', 'Congregation', 'Saint Cecilia', 'Concrete And Gold', 'Best Of You' and 'Friend Of A Friend'.
Recording Song boards
Anyone with an interest in Foo Fighters studio recording sessions will be familiar with these boards. They would hang in the studio during recording of albums so that the band could easily keep track of what has been recorded, and what still remains.
Unfortunately for us hardcore fans photographs of these boards have in the past usually been obscured in some way, or simply too small/low quality to make out every detail. Not any more.
First up we have the board used during recording of 'Echoes Silence Patience And Grace'.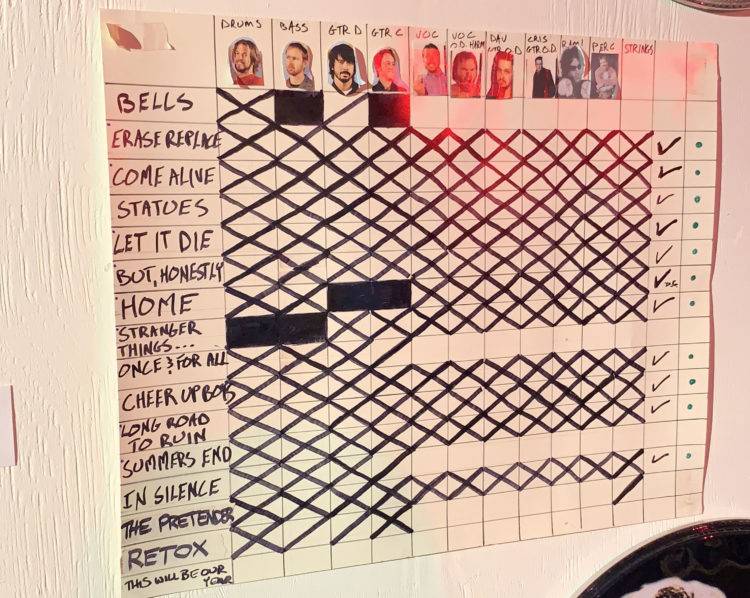 We can now clearly see all of the photos of those involved at the top of the board. As well as the then four main members of the band we can see what appears to be Jack Black under the tag 'VOC O.D. HARM'. As his participation in this session has never been mentioned we can only assume the use of his photo was something of a joke, instead of including a third photo of Dave.
The next photo is one we can't identify, but again it appears to actually be a Grohl track, 'DAV GTR O.D'. Likewise for the next photo, which is titled CRIS GTR O.D. Do you recognise either of these photos? Let us know!
[October 23rd EDIT – Reader Ana has pointed out that the photo to the right of Jack Black is Dimebag Darrell. Dimebag passed away in 2004, reinforcing the theory that these photos were just for fun/in tribute, and not inidicitive of who actually performed on the recording]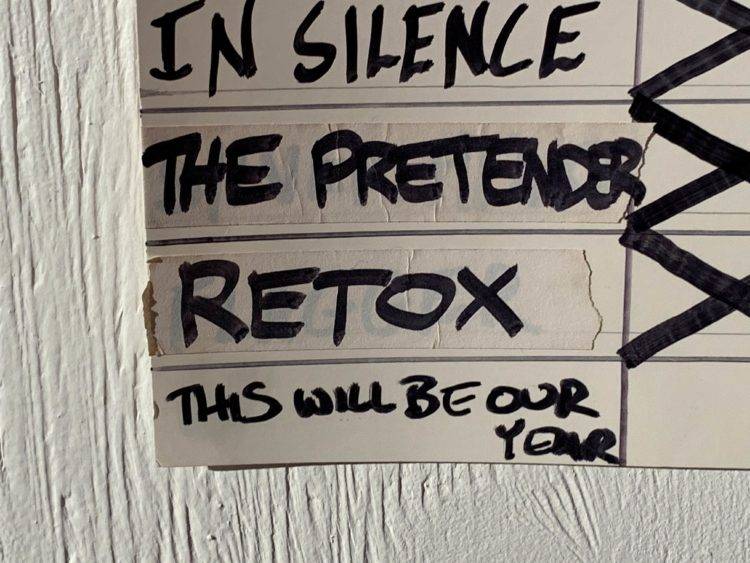 On the left side we see the song titles, the only 'new' one to us is "Retox", but as you can see from the close up photo, that was actually taped over 'Flagger', AKA White Limo. This seems to have happened a few times, although it's unclear if they've simply updated the titles, or switched out the songs they recorded entirely. The former is most likely.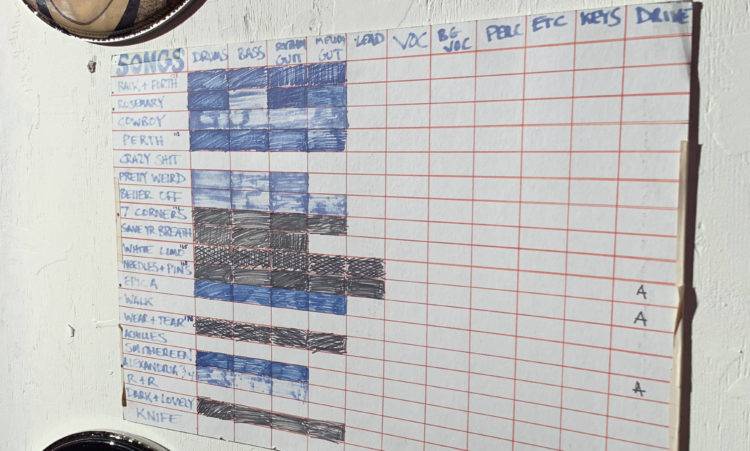 This board is one we saw a very small part of during recording of 'Wasting Light', now available to see in all it's glory. It's not the final song board, but rather one from pre-production, so lots of song titles are clearly working titles. Titles not previously seen or in full include 'Cowboy', 'Perth', 'Crazy Shit', 'Pretty Weird', 'Needles + Pins', 'Epic A', 'Wear + Tear', 'Achilles', 'Smithereen', 'R+R' and 'Knife'.
If you have any thoughts on which known songs these might have been working titles for, let us know!
Other Items on display
Lot's of other items were shown off at the museum including awards, photographs, a 'Me, Myself & Irene' themed mock medicine bottle for Nate and what appears to be the original Buck Rodgers XZ-38 Disintigrator, used on the cover of the first record.
Huge thanks to Michael for sharing his experience at the festival with us. All photos are copyright © Michael Yanoska used with permission.