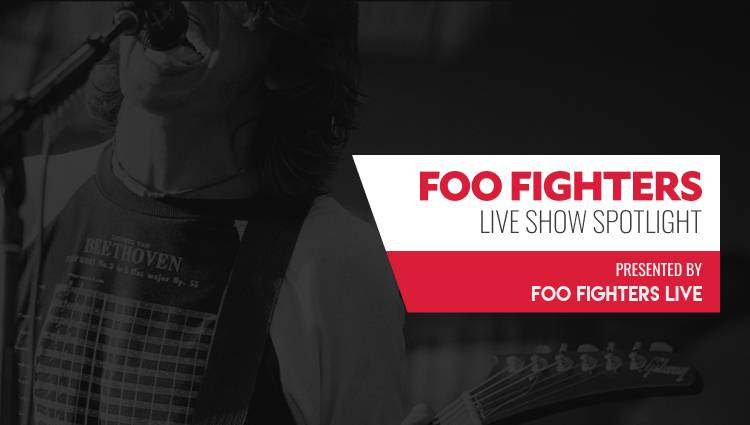 February 19th, 1995 in Seattle, Washington. That was the date and location for Foo Fighters first ever live performance. In the 23+ years since then the band have performed live over 1000 times, from tiny clubs and arenas to the biggest festivals in Europe, and more recently, headlining huge stadiums around the world.
Over that time those performances have been recorded countless times, either by audience members or professional crews from radio and TV stations. In our database we currently have over 1300 recordings listed, some covering entire performances, some only partial recordings.
Many of these recordings and shows are well known to Foo Fighters fans, with many favourites. The PPV broadcast of their show at The Tabernacle in 2000, the MTV broadcast of their 1995 Brixton Academy show or more recently, their headline slot at Glastonbury Festival 2017. The list could go on.
These shows are regularly talked about by fans as some of their best, with the recordings racking up hundreds of thousands of views on YouTube.
But what about the lesser known shows? Shows that might have been equally awesome, but fans might be less aware of? We've decided to start this new feature to give the spotlight to some shows with recordings that fans may not have heard or seen.
Each week we'll showcase a different show, giving you the chance to enjoy some great performances and recordings that you may have previously passed on as "just another show", or didn't even know existed.
We'll give a rundown of what happened in the show, any standout performances or moments and of course, a link will be posted for you to download them.
Some weeks will be great sounding fan recorded audio, some weeks may be not-so-stellar recordings, but still selected because of what we believe to be a great performance. There are even some great shows with lesser-known videos we'll feature.
So without further ado, here is this week's selection.
March 21st, 2000 – The Fillmore, San Francisco, CA
Throughout pretty much the entirety of the year 2000 Foo Fighters were out on the road, with 139 individual performances across the 12 months. These included a long run supporting Red Hot Chili Peppers in the United States, a busy Summer with festivals in Canada and Europe and ended with their own headline shows in the US and UK.
Three days before the start of the Chili Peppers support tour the band were in San Francisco for a headlining warm-up show at the legendary Fillmore. Fresh from a three week break after a short promo tour in the UK, the band were on fine form. Dave's voice was sounding sharp, the band were a little loose and the energy in the room was high.
The band eased the crowd into the show by starting with 'Aurora', already a fan favourite from their then new album 'There Is Nothing Left To Lose'. Dave let out a raucous scream to kick into the heavier part of the song and the crowd reciprocated. They then kicked straight into an energetic version of 'Breakout' and continued into then current single 'Learn To Fly', Foo Fighters already sounding like a well oiled machine even at this warm-up show.
Dave Grohl briefly says hello to the crowd following the song and recounts the last time the band played this venue, a promo show for Miller Genuine Draft beer in 1997. He explains how he played a drinking game with the crowd that night which didn't end well for him, leading to a rather drunk cover of a rock classic. Sadly, there are no recordings available for that particular performance.
The show continues with a mixture of songs from their second album 'The Colour And The Shape' and the recently released 'There Is Nothing Left To Lose'. Songs like 'My Hero' and 'Hey, Johnny Park!' are full of energy and the crowd seems to enjoy the softer, new song 'Ain't It The Life'.
The songs were interspersed with Dave's usual frequent crowd banter, with his love for Rush not seeming to go down well with some parts of the crowd.
Dave dedicates 'Monkey Wrench' to the person whom he describes as "the greatest rock and roll star of this new decade" but before he can announce who it is a crowd member suggests Kid Rock, amusing Dave. He instead announces the person he is talking about – "Andrew W-motherfucking-K".
Now, unrelated to this show but if you have 15 minutes to spare (or perhaps more, depending how far you want to delve down the rabbit hole) there has long been a conspiracy theory online that suggests W.K. was merely a rock persona 'creation', and that Grohl was ultimately behind its initial creation.
As with most conspiracy theories it seems rather far fetched and with little real evidence, but feel free to check one such theory out, bearing in mind his first EP was released just four months prior to this show.
Next up is 'Alone + Easy Target' which kicks off with a jam and part way through devolves into Taylor jamming on Pink Floyd and a full blown drum solo, quite rare for this time in their career. The band continue to have fun playing around with the song, the crowd clearly enjoying the show.
'Everlong' is played next in what today seems like an unusual slot mid show, then it was time for some 'Stacked Actors'. Just a few months after release the song hadn't yet evolved into the 10 minute jam-fast it later became, but this performance was even more unique.
Right from the start of the song Nate suffers a problem, with his bass cutting out entirely. Instead of stopping the show whilst it was fixed the rest of the band continued jamming on the song and Dave took the opportunity to tell a story. The tale centred on Nate and his adventures in a European airport a few weeks earlier, on the hunt for something to eat. We'll not spoil it here if you've not heard it before, but suffice to say Dave knows how to tell a story, even when he wasn't there.
His bass is eventually fixed and the song is finished, packed with energy. At the end of the song Dave tells another story to the crowd, this time about Peter Frampton and his use of the talkbox, which featured on the next song played, 'Generator'. The set continues on with a pretty balanced mixture of songs from their then three albums, with album tracks like 'New Way Home' and 'My Poor Brain' thrown in amongst the singles and fan favourites.
The band were clearly enjoying themselves and bounced off the energetic crowd. 'Big Me' was played alone by Dave, followed by 'My Poor Brain' and 'See You'. 'Next Year' was next up, but before they started it the band briefly jam on the Pink Floyd song 'Fearless'. A tease perhaps for what would follow.
Dave headed behind the drum kit and Taylor out to the front mic for a full length Pink Floyd cover, 'Have A Cigar'. The band originally recorded a studio version of the song whilst recording 'There Is Nothing Left To Lose' but had also just re-recorded a second version a couple of weeks before this show, featuring Brian May of Queen. Dave enjoyed himself during the song, throwing in a few extra fills which the crowd appreciated.
The set was nearly over, but there was just enough time for a very brief tease of Pearl Jam's 'Alive,' followed by an impersonation of lead singer Eddie Vedder. The set was then closed out with 'I'll Stick Around'.
All in all the show ran just over an hour and forty minutes, a long show for this era of the band and one that hopefully more fans will now be aware of and appreciate.
So what of the recording? Well, It was made by a fan in the audience and whilst it was shared amongst a few fans shortly afterwards, it wasn't until 2012 that it really widely circulated by this very website, thanks to an 'old school' trader who wished to remain anonymous. The quality is excellent for an audience recording, with a clear, sharp sound capturing the band and atmosphere of the small venue brilliantly. As far as audience audio recordings go, this one is right up there near the top.