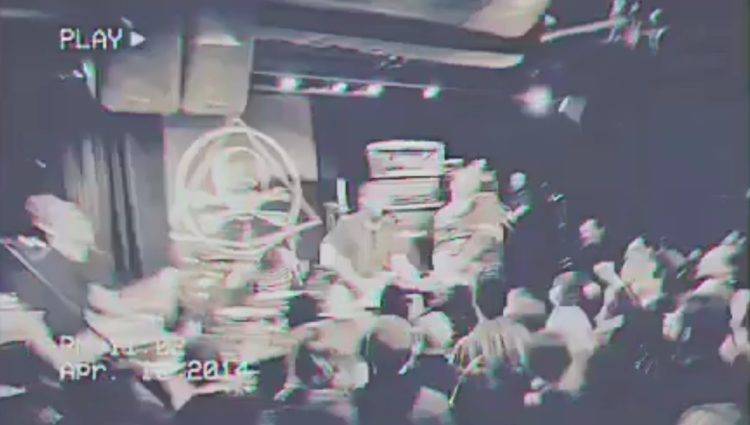 Days before the Cal Jam festivities are due to kick off, Foo Fighters have taken to their trademark cryptic posts hinting at huge events to come – this time suggesting something is in store for Nirvana fans.
Six hours ago, the band shared a short camcorder-style clip with a screencap of a slightly blurred band onstage, which is recognizable to fans as Saint Vitus, Brooklyn, NYC. The clip is also timestamped April 10, 2014 – the night that the surviving members of Nirvana and their friends gathered in Saint Vitus to play a nineteen-song set for two hundred people, after their induction into the Rock and Roll Hall of Fame. The cap used is very similar to the photo taken by Foo friend Dustin Rabin from that same night. Cameras were rolling at the event and Dave recently said re: the footage, "It really was amazing. It was something else. Someday, I'm sure everybody'll see it."
But it goes deeper. Fans have already done some decoding and figured out that the audio used in the clip is a live performance of 'Serve The Servants' edited to play backwards.
With such a specific allusion to this moment in Nirvana's history, the obvious conclusion to be drawn is that the band will be releasing the footage from that once-in-a-lifetime gig in one form or another, specifically at Cal Jam. The festival will already have an outdoor movie theater ready to go, should that be the plan.
But does it go one step further than that? It hasn't escaped anyone's attention that Krist Novoselic's band Giants in the Trees is in the Cal Jam line-up, and Krist joined Foo Fighters in Seattle to dust off Nirvana's cover of 'Molly's Lips'. Also performing at Cal Jam is Deer Dick, and member John McCauley took the lead on 'Serve The Servants' at Saint Vitus. The band's social media accounts have also announced a screening of Joan Jett's new documentary Bad Reputation, with the note, "WONDER WHAT OTHER SURPRISES WE HAVE UP OUR SLEEVES…. STAY TUNED…" Joan Jett, who also helped out with lead vocals at the Hall of Fame and Saint Vitus, has no concert dates booked at the same time as Cal Jam, leaving her schedule free to make an appearance, too.
If an onstage performance is part of their bigger idea, they already have all the ingredients to make it.
Edit: With subsequent posts calling out Joan Jett and John McCauley against a backdrop of further snippets from the Saint Vitus gig, it's safe to say our interpretation was bang on the money.