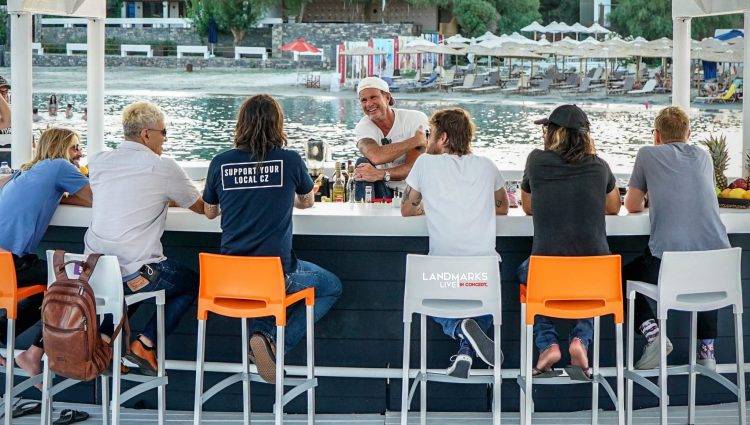 When a new Foo Fighters album is about to be released, every day for a fan is like Christmas, and today is no exception as the band offered up new song #6 from their upcoming release Concrete & Gold, 'Arrows', at their once-in-a-lifetime concert in Athens, Greece.
"Arrows in her eyes/fear where her heart should be" leads the soaring chorus, the song containing many of the elements that create the signature Foo Fighters sound. As the track they intend to contribute to 7 Inches for Planned Parenthood has not yet been announced, and this song appeared in publishing repertories earlier than those for Concrete and Gold (along with 'The Sky is a Neighborhood'), speculation is kicking up that 'Arrows' could be it. Regardless, it is already a strong offering from what is shaping up to be an exciting album.
The concert was held at Herod Atticus Theatre, a stone venue in Acropolis, Athens dating back to 161 AD. Earlier, Chad Smith – Red Hot Chili Peppers drummer and host of Landmarks Live, for whom this concert was filmed – interviewed the band as they arrived in Greece, which will form part of the recorded special. While initially announced as an acoustic, invite-only event (due to concerns from the Central Archaeological Council about the nature of the show and the heavy equipment required), tickets were made publicly available and the show went ahead fully plugged in.
This performance will go to air in a matter of months on PBS in the United States. In the meantime, enjoy an audience shot of the band debuting 'Arrows' in Athens, courtesy of YouTuber Roxx gr:
Setlist:
Times Like These
All My Life
Learn To Fly
The Pretender
Cold Day in the Sun
La Dee Da
Walk
These Days
My Hero
Dirty Water
This Is A Call
Arlandria
Rope
Arrows
Monkey Wrench
Sunday Rain
Best Of You
Run
Everlong
On the list but not played: Wheels/The Sky Is A Neighborhood