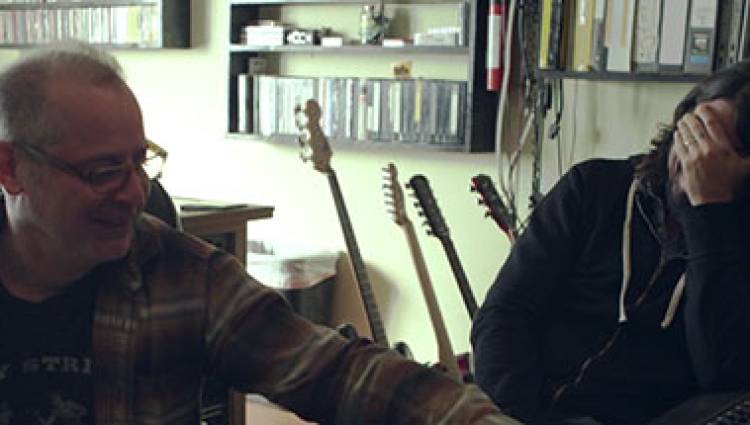 Following the airing of the Seattle episode of Sonic Highways there have been several discussion points, one of them being the sampling of the track 'Hooker'. Yesterday someone uploaded the full song to YouTube and the media have begun reporting on it, declaring that Dave Grohl released it and even that the full song was debuted in the episode. They even decided to call it 'Hooker On The Street' for some reason. So, what are the real facts?
Well, technically the song had it's first public airing in the summer of 1994. Yep, that's right, 1994. Barrett Jones appeared on Seattle radio station KISW and played a selection of tracks he had recorded and produced at his Laundry Room Studio over the years. Mid way into the broadcast Barrett began to discuss his work with Dave at the studio and then proceeded to play a demo version of 'I'll Stick Around' which he claimed at the time didn't have a proper title, only an unpronounceable symbol.
Following that he then played the track 'Hooker', in full. Amazingly this broadcast seemingly went undocumented at the time and apparently nobody recorded it, lost in time, Foo Fighters fans totally unaware of it's existence. That is until October 2013 when Barrett Jones added a Jukebox music player to the Laundry Room Studio website. On that jukebox was a recording of the entire 1994 KISW radio show, including both songs. So, that is when and where the 'Hooker' song was first "unearthed", although clearly it went un-noticed by mainstream media. A small part of the track was then played in the Sonic Highways episode, followed by the YouTube video, sparking media interest.
The track is still up on the jukebox, which you can access here. The first item in the playlist is the relevent recording, where both the 'I'll Stick Around' demo and 'Hooker' can still be heard. Note that across this broadcast, the Sonic Highways snippet and in the credits for that episode the song is only ever referred to as 'Hooker', so that is what we believe the full title to be.
So there you have it, FooFightersLive.com, setting the record straight. 'Hooker', debuted 1994, 'unearthed' in October 2013.