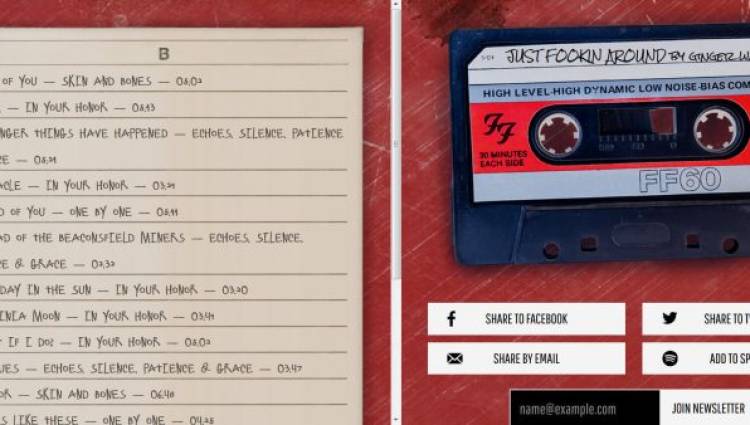 May 12th update – it has returned! https://mixtape.foofighters.com/
Fans got a new toy to play with for a couple of hours when they discovered a feature on the band's official website that let them assemble a virtual mixtape, loaded with clips of their favourite Foo tracks.

Up to sixteen clips could be chosen, spanning every album in their catalog, and when they were done, a link was generated to share their mix across social media. The band themselves got the ball rolling, although they had too many selections to fit onto one tape, and shared a Spotify link with what was dubbed The Ultimate Foo Fighters Playlist.
However, before the tape-sharing could gain much momentum, the link was disabled and redirected to the now-very-familiar flight schedule. It is possible that the link came out prematurely and/or was still being tested. Having a preview of what they're up to, though, fans are speculating on its purpose and how it relates to their current tour schedule, if it does at all. It's hardly the first time Foo Fighters have put a game or teaser feature as a sub-domain on their website, and they always turn out to be linked with a major event like a single/album release or a tour announcement, so knowing their modus operandi helps to come up with ideas of where this could be going.
Keen-eyed fans would have noticed that the initial link's summary card showed a cassette tape with text that read "get exclusive content on Foo Fighters mixtapes!". As the availability of the link was so brief, it's not known if such content was accessible, but this was/is the intention of the mixtape page and the nature of the content is open to interpretation. Knowing that an album announcement is imminent and that we were treated to teasers during the Cheese & Grain show, one exciting possibility is that the brief clips that constitute the mixtapes could include some mystery tracks. Foo Fighters have previously used their website to generate hype for their upcoming album with short snippets of their latest work.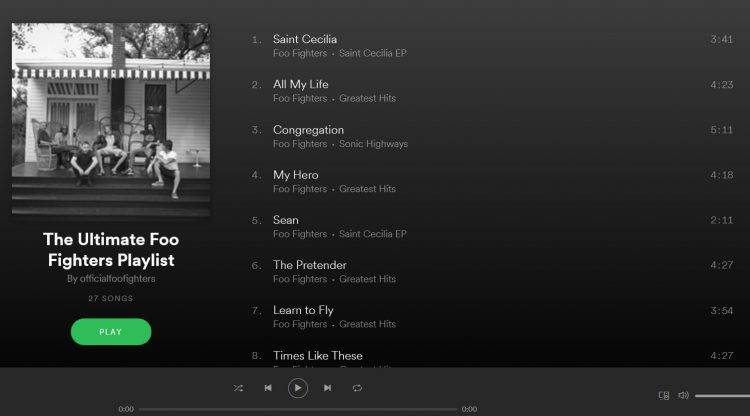 Another idea relates to the timing of its release in conjunction with the announcement that they will perform at Corona Capital in Mexico come November. Prior to their last shows in Mexico – which, as previously discussed, were revealed to have helped fund the Sonic Highways project – the band ran a poll (link now defunct) to find out which deep cut fans wanted them to play at Foro Sol. They may have opted out of playing a track from the vaults after all, but in doing so, they set a precedent for crowdsourcing the songs the fans want to hear. While it's less likely that the mixtape was created for this purpose, it would serve as an interesting method of seeing which songs are in higher demand.
We're told that the web guys who created the 'Obelisk Airlines' online campaign leading up to the Glastonbury announcement have been retained to continue the adventure. Although this blink-and-it's-gone link appeared to be a test, its imminent official launch will keep us equally as intrigued.