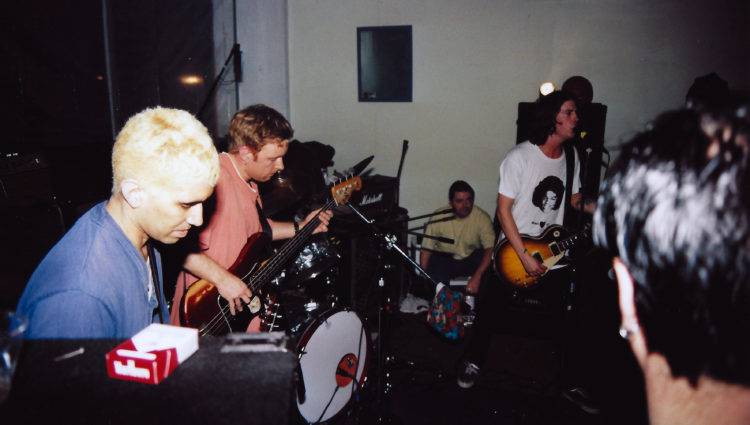 On February 19, 1995, the people of the world went through the motions like any other day – even those in Seattle, for whom it barely registered that something seemed to be going down in an ordinary store on Mercer Street. Why would they? Meanwhile, on the second floor of West Marine, a retail chain selling boating and fishing supplies, families and select friends squished into the limited space and keenly waited for the night's events to unfold. It was a strictly private show for a new band, with members who were decidedly familiar. Rather apropos for a boating store, the lineup for tonight's entertainment was made up of musical castaways, survivors returning to shore.
The band plugged in and Dave Grohl, Nate Mendel, Pat Smear, and William Goldsmith erupted. That night, Foo Fighters performed live together for the very first time.
FooFightersLive.com has previously written about this show to mark its 25th anniversary. However, photos of the show have been as elusive as any recordings. A couple have popped up but with hardly any quality sources verifying the photographers.
So it was with great excitement that we got in touch with Rick Guerra, a musician and fan who boasts an impressive personal collection of rock photography. It so happened, from being on the scene, that he was at this game-changing show above West Marine, and Rick kindly took the time to locate and scan all his original photos. Then, they were restored by myself by removing faint dust specks and blur where possible, and making tonal adjustments.
The full collection can be seen on the show page on our website.
Rick Guerra sets the scene for us and shares his memories of the performance:
"I was invited to this show because I was in a band with William Goldsmith, and our singer, "Greedy" Greg Williamson had done live sound and studio work for Sunny Day Real Estate and Foo Fighters. This was a small friends and family show in an upstairs loft over Seattle West Marine, a boating supply company. As I remember, there probably weren't more that 25-30 people there, as the space wasn't very big. There was a keg in one of the rooms off the main corridor, and people were milling around on a typically cold and wet February night. I had a cheap Pentax K-1000 camera that I had bought for a photography class a few years earlier. I would take pictures of a lot of bands that would play the smaller punk shows in the Seattle area. I had a small darkroom for black and white pictures and just used a local drug store for developing color pictures. I had a 36 picture roll of Kodachrome 800, and managed to get 37 pictures with it from the night. The set up was small and loud for such a small space.
I don't remember the set list, but the song "I'll Stick Around" really stood out for me in the set. Dave was probably a bit nervous holding down the front man duties singing for the first time, but was belting this song out for all it was worth by the end. I don't remember there being a lot of talking between songs. I do particularly remember Pat's smiling as he was playing with his eyes closed. I was a little start-struck seeing him, after watching Decline of Western Civilization so many times and listening to The Germs for so many years. The set was pretty short, made up of most of the first album. The night ended pretty early, and I'm pretty sure I got home before midnight.
The set list is probably the same or very close to the show at the Velvet Elvis a couple weeks later. I was at that show taking pictures of the opening band, Aveo, with other band members I had played with at various times. That show was a bit bigger (I don't remember the capacity of the Velvet Elvis, but it was small), and it was going to be a "secret show". A radio DJ leaked the details earlier in the day and when I got there, there was a line of running out the alleyway entrance and around the block. I thought about calling the Rolling Stone or Spin to see if they were interested in my pictures, but I wasn't very motivated to publish them, and just kept them stored in a box as I moved from house to house. Around 2008 or 2009, I scanned a bunch of old pictures and put them up on Facebook. A year or so later someone from a Foo Fighters fan club messaged me asking what was going on in these pictures. At that point, it was thought the first show was in California and this show was off the radar as there weren't any pictures floating around. From time to time, various people would ask questions about them, and occasionally friends would send me links to articles or posts where someone had used one of the pictures I had scanned.
This is the first time all 37 photos have been scanned."
The cherry on top of this great discovery was being able to zoom in and take a look at the first Foo Fighters setlist. Predictably, it was not an end-to-end run-through of the first album, nor were the shows following their debut. In fact, if what they played on the night followed the order on their sheets, the very first song they performed live as a group was a B-side!
The transcribed setlist from the first Foo Fighters live show:
Winnebago
This Is A Call
I'll Stick Around
Butterflies
Floaty
Big Me
Wattershed
For All The Cows
Good Grief
Alone + Easy Target
Podunk
Exhausted
The highest of fives for Rick Guerra for going into his vaults and sharing his collection and memories with FooFightersLive.com. Follow Rick on Instagram and Facebook for more outstanding photos from the Seattle punk scene!
All photos © Rick Guerra, reproduced with permission.