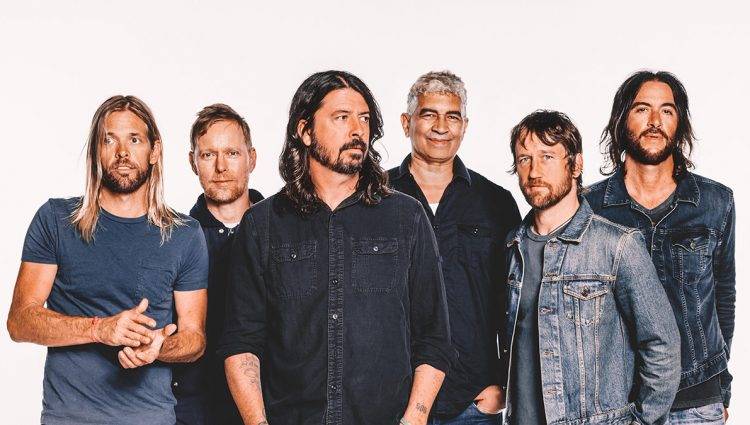 This band gets seriously busy in the lead-up to an album drop. If you've been scrambling to keep up with the latest happenings, we've got you covered with a rewind of the past week in Foo News, September 4th to 10th.
Lollapalooza Berlin
Following up on the wild teaser show at the Metro Chicago last month, Foo Fighters headlined Lollapalooza in Berlin, bringing a few friends to join the party. Jane's Addiction founder and Lollapalooza creator Perry Farrell appeared for another performance of the aforementioned band's hit 'Mountain Song', while musician/model and guest on Concrete and Gold, Taylor Greenwood, lent her vocals to 'The Sky Is A Neighborhood'.
The band sent out a link so fans could livestream the set and take part on screens around the world.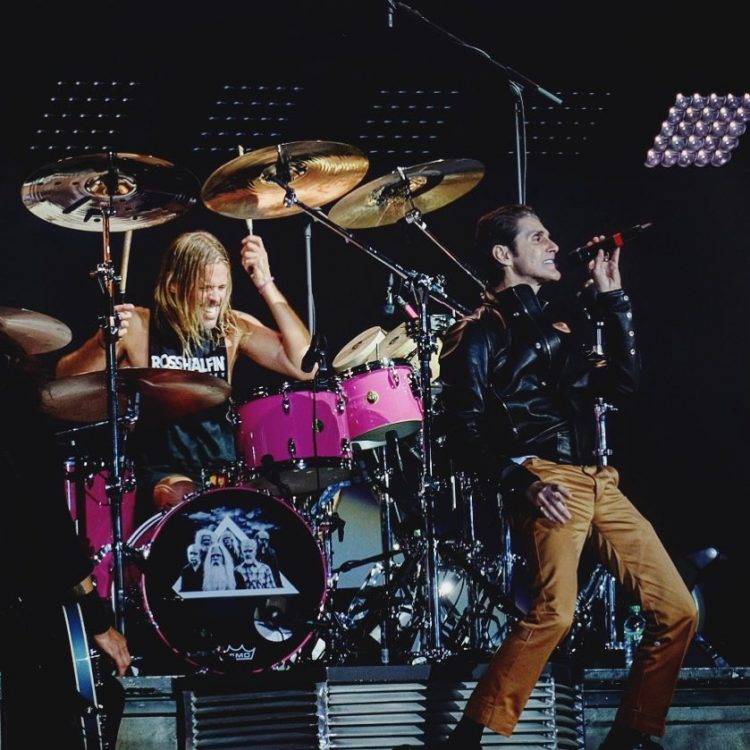 Justin Timberlake Appears on Concrete and Gold
Days before the album's release, Rolling Stone lifted the lid on the heavily-speculated mystery guest when their cover story on the band revealed that Justin Timberlake was, as Dave described it, "the biggest pop star in the world".
The appearance came about after the pair shared whisky in the parking lot of EastWest Studios, and while Justin's contribution isn't quite as prolific as some may have expected (lending some la-la-la's to a song), the fact that he is not credited in the liner notes as seen in images released online has led fans to speculate on which track is his.
Eagle-eyed fans have noticed that on websites where the running time has been published, there are a few extra minutes than the times relating to the tracklisting, leaving room for a hidden twelfth song. In any case, the world will have its answer on September 15.
BBC Radio 1 Live Lounge
Direct from Studio 606 in Los Angeles, Foo Fighters kicked off BBC's Live Lounge Month to celebrate the station's 50th anniversary.
Playing in the middle of the night for a live cross, the band filled their studio with the same energy and hoopla as they would onstage with their latest single ('The Sky Is A Neighborhood'), a past hit ('Best of You'), and their selected cover (AC/DC's 'Let There Be Rock'). A chat with the breakfast show prior to the Live Lounge session saw the band reunited on the air with the infamous 'Naked Guy' from their appearance at Glastonbury earlier in the year.
If you're in the UK you can still watch the performance on iPlayer here and it will also be broadcast on BBC4 later this week. More details on that below.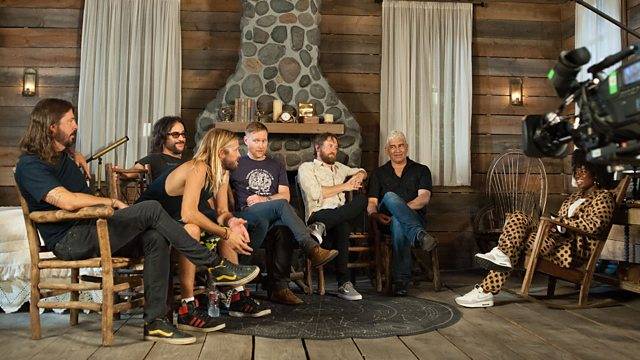 Australia/New Zealand Tour 2018
Days after a whirlwind promotional stop in Sydney, Foo Fighters and Frontier Touring announced that the band would tour Australia and New Zealand in early 2018. They will be joined by local supports in each city and special guests Weezer, who last played with them in 2005 on what was dubbed the Foozer tour.
The first show will be in Perth on January 20, moving on to Adelaide, Brisbane, Sydney, Melbourne, and finally Auckland. Frontier pre-sale (members only) begins on the 19th before tickets are available to the general public on the 22nd.
Secret shows in Barcelona & Stockholm
M80 Radio in Barcelona let the cat out of the bag by announcing that they were part of a special Foo Fighters performance on September 16, at an undisclosed location. For a chance to go to the show, fans must post a photo or video on their Twitter or Instagram, using the hashtag #M80oroFF. More details can be found on the M80 website.
Also revealed this week was another special performance in Sweden. Details are sketchier than the Barcelona date but we know email invitations were sent out by Spotify with recipients reporting that September 14th is the date of the performance. When we know more, we'll let you know.
Countdown to CalJam
Dave was seen in San Bernardino this week, at the site of the upcoming CalJam Festival (tickets still available), to film a promotional video – complete with motorcycles – for the event. Several contests are currently running for fans worldwide to win tickets to the festival, through such outlets as Triple M and JB Hi-Fi in Australia, X92.9 in Canada, and RMX in Mexico.
Upcoming Broadcasts
With the album almost here that means TV and radio broadcasts of performances are likely to ramp up. To make sure you never miss one wherever you are in the world, we've created this handy image which will be updated each week.
If there are any broadcasts you're aware of that we've not listed, please let us know! Of course we also encourage you to record these broadcasts to be shared with other fans around the world that can't see them.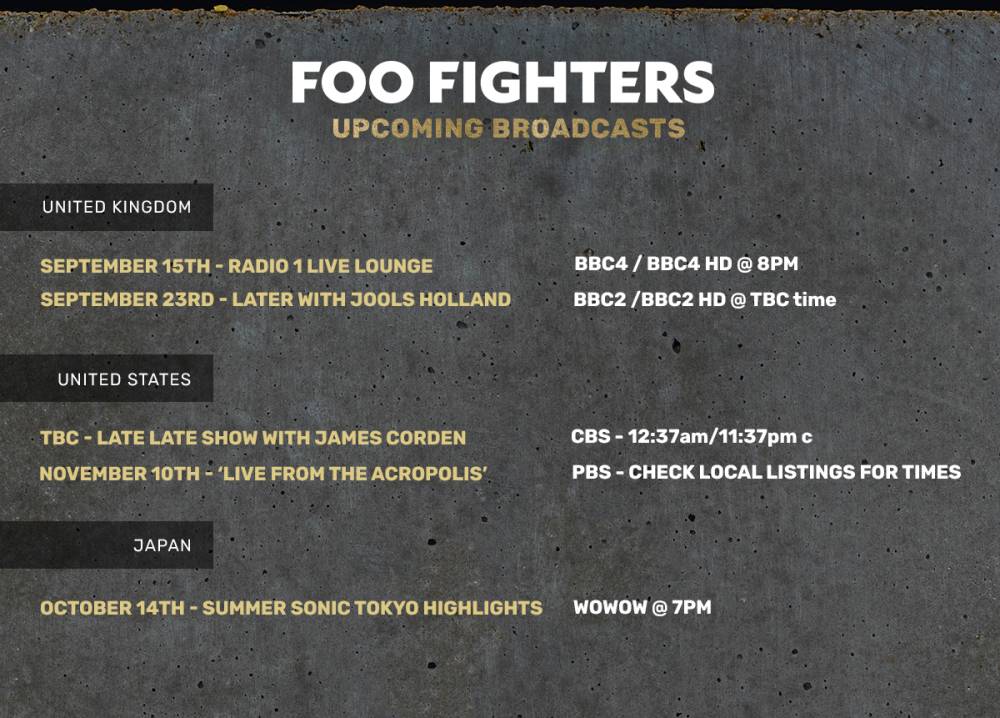 That's it for the rewind this week. Keep an eye out for next week's edition which is sure to feature a lot of news from 'Concrete And Gold' release week!