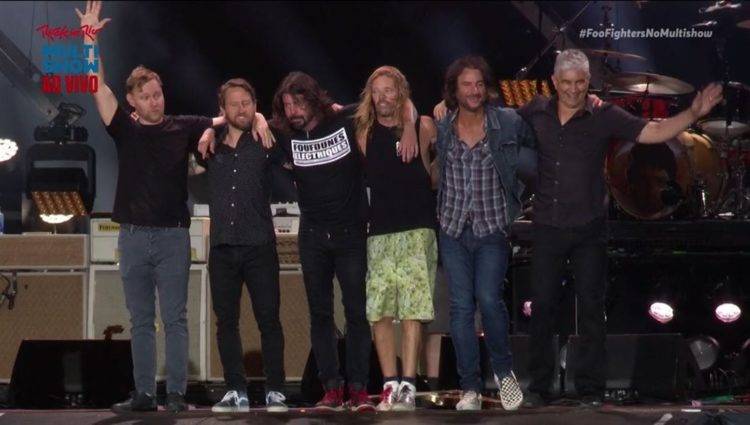 Foo Fighters just finished a face-melting set at Rock In Rio, their third visit to the Brazilian festival.
Beginning just after midnight with no signs of anyone's energy dropping, they sweated, swayed, and screamed back and forth in equal measures. 'Run', the third cab off the rank, received the same extended outro that they played at the Reading Festival, stretching the anticipation like a rubber band before snapping to release. The band seemed to be having fun with adding extra little flourishes throughout their set, from their regular extended jams to unexpected pre-chorus stop-starts.
'La Dee Da' was dedicated mid-song to "Bootsy" aka. Bootsy Collins, another Rock in Rio performer who was brought onstage during Mano Browns' set to wild acclaim and show the kids how it's done.
Dave strolled down the catwalk to meet the people and serenade them with a "love song". As he strummed the intro to 'Big Me', he dedicated the song to Weezer, who were also on the line-up and had toured with Foo Fighters on numerous occasions over the years. He also reminisced a little about his first jaunt in Brazil, playing at Hollywood Rock festival to 100,000 people. The tender moment was book-ended by a man coming out of the crowd to propose to his girlfriend onstage.
As Dave strapped on his gold Gibson and began bringing this show home, he left a parting gift: "We go home next week and we start making the new Foo Fighters record." Dave had mentioned at a previous show that a new album was in the works, but here is confirmation that the band is ready to begin production.
Noel Gallagher adorned Taylor's drum head this evening, continuing the personal petition for Oasis to reunite (and to which Noel himself shot back with his own petition to get Foo Fighters to break up, so that's a firm no, then).
Before the show, the band was presented with awards by Sony Music for regional sales of Concrete and Gold.
Setlist:
The Pretender
Learn To Fly
Run
The Sky is a Neighborhood
Times Like These
Sunday Rain
My Hero
These Days
La Dee Da
Walk
Band intros (Start Me Up/Rapper's Delight/MTV Theme Song/Love of my Life)
Under Pressure
All My Life
Wheels
Monkey Wrench
Big Me
Best of You
Everlong
(On the setlist but not played: Generator, Congregation)
In other news, during a recent interview on Jonesy's Jukebox, Taylor Hawkins disclosed a few details relating to the release of his latest project. First, it will be a new Taylor Hawkins & The Coattail Riders record, their third offering and the first since Red Light Fever was released nine years ago. An iteration of the live band played together three years ago at the Guitar Center's 27th Annual Drum-Off. The latest album is titled Get The Money, with an official release date as yet unknown, and was recorded at Taylor's home studio, with behind-the-scenes clips filmed by BAE Audio.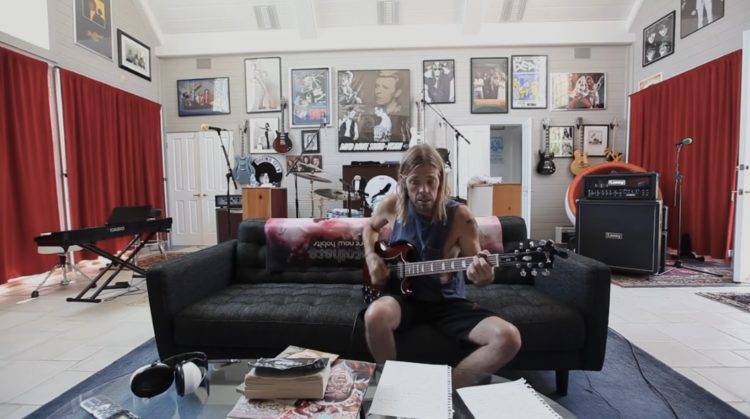 Known guest artists include Dave Grohl, Chris Chaney, Brent Woods, Nancy Wilson, Chrissie Hynde, Leann Rimes, and Perry Farrell. Two tracks from the upcoming release have been played on LA's 955KLOS, including 'Middle Child' and a song that Juliette Lewis showed herself enjoying on her Instagram feed and saying it was "super Cars-y".
Since we last discussed the band's Foo Files campaign, the band has released four more EP's from the vault, each representing either a noteworthy event in their history or a specific era. Second to be released was '00111125', selections from their set at the iTunes Festival on July 11, 2011; following that came '00070725', from their special livestreamed show in their own Studio 606 West. Next, '00050525', highlights of the legendary event at Walker Air Force Base in Roswell, New Mexico; and the most recent, '01070725', a deviation from the pattern to offer a curated collection of studio and live B-sides from the Echoes, Silence, Patience & Grace era.

The numbering system in the titles has been fun for fans who are used to the band's history of cryptic teasers to analyze – the one consistent set between them all has been '25' at the end, signifying their upcoming 25th anniversary. The '00' preceding what is presumed to be date references was perplexing at first, but the current belief is that it refers to the inception of the band.
The latest ESPG collection, however, breaks that rhythm with '01', though attention has been paid to selecting B-sides that were released only on the singles released in the year 2007 ('The Pretender' and 'Long Road To Ruin'), making the title somewhat accurate. If we are to believe that the system is wholly based on dates, the Studio 606 West set is inaccurate, as this event took place on September 5, 2007. The iTunes EP is more in keeping with the format, relating to the day (the 11th) and the year (2011). But whether they are plain errors or a code that will make sense in the future remains to be seen.
So while the format appears to be variable in parts, we are encouraged to consider the Foo Files in anticipation of as yet unknown plans for their anniversary celebrations. We know from tonight and from recent interviews that new songs have been workshopped and their next studio album is coming together. We also know that plans for events and special presentations are as elaborate as they are covert.
What do you think they've got in the works? What would you like to happen? Talk to us about it on Twitter or Instagram!