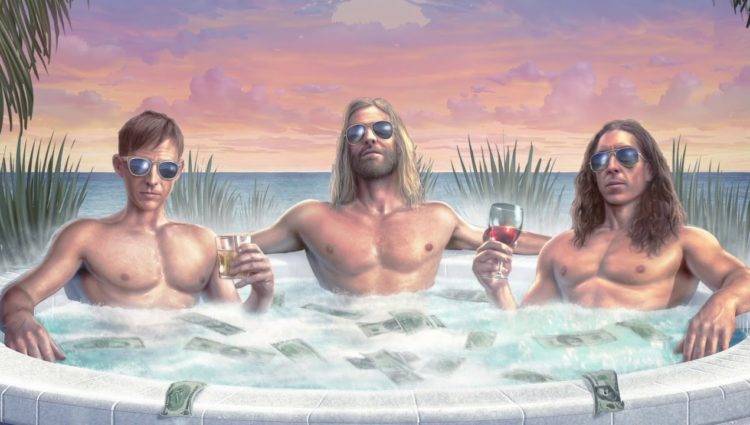 Foo Fighters fans who fancy a walk on the wild side are blessed with a buffet of individual projects and collaborations. Taylor Hawkins & The Coattail Riders is one such venture that stands out in our collective minds, with its distinctive personality and unabashed love for the musical gods before which it bows. It dispels any notion of being a vanity project, beginning with the name and carrying through to the space it makes for friends and heroes to contribute and be playful. Of his many talents, Taylor Hawkins also has a knack for identifying musicians with the will to be weird.
With a long break between releases, the Coattail Riders' third album Get The Money made its debut today (November 8). Its title was bestowed by Joe Walsh after a remark about the grueling Foo Fighters tour schedule, and it's a fitting summarisation of the album's primary theme: A man navigating the implications of middle age and average suburban life, with a day job that's decidedly not average. It might, then, be considered a spiritual second volume of KOTA ('King of the Assholes'), Taylor's 2016 EP. His solo work has always reveled in the musical influences of adolescence that shaped his style, but as time passes, it also becomes a device for exploring ideas concerning identity, such as relationships and lessons learned.
'Crossed The Line' builds expectations to knock them down, beginning with a Cars-like futurist pop (and a wink at his main gig with an echoed "the best, the best") only to erupt in the chorus with pent-up fury. As an opener, this sets up the tone of Get The Money and represents the Coattail Riders' appeal – there are many twists and turns, surprises popping out from all directions like Jack-in-the-box toys, with the result that you're excited to see where the music will take you next. Taylor's influences are obvious but not heavy-handed, and his gift is fusing them without it ever feeling crowded.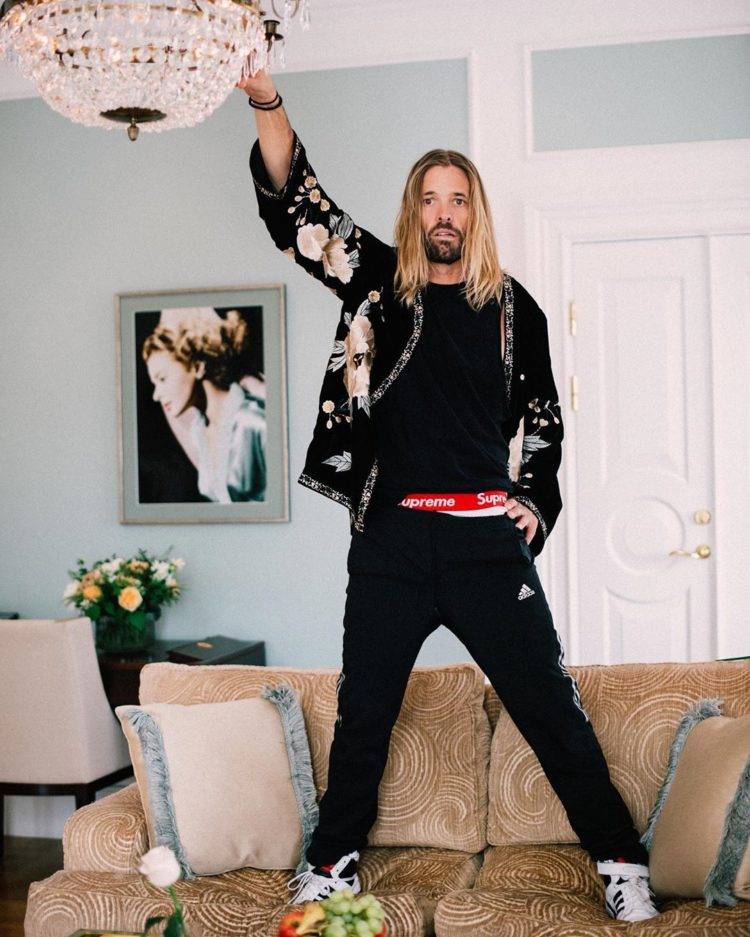 Nancy Wilson makes a perfect companion for 'Don't Look At Me That Way', turning a monologue into a shared consciousness. Cymbals and shoo-be-doo's crash like waves around them, contrasting the interludes that feel like hushed confessions. 'You're No Good At Life No More' (featuring Dave Grohl, as with the opening track and two to follow) stays in that confrontation to a fist-pumping crescendo. (If you're a fan of cowbells and claps, this is the track for you.) The track also introduces the concept of kings and queens as a power play, further related in 'Kiss The Ring'. 'I Really Blew It' brings Perry Farrell into the fold to continue the story of Taylor pondering his relationship struggles, this time writhing and hissing over words that wound, words unsaid, and words someone else wants to hear. It's a three-act play about people who, because they are intimate, know all the buttons to push.
'Queen of the Clowns', with its 'Material Girl'-esque melody leading the verses, is enhanced by Mark King of British act Level 42. The bass and drums play together mischievously, its commotion building into a whirling dervish as the song plays out. 'C U in Hell', featuring Leann Rimes, highlights the strengths of Taylor recruiting artists that fans would not expect in a million years: When genre challenges definition, as it does on many of Taylor's works, it broadens the scope and turns the music into a wide wheat field, through which all are welcome to run. Taylor and Leann's vocals form a psychedelic wave pattern, floating easily from one shift to another – making this collaboration an inspired choice.
'Middle Child' is a love song for Taylor's daughter, and warm thoughts of his "little twin" invigorate this track. It squeezes and sways the way you would when catching someone in a hug. A rock track with such candid affection in the role of fatherhood is, in our current climate, wholly refreshing. Here he is supported again by Dave Grohl, though he is not front and center in this recording – it is very much Taylor's moment and his personal ode.
'Kiss The Ring' ushers us in with a danceable loop and a guitar overlay, the kick drum rattling the proverbial walls of the mix. The king/queen analogy returns – "you're my queen and i'm your king/I wanna give you everything/all you gotta do is kiss the ring" – as Taylor petitions for the lovers to put any conflict in a box and plug in to each other again (figuratively and literally). The album closes with a cover, The Yardbirds' 'Shapes of Things', which sees Pat Smear and Roger Taylor join the fold. Roger is not only Taylor's drum hero turned good friend – this track shows that he is also Taylor's spiritual brother. Add Pat's searing solo over their interlude and it's the perfect note to leave on.
In this writer's opinion, the notion that Taylor "proves" with each release that he is a talent in his own right is a non-existent expectation. His body of work doesn't set out to explain or validate anything; there's no agenda to make a statement about his own authenticity. Taylor is having fun, and the goal of creativity is not to verify that others find what you make interesting – it is to explore and express what you find interesting. As a musician, Taylor is multidimensional, pursues his curiosity, and creates music that excites him. All of this comes together to produce albums that excite us in turn, because the risks he takes to make something stimulate us and inspire our curiosity. That's the very nature of talent.
Get The Money is available for purchase at taylorhawkins.com and through retailers, and via streaming services.
Watch the newly-released official video for 'I Really Blew It', loaded with cameos: