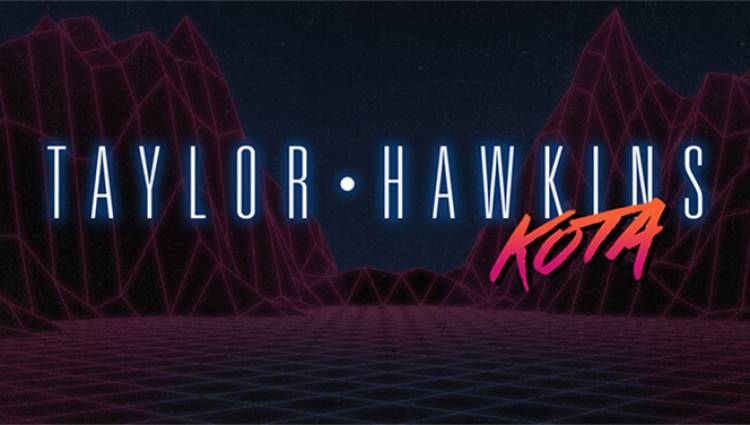 Aah, the "i-hate-us". A hard-earned reprieve, a time for these guys to put their feet up and take a break. Right? Not likely. As we know, these periods are just as creatively productive for them as any other, perhaps more so, and rather than sit still, Taylor Hawkins swung into action. The result: A six-song, twenty-minute "mini LP" entitled KOTA – an acronym of a track that wasn't finished in time for release, 'King of the (use your imagination)" – released digitally on November 11th via his website with vinyl orders going out early 2017.
Crafted over several months in the Hawk's Nest (Taylor's home studio), KOTA offers the testimonial of a musician holding a mirror to his suburban life and speaking plainly about what he sees, but its central themes avoid extravagance and instead give a glimpse at the hustle a guy has to go through at the center of it. While he gets by with a little help from his friends (namely Foo bandmates Nate Mendel and Chris Shiflett, as well as Chevy Metal and Coattail Riders cohort Wiley Hodgden), and it is not yet known which songs they worked on, this is on the whole a solo undertaking. Fans got a taste of the new material with unmastered airings of 'Range Rover Bitch' and 'Southern Belles' on radio appearances in the coming months, as well as the Instagram video shared by friend Hans Rey in late July. But now that the digital download is out, we get to appreciate the full tracklisting in its fully-mixed glory.
The first vignette, 'Range Rover Bitch', isn't at all shy about leveling its disdain at its subject matter – a term Taylor coined to describe the conduct of some of the women in his well-to-do neighborhood. As an opener, it goes in swinging; it chugs and clobbers with only brief pauses to catch its breath. 'Range Rover Bitch' brilliantly showcases the high end of Taylor's vocals, particularly when he lets fly with the screeches that have punctuated his performances in the past – they're used to great effect here.
'Tokyo No No''s disorienting song structure in the verses gives some insight into the frenzy surrounding its back story, a wild night at the Lexington Queen nightclub. "I ain't lookin' for no new friends", the rockstar repeats, painting a lyrical portrait of indulgence and taking what's available. The pace slows in the middle as he pauses to reflect, more meaningfully it seems, on a human connection that was made there and how they might be traveling now. Then, just as we're getting comfortable here, Taylor tosses us right back into the furore. His talents at crafting a song have gone from strength to strength, and 'Tokyo No No' is strong evidence of that.
'Southern Belles' allows us to glimpse back even farther, specifically to his upbringing. This track walks like Led Zeppelin and talks like Wolfmother. Here, as Taylor explores his roots, he seems to classify them into rooms in his mind and doors to be opened or left closed. Yet it's also an affectionate postcard to his family and a kind of eulogy for his departed father. The guitar work punctuates the emotional core of this track brilliantly, and Taylor once again shows why he is celebrated for the personality he brings to the drums; the effect is – like any deeply personal trek – a hard, heavy walk.
Once we reach 'Rudy', however, the time of dwelling is over as Taylor insists on taking stock of life in the present. KOTA is somewhat character-driven with Taylor as our narrator, but the track's idea is something we can all use now and then – a firm but fair slap of reality that the life someone finds themselves with is the sum of their actions alone. Taylor draws on some inspiration from Queen for the track's sound but, like the topic, he doesn't dwell there, creating a soundscape that's straightforward and earnest with thoughtful, considered gaps. This approach lends itself well to the theme of the album.
'Bob Quit His Job' starts off almost comically by telling us straight off the bat that, yes, there's a guy called Bob and that's what happened. The song is about a neighbour Taylor once had and Dave Grohl described it in the Orange County Register as "the stupidest song I've ever heard", but to think of it solely in these terms would be to deny that there's something so relatable about it. Bob's gone and done what we wish we could do. Here's a track that someone's going to blast when that day finally comes and they get to pull out of the carpark, one hand on the wheel and the other giving the finger. It's fun and we often forget that music's supposed to be fun. If you forgot, the ensemble in the chorus will remind you. It's a spirited track that does fit into the story of the album in the sense that it's like, "Meanwhile, there's this guy".
KOTA closes with 'I've Got Some Not Being Around You To Do Today'. The atmospheric intro abruptly gives way to a final story that sounds as much like an escape as it does a journey home. The guitar jitters over a report of home life that urges Taylor out to gather himself. Ultimately, he returns resolved and ready, but the song spins to a climax and cuts off before he finishes his final thought. This will surely be a song that people enjoy driving to, and it's a great representation of Taylor as a vocalist.
Although KOTA has a short running time, it offers a lot for long-time fans and newcomers to take in. It builds on what Taylor has achieved under the Coattail Riders banner and presents him as a substantial and exciting musician in his own right.
Pre-order KOTA on vinyl via www.taylorhawkins.com to receive your free digital download.