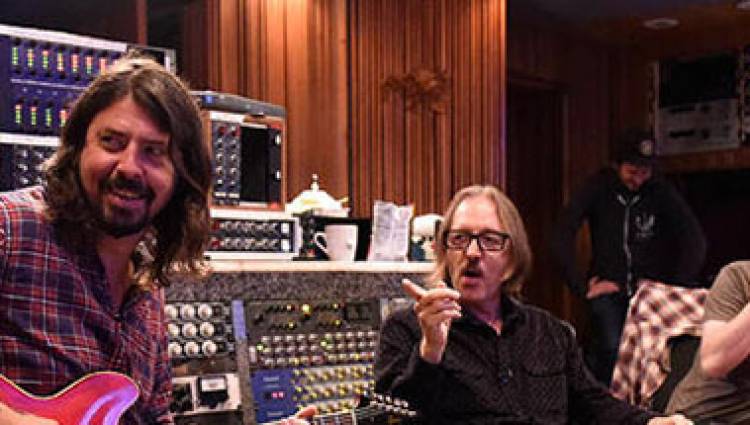 When we first launched this website in 2006 details on the studio recording sessions for Foo Fighters were sparse, and many times flat out incorrect. Songs were attributed to the wrong sessions, dates were wrong, and many sessions were simply not known or listed. Since then we've been doing our best to accurately document these sessions, as well as other Grohl related sessions such as his early pre-Nirvana bands. Today has seen another large update to the site, fixing many errors, adding new information and new recordings. Many of the updates circle around Dave Grohl's early solo recording with new information and recordings becoming known/available in recent months.
Check out the newly updated guide here, and view the full run of what has changed here.
Whilst all known sessions are now listed on the website, there are some sessions currently without detailed write-ups, namely the 8 newest sessions completed for 'Sonic Highways'. We're currently researching these sessions and when more is known, we'll update the guide again with full details on the sessions. For now, the key information is listed, tracks recorded, session members, recordings etc. At the same time as this future update to the site, we will also complete the first major update for the ebook version of this information, '7 Corners: The Recording History of Dave Grohl & Foo Fighters'.
The ebook was released in August 2013 and that initial version can still be purchased via the website here. Everyone purchasing a copy will be entitled to all future updates for FREE.
When it comes to recordings from sessions we of course document every known one available, both officially released and those that were released by other means. The vast majority are the former but there is still a healthy chunk of the latter. Of course on this website we will never distribute officially released recordings in any way but we do distribute non-commercial recordings, with many unofficial studio sources floating around today, in varying quality.
Today therefore we are presenting you with an up-to-date, best quality studio archive download containing every non-released source currently available. Following the link to the download archive below you will find a folder for each session containing a least one recording source. Most of these are in FLAC format but some are MP3, AAC and other lossy formats as they are the only sources available.
You will have a few ways to download this archive of recordings.
– First of all if you want everything in one simple package simply follow the link below and in the resulting window click the 'Download As Zip' button, on the right hand side. This will begin a download of the whole archive, currently weighing in at 1.52GB. Each folder will be clearly labelled with the date and location, corresponding to the Recording History section of the site.
– If you only want to download everything available for a certain session simple right click on the folder and choose a download option.
– Finally if you only want to download specific sources because you already have others you can simply navigate into the separate folders and download the ZIP file that corresponds to the source you require. Again, these all line up to the Recording History, so please refer to that guide to know what you're downloading.
Of course we wish to thank all of the people that have provided these sources over the years, without them this archive download would not be possible.
So without further ado, here is the download link.
[DOWNLOAD NO LONGER AVAILABLE]
Again please be aware, this is a download for non-commercial, unreleased studio audio only. There are no officially released, commercial sources in this download and FooFightersLive.com will never provide such downloads.
Also please note this does not include the recently leaked 'Million Dollar Demos'. The archive and this article was prepared before that event.