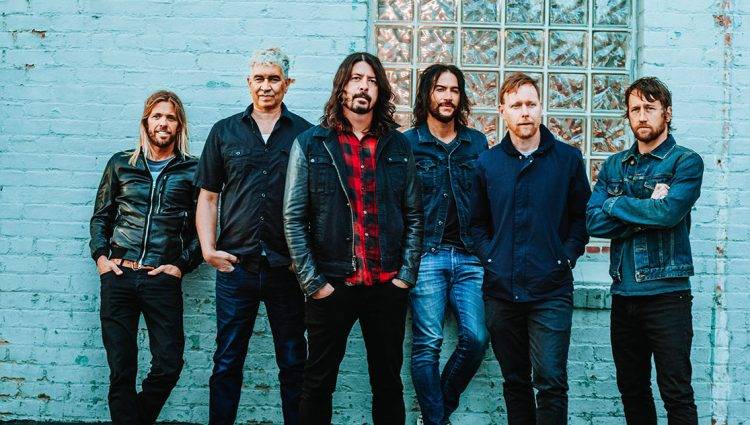 Well, today was certainly a big one for Foo Fighters fans. Huge announcements left, right and centre including the big one – a new album. In case you've missed anything, here is a round up of all the news from June 20th, 2017.
New Album is announced
Of course the biggest news is that Foo Fighters ninth studio album is on the way. 'Concrete & Gold' was unveiled with a release date of September 15th 2017. The band recorded the album in complete secrecy (more on that below) and ironically the only person to leak information and give fans the idea a new album on the way was none other than Dave Grohl.
The band were of course supposed to be on a break, or hiatus as some called it but in contrast to Ross and Rachel, Dave Grohl revealed today "We WEREN'T on a break!".
Instead they had spent the last half year writing, preparing and recording this new album.
The first real hint from Grohl and the rest of the band came with their special show in February 2017, at the Cheese And Grain in the UK. The band were there to play a set to coincide with the announcement of their appearance at the 2017 Glastonbury Festival. Nothing too suspicious in that, but during the show the band decided to throw in two new song snippets.
Fans instantly went into overdrive, what did this mean? Were they definitely new Foo songs? Were they just something they'd worked on a few days earlier, rough ideas? Of course we now know they were snippets of two songs on the album, 'La Dee Da' and 'Run'.
Fans were suspicious, but little more. Fast forward to May 15th and Grohl appeared at the annual "Acoustic-4-a-cure" event, bringing Taylor and Rami along with him. As well as playing the familiar Foo hits, fans were surprised when he announced they wanted to play a new song, in full. 'Sky Is A Neighborhood' was played and news soon reached fans who were now very curious what was going on, with some at this point believing an album was coming.
Just to make sure Grohl himself couldn't resist essentially confirming it during their next live appearance, Bottlerock Festival, on May 29th. During the set Dave casually dropped quite the bomb.
"We're going to play some old shit, we might even play some new shit, because maybe we made a fucking record and you don't even know about it."
Two days later and the first single from the album, 'Run', is released. We then fast forward to today, with the official confirmation and announcement of the "secret" album.
Whilst many people were presumably 'in the know' privately it was only Dave who went and opened his big mouth!
If it wasn't for that pesky Grohl they could've gotten away with it.
CAL Jam 2017 AKA FooFest
The next bit of news followed shortly after the initial bombshell, that Foo Fighters will be essentially holding their own day long festival. Officially titled CAL Jam the band will be headlining a quite spectacular line-up featuring Queens Of The Stone Age, Cage The Elephant, Liam Gallagher, Wolf Alice and more. The attractions are however not limited to the music.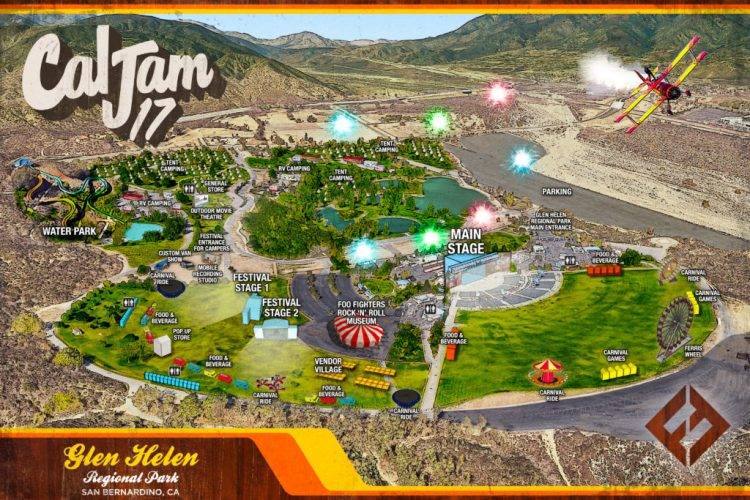 As the above image illustrates there will be carnival attractions, a water park and even a "Foo Fighters Rock 'N' Roll" Museum. This spectacular event is set to take place at Glen Helen Regional Park in San Bernadino, California, on October 7th. Tickets go on sale June 29th from the official website.
More US Tour Dates
As well as the big CalJam event a whole raft of shows were announced for the United States this October, November and December. The band will be visiting a lot of smaller cities that they've passed over in more recent years including a return to Virginia as well as shows in South Dakota, Champain Illinois, Montana and Wyoming. The full list of dates revealed are as follows:
Oct 7 – Glen Helen Reg Park (CAL JAM 17) San Bernadino, CA, United States
Oct 12 – The Anthem Washington, DC, United States
Oct 14 – Richmond Coliseum Richmond, VA, United States
Oct 15 – Greensboro Coliseum Greensboro, NC, United States
Oct 17 – Colonial Life Arena Columbia, SC, United States
Oct 18 – Thompson-Boling Arena Knoxville, TN, United States
Oct 20 – U.S. Bank Arena Cincinnati, OH, United States
Oct 21 – Rupp Arena Lexington, KY, United States
Oct 23 – Bridgestone Arena Nashville, TN, United States
Oct 24 – FedEx Forum Memphis, TN, United States
Oct 26 – Legacy Arena at the BJCC Birmingham, AL, United States
Oct 28 – City Park (Voodoo Music + Arts Experience) New Orleans, LA, United States
Nov 7 – Kohl Center Madison, WI, United States
Nov 8 – State Farm Arena Champain, IL, United States
Nov 10 – Wells Fargo Arena Des Moines, IA, United States
Nov 11 – Denny Sanford PREMIER Center Sioux Falls, SD, United States
Nov 13 – INTRUST Bank Arena Wichita, KS, United States
Nov 15 – BOK Center Tulsa, OK, United States
Nov 18 – Autódromo Hermanos Rodríguez (Corona Capital) Mexico City, Mexico
Dec 1 – Save Mart Center Fresno, CA, United States
Dec 2 – Golden I Center Sacramento, CA, United States
Dec 4 – Spokane Arena, Spokane, WA, United States
Dec 5 – Matthew Knight Arena, Eugene, OR, United States
Dec 7 – Ford Idaho Center Nampa, ID, United States
Dec 9 – Rimrock Auto Arena at MetraPar Billings, MT, United States
Dec 10 – Casper Events Center Casper, WY, United States
Dec 12 – Vivint Smart Home Arena Salt Lake City, UT, United States
It should be noted that this is certainly not it for the United States, with many major areas currently missing including huge spots like the Tri-State area. More shows are sure to follow in due time, presumably a second leg in early 2018.
Album recording session
So back to the album, what do we know about recording? The official press release states that the band secretly booked into EastWest Studios in Hollywood, California. Thanks to one of those 'in the know' people we are led to believe recording took place in March and April, approximately.Dave was actually photographed at the studio on a couple of occasions in May but nobody really batted an eyelid as to why he was there.
Also revealed in the press release was the producer of the record, Greg Kurstin. He is well-known as a pop producer and Grohl had become familiar with his work after hearing one of his bands songs on the radio. More can be found on the collaboration and how it came about in the press-release available here.
One further thing we do know is that it's set to once again feature guest musicians. According to Grohl himself:
"We have a bunch of guests that we haven't told anybody about yet, some of them will really surprise you. But there is one, who is probably the biggest pop star in the world, and I'm not kidding, sings back-ups on one of the heaviest songs on the record, and we are not telling anybody who it is."
Fans are naturally speculating just who that may be, with guesses of Adele, Taylor Swift, Lady Gaga, Sia, Ed Sheeran and Sir Paul McCartney all on the table.
Beyond that, very little else is currently known about recording. We've added a page to the site for the session and will update it as soon as we know more.
That's all for the Foo newswire today. We'll naturally keep you updated on all the Foo happenings over the coming months.