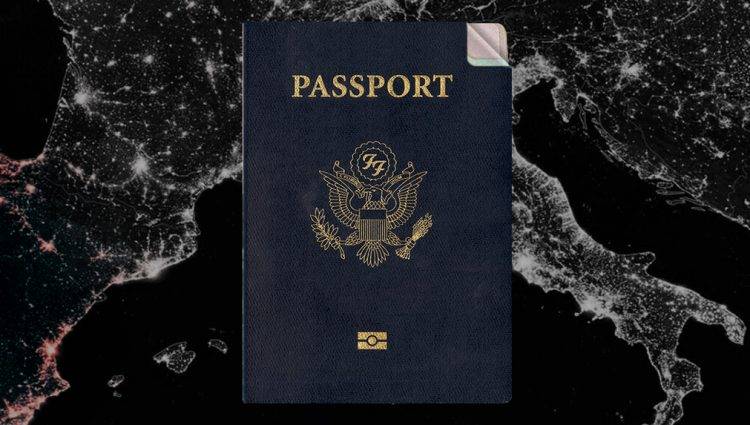 The plot thickens with the official band website's update: Visitors trying to access foofighters.com are now greeted with an airport flap display and a button to 'check in'. The list functions similarly to the passport, with links to event information and ticket sales, but with a few curious additions that may provide some clues as to their grand plans.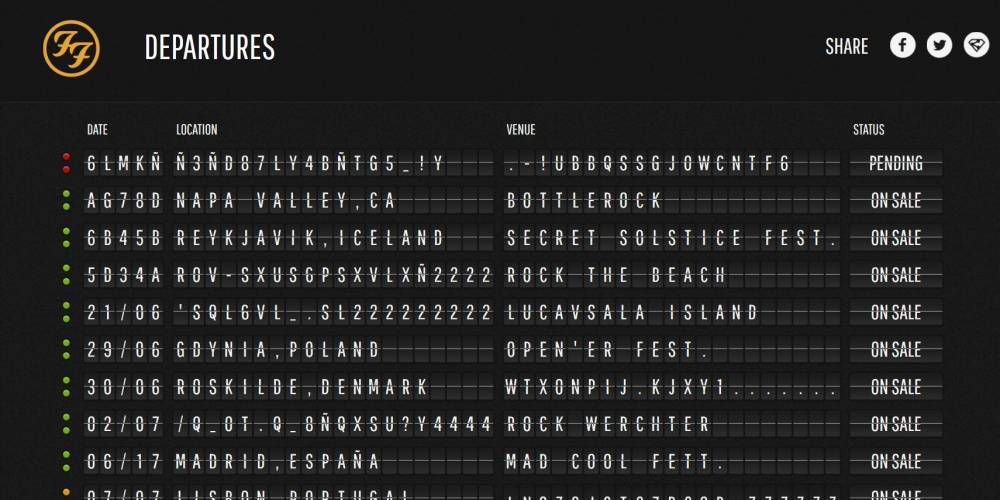 The first location is marked as 'pending' and the symbols are scrambled, suggesting that there is another key date to be announced soon for that space. It's the first on the list but that doesn't necessarily mean it's happening before the other dates and is put there to create mystery. The other confirmed dates also flip as part of the animation, suggesting the list will continue to be updated.
At the bottom of the page, the 'check in here' button leads to a pop-up frame where visitors can fill in a virtual boarding pass for the obscurely-titled 'Obelisk Airlines'. The fictional airline's logo is a pyramid design and the company website on the header redirects back to the passport. There are some other references to the band like Dave's autograph and '606' on the flight info, but the most interesting box is the 'ticket confirmation number'. Attempts to fill in the form indicate that a unique code is required to complete registration, something that doesn't appear to be available to fans or the general public yet. The listed boarding time of February 21 at 18:00 (6pm, though the time zone is not specified) may lead to more information and the whereabouts of this much-needed code. [Update: Select fans in the UK have received actual passes in gold sleeves, with the unique codes needed to check in, and upon doing so are being informed that their "adventure" will begin the day after the boarding time.]
Fans are already speculating what this site will reveal and what we may be able to access with the boarding pass. Two theories have emerged with the unknown date at the top of the airport board. The first is that it may relate to a comment made in the media by Glastonbury organizer Emily Davis, where she said another festival announcement is due in March "and there might just be a little thing before". The date for the scrambled listing says '6LMKÑ', another possible hint for Glastonbury with the addition of Milton Keynes.
The second and less likely guess is based on something discovered in the page's HTML:
While it's extremely unlikely that an international rock band would be given a blessing to put on a show in Vatican City, just outside its borders is Rome, which is home to several Egyptian obelisks and where the Rock in Roma festival will get underway in June. However, this is purely speculative at this point and the Vatican City reference may just be a placeholder.
The updated tour schedule as of the time of posting: