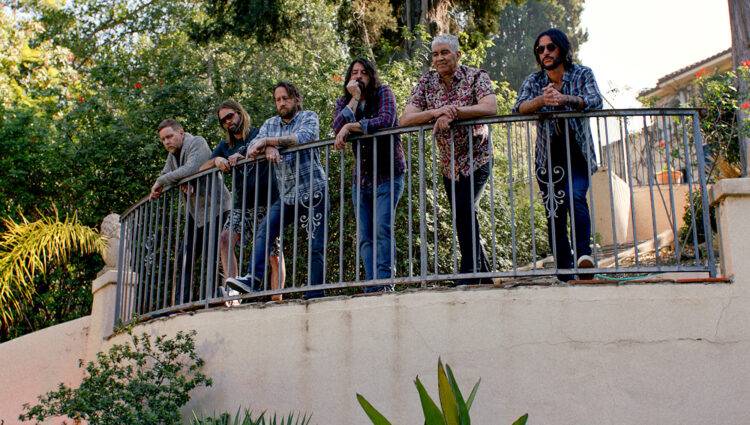 Since the news broke on the upcoming release of Studio 666 – Foo Fighters' debut theatrical release – fans have been champing at the bit for news on ticket releases and more details on the film. The official social media accounts for the film have been posting teasers, giving a synopsis of the story. Boasting a big-name cast and esteemed crew with award-winning titles on their credits, the horror-comedy – described by Nerdist as "fanfic written by the Foo Fighters about themselves" – places the band in an alternative universe, in which the recording of their tenth studio album (released out here in the real world as Medicine at Midnight) is plagued by supernatural forces lingering in the Encino house.
In the lead-up to the premiere of Studio 666 on February 25, FooFightersLive.com can reveal more information about the film, its production, and where you can see it.
(Warning: This story may contain mild spoilers for Studio 666 – click away if you don't want to know a single thing about it yet!)
The official website has a hub for locating local cinemas showing the film, although at the time of publishing this story, listings only show for the US. However, screenings have been announced for Australia, the UK, Ireland, and Canada. Tickets have become available in Australia before the official announcement, while listings are beginning to appear for selected cinemas in the UK (eg. New Picture House and Light Cinemas in Cambridge). As the premiere draws closer, a complete listing will appear on the official hub. Sony Pictures will release the film worldwide.
If you unfortunately can't make it to a screening, releases.com indicates that Studio 666 will be released on DVD, Blu-Ray, and VOD (Video On Demand), with dates to be confirmed.
Foo Fighters will star as versions of themselves. Whitney Cummings plays next-door neighbour Samantha, a "Band-Barbie" who attaches to Rami. Whitney revealed on an episode of The Rich Eisen Show that not only does her character find herself singing 'Everlong' to the band in a bid to join them, but she also has a sex scene with one of them (we're guessing Rami – it's good to be the king!). Leslie Grossman plays Barb Weems, the real estate agent who gives the band a walkthrough of the Encino house. Will Forte appears as a food delivery guy who says Foo Fighters are his second-favourite band "after Coldplay" (so he was driving that car in the 'Walk' video!). Jeff Garlin portrays record exec Jeremy Shill, who urges them to get to work on album number ten – and, going by the framed record on his office wall in the trailer, was also involved with Dream Widow (but more on them in a minute). Jenna Ortega – a new scream queen – plays a victim of the original curse that claimed Dream Widow.
Cameo appearances known so far include Kerry King (Slayer) and Lionel Richie.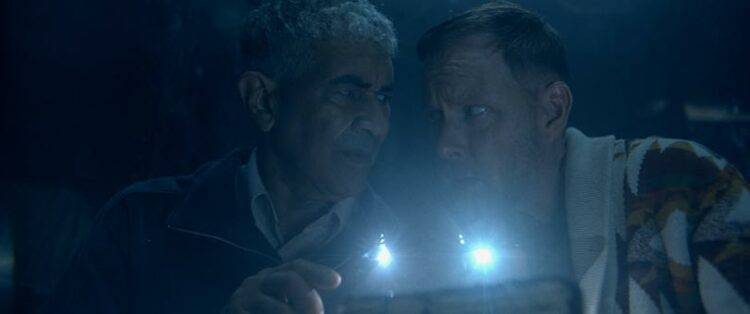 The film opens with a flashback to a rampage that claimed Dream Widow in 1993 (not Dream Window as erroneously reported). In present day, the band shacks up in the same house, unaware of its history, and as Dave wrestles with writer's block (pitching Everlong 2.0 in the midst of it), a song begins to form that's desperate to be written and recorded. The rest of the band is convinced the song is plain bad, but it's worse than that – it's evil. The deeper Dave goes, the realisation hits that the song not only remains the same, it has no end.
Foo Fighters and director B.J. McDonnell strove to make a film that sincerely took its place within the horror genre, but would also be "weirdly different, strange, and fun". As such, the creative team behind the visual effects have been pulled from beloved classic and modern titles. Several crew members have previously worked on American Horror Story, and will surely bring a well-developed instinct for the horror-comedy blend to the production. If there are concerns that Studio 666 will be light on scares, we are assured of a hearty amount of blood, gore, and creeps – including a notable scene McDonnell has described as "the bloodiest thing I've ever seen on a set".
John Carpenter has been tapped to compose the film's main theme, while Roy Mayorga has written the score. Many track titles have been uncovered, with some revealing key plot points so they will not be posted here, but some spoiler-lite titles include: 'Dave Chase', 'Demon Hands', 'Hi Neighbor', 'Finish the Song', 'Nobody Says "No" to Dave', 'Signs of Possession', 'The Devil Makes Rock and Roll', and 'Pat and Nate Read the Book'. A recent teaser posted on social media contains a warped composition that may be one of Roy's.
Speaking of "the book", horror fans can expect several Easter eggs paying tribute to the horror genre. For example, some fans have already noticed a resemblance between the book shown in the film's trailer and the Necronomicon Ex-Mortis from the Evil Dead franchise.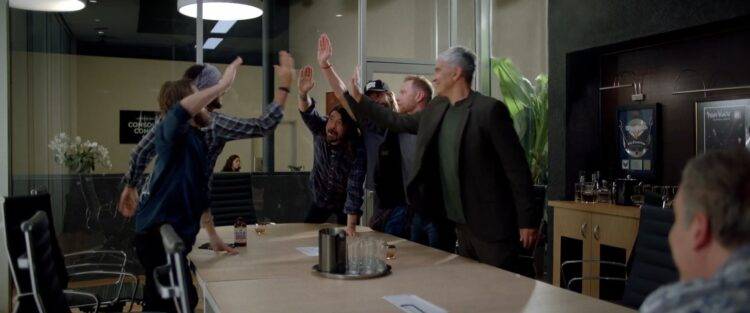 Follow FooFightersLive.com on Instagram for up-to-the-minute news on Foo Fighters and Studio 666!