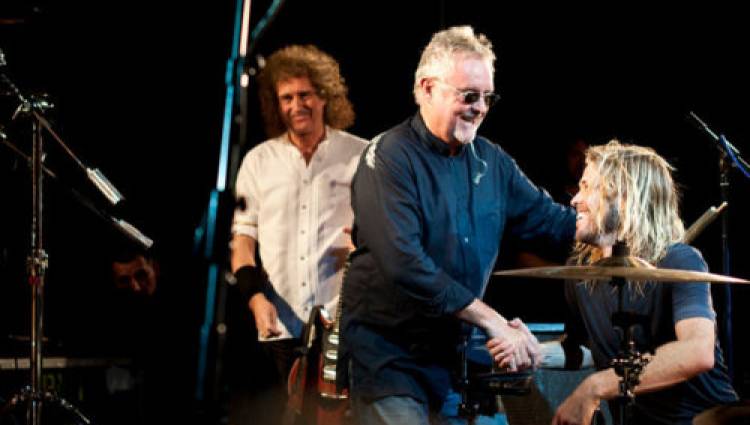 This year's Record Store Day is set to keep fans very busy, between the previously announced 3″ pressing of 'Big Me' and the latest news that
a special version of Dennis Wilson's 'Holy Man' featuring Taylor Hawkins on vocals will finally be let out of the vault.
'Holy Man', an unfinished track by Dennis Wilson, was consummated in 2008 when Taylor contributed lyrics and lead vocals for a special release of Pacific Ocean Blue. An alternate version of these sessions saw Taylor send the music to friends Brian May and Roger Taylor from Queen, who fell in love with the song and paid tribute to Dennis in their own way by adding layers of backing vocals, swelling guitars, and percussion. However, this version didn't make it onto the record and it has remained unreleased until recently due to a legal dispute, much to the musicians' collective disappointment.
The path seems to have cleared for them to finally allow the song to be heard, with a limited 7″ pressing for Record Store Day on April 13 2019. The B-side will be Dennis Wilson's original instrumental recording.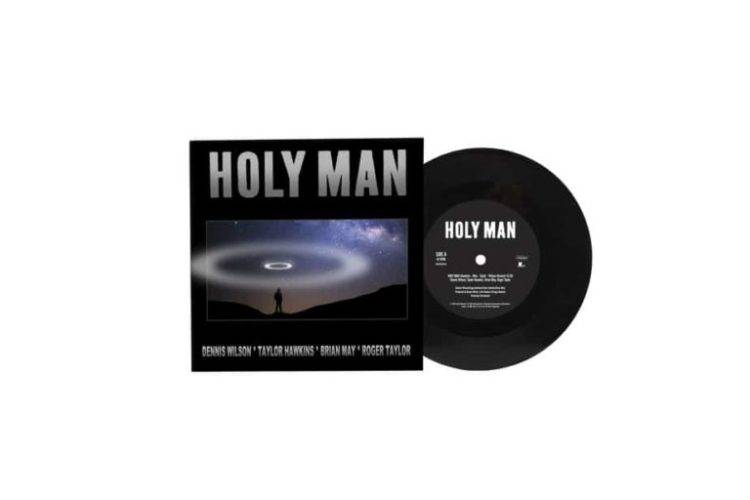 Brian May talked about the song in an entry on Brian's Soapbox: "I got inspired when Taylor sent me the track in its raw state, with a really soulful vocal from Taylor. It was a song which Dennis Wilson had begun, shortly before he died, but never finished. Beautiful piano playing, wonderful spiritual feel. The producers of the new Dennis Wilson release had asked Taylor Hawkins to sing on the track, and, by instinctive 'feel', finish the song. He had done an amazing job. Taylor had a feeling we could contribute, so he sent me a ProTools session of it. If you were a fan of the Beach Boys, you'll remember Dennis was not known as the principal songwriter, and was regarded by many as just a band member who was carried along. But, of all of the band, it was only Dennis who actually led the life of a surfer, and as time went on, it became obvious that he had a lot to say. He came into his own as a writer, and is now regarded by many as truly at the heart of what the Beach Boys were, and are, in the history of Rock.
So the track arrived, and I was moved … so much so, that it hadn't even got to the end of the first playing before I was down in the studio, playing along … inspired. I plunged in, and did a kind of resculpting, about three days work, as perhaps you'll eventually hear – and sent back a rough mix of what I'd done. It involved mapping and singing some backing vocals for the lead vocal to bounce off, building the rhythm track with guitars, and playing a solo. I then extended the song a little, to try to make the point a little stronger, and made an ending which resolved to something very much like the opening of the track – just subtly changed. The whole track spoke to me like a poem, and seemed to be steeped in the spirit of this mysterious man, the Beach Boy Who Surfed. And I wanted to do my bit to realise it to the full. Taylor was hugely enthusiastic, and we then asked Roger to add his magic. Roger loved it too, added his voice to the harmonies, and did some nice percussion, so the whole thing now had a subtle Queen overtone. We all loved the track – and hoped that we would see it on the Dennis album."
The record is being released by Legacy Recordings (a division of Sony Music) and copies will be limited to 3,000.