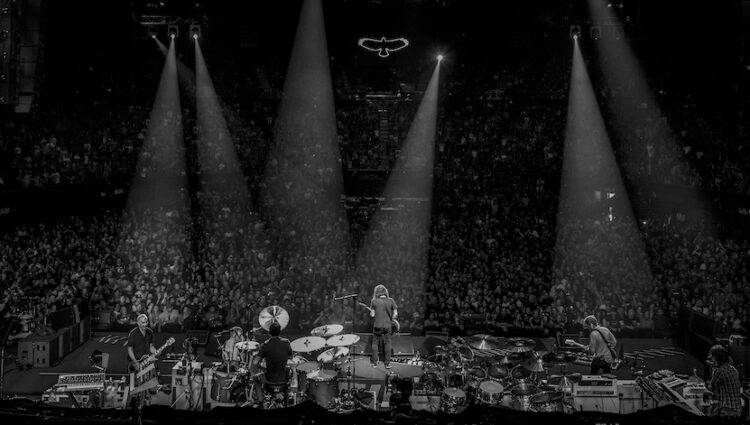 It wouldn't be too hyperbolic to say that 2022 brought a seismic shift to the band. Although they began the year at their usual speed, the suddenness of the halt, and its cause, was disorienting. To go from basking in career-spanning accolades in 2021, to reeling from the loss of a band member integral to those successes, was devastating for fans to observe and immeasurable for us to imagine from the band's point of view. As the Foo Fighters community spent the remainder of the year celebrating the life and legacy of Taylor Hawkins, our annual retrospective also reflects on what was and could have been – acknowledging the complexities of some wonderful moments preceding, and then interwoven with, our shared grief.
2022 saw the release of the Foo Fighters debut full-length feature film Studio 666. Directed by BJ McDonnell, the film had a limited and staggered worldwide cinematic release, reflected in the $3 million box office performance. However, it has continued to perform in the home media market and through its release on DVD and various streaming and VOD services. Studio 666 already has a cult following, extending beyond the band's loyal fanbase to horror fanatics and stans of its co-stars such as Jenna Ortega, who has emerged as this generation's new scream queen.
Accompanying the film's release, a self-titled EP of songs from the fictional band Dream Widow was released on March 25 via music streaming services. It would later see a physical release as an exclusive Record Store Day vinyl pressing for the event's Black Friday drop.
On March 4, the band played a one-off show in Geelong, Australia as part of the Always Live initiative, a celebration of live music in the state of Victoria. Partly due to their reverence for its founder, the departed Australian record executive and promoter Michael Gudinski, the band only announced their performance on February 23 (mere days after Australia's borders fully reopened), barely giving the Aussie fans time to scramble. The concert at GMHBA Stadium was a special night for fans and band alike, who looked forward to a full national tour at the end of the year – as announced during this show. Shortly afterwards, the official announcement of the AU/NZ leg of the Medicine at Midnight tour arrived.
On March 15, Foo Fighters played at Foro Sol in Mexico, where they played their first and only performance of their last single 'Love Dies Young'. Following this, they hit the Lollapalooza trail, performing in Chile and then Argentina – for what would be Taylor's final show. The show was streamed by Samsung Flow in Argentina, preserving it as an unfortunately significant moment. The band's set at Espacio Idesa in Paraguay on March 22 was cancelled due to heavy storms in the area, their next scheduled show being at Estereo Picnic in Bogota, Colombia on March 25.
Hours before the band was due to play their set, the sudden and shocking announcement came from the band's official social media channels that Taylor Hawkins had died. Their stage at the festival became a candlelight vigil for Taylor, with members of the Foo Crew placing lit candles onstage and the crowd singing to 'My Hero'. Being posted quite suddenly, these social media alerts were the first that the majority of fans heard of what had happened, and the shock waves rippled throughout the fan community and the world at large.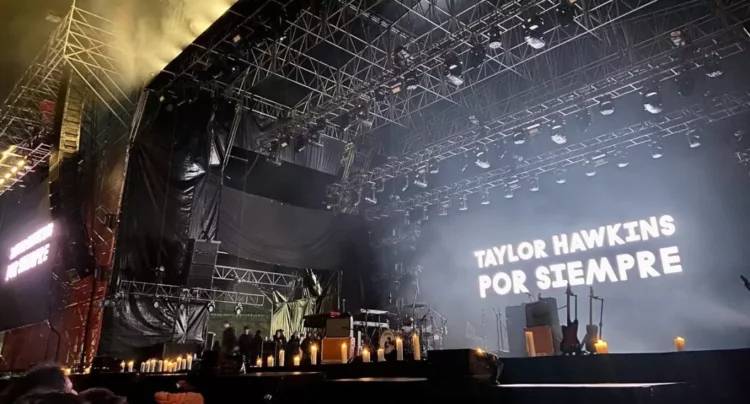 The band and crew returned home to North America the following day; later, an official announcement via their socials confirmed that all remaining tour dates were cancelled. The statement read: "Instead, let's take this time to grieve, to heal, to pull our loved ones close, and to appreciate all the music and memories we've made together."
(During this time, FooFightersLive.com created an online memorial wall for fans to leave their condolences, which is still active should anyone wish to share their thoughts and memories. Every message will be passed on to Foo Fighters management at an appropriate time.)
The Grammy Awards were held in Las Vegas on April 3, with Foo Fighters winning all categories they were nominated in: Best Rock Performance ('Making a Fire'), Best Rock Song ('Waiting on a War'), and Best Rock Album (Medicine at Midnight). No band members were in attendance to accept these awards, instead being collected by engineer Darrell Thorp ("Fuck you, Darrell!"). During the segment where they'd been slotted to perform, host Trevor Noah acknowledged the loss of Taylor and introduced a video tribute to him: "So, this was the moment in the show when I was supposed to be introducing the Foo Fighters. We would have been celebrating with them as they won three Grammy Awards earlier today. But they are of course not here due to the tragic passing of their legendary drummer, Taylor Hawkins. Our thoughts go out to Taylor's family, his friends, the Foo Fighter family and all of their fans around the globe."
The band's and Taylor's families grieved privately for long weeks and months ahead. Public memorials were erected in Taylor's memory, a drum circle was held in Laguna (where Taylor and his family kept a home), and fans from around the world gathered online and in person to mourn and comfort one another.
In early June, two tribute concerts for Taylor were announced for September 3 at Wembley Stadium (London) and September 27 at Kia Forum (Los Angeles). Designed to celebrate the memory and music of Taylor's legacy, the event was spearheaded by his friends in Foo Fighters and his family – particularly his wife Alison, who wrote her own note on behalf of their children and herself, thanking the fans for their love and support. An excerpt of that letter read: "As Taylor's wife, and on behalf of our children, I want to share how much you meant to him and how dedicated he was to "knocking your socks off" during every performance. Taylor was honored to be a part of the Foo Fighters and valued his dream role in the band every minute of his 25 years with them. We consider every band member and the extended Foo Fighters team our family." Dozens of special guests were announced, some appearing at both concerts, all people who knew and loved Taylor. Proceeds from both concerts would benefit charities chosen by the Hawkins family in each location: Music Support (UK) and Musicares (US), both running support programs for musicians in need.
On June 25, Sir Paul McCartney headlined Glastonbury Festival 2022 – an event Foo Fighters had played numerous times before. As a surprise to everyone, Dave Grohl joined Paul onstage to perform two sprightly numbers from his back catalogue: The Beatles' 'I Saw Her Standing Here' and Wings' 'Band on the Run'. Dave also appeared during the finale, along with Bruce Springsteen, for 'The End'. As he waved and prepared to depart the stage, Dave pointed at a 'T' written in sharpie on his right hand – a quiet, poignant tribute to Taylor.
In the meantime, Chris Shiflett dropped two singles – 'Long, Long Year' and 'Born and Raised' – from a new album due for release in 2023. His podcast Walking The Floor also returned after a hiatus, with Shifty explaining in the episode's preamble that the episode had already been recorded but the whole thing was put on hold following Taylor's death. Chris had also appeared on a handful of podcasts such as Ain't That Swell and Surf Splendor, marking the first time a band member had publicly commented on Taylor's death. During a visit to The Plug with Justin Jay, he made comments about wild and sometimes hurtful rumours about the nature of Taylor's death on social media, and noted that media had been pretty respectful so far, but it may be difficult to broach the topic "whenever we get around to making a new Foo Fighters record". This sent the fan community into a tizzy, interpreting this as meaning the band had already definitively discussed future plans. From then on, Chris chose his words more carefully in interviews.
On August 16, Dave made a surprise appearance (as in, he manifested onstage and vanished again just as quickly) at a charity event in Los Angeles hosted by Judd Apatow in aid of Victims First. During a performance by Tenacious D, Beck, Greg Kurstin and John C. Reilly of Seals & Croft's yacht rock staple 'Summer Breeze', Dave casually strolled onstage to provide a mouth guitar solo in the chorus. He repeated this at the end of the song. Perhaps this was intentional foreshadowing as Dave, along with many from the same crew, would return to the venue later in the year (read on).
The first tribute concert for Taylor Hawkins in London was streamed live via MTV, YouTube, Pluto TV, and Paramount (who also continue to carry an edited version). The night culminated in the first performance by Foo Fighters since Taylor's passing. It had a shaky start, with Dave breaking down in tears during a stripped-back 'Times Like These', but with support from friends and fellow drummers (Josh Freese, Travis Barker, Nandi Bushell, Rufus Taylor, Omar Hakim, and Shane Hawkins), the set recovered to offer an achingly beautiful love letter and musical catharsis. Picking highlights from this concert would mean dedicating a new story to it, but we're sure you'd agree that Taylor's son Shane taking his father's seat to play drums on 'My Hero' was a universally moving experience. The special event went on to be nominated for an MTV EMA for Best Longform Video – along with their feature film Studio 666.
During final rehearsals for the London concert, old friend Danny Clinch took the first official photo of the band without Taylor.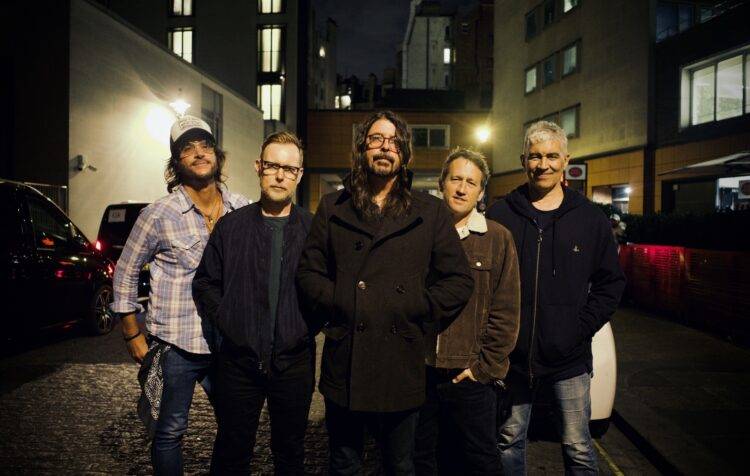 The second tribute concert took place a few weeks later in Los Angeles, and felt more like a wake in contrast to Wembley's funereal tone – but with both seeing equal outpourings of love. With that being said, fans approached the evening with a "last chance to dance" mentality, as Dave often says – not knowing if this would be the last time they'd see Foo Fighters play, but appreciating and feeling privileged to be part of such a special evening in Taylor's honour. At the end of the LA concert, the band looked warmly upon the crowd as Dave said, "Thank you, everyone, from the bottom of our heart, for coming out tonight to share this together. Because this is really the thing – that this many people, all connected by one person, everyone in the room together sharing all of this love for Taylor – is such a beautiful energy, and we as his friends and his family and everyone on this side of the stage…we thank you very much for coming out and sharing all of this joy for Taylor tonight."
Instead of being livestreamed like the London concert, the LA concert was professionally filmed, including audience shots, and crews were seen interviewing fans lining up outside the venue – indicating that the concert might see an official release at some point. No further information is known at this point.
And so the band went home again, to rest, to grieve, and to heal. In the meantime, on October 28, Legacy Recordings – a division of Sony Music – released The Essential Foo Fighters, the band's second official compilation album, with this one spanning the length of the band's career (as opposed to Greatest Hits which only covered their material up to 2009) and making it the first official release since Taylor's death. The album was the first in the label's Essential series to debut in the top ten of Billboard's Top Album Sales chart. However, several glaring omissions were noted, particularly the total absence of songs from Sonic Highways. It also included songs on the vinyl edition that were not on the CD release, for reasons not made clear.
Dave reappeared on November 13 at friend Joe Walsh's event VetsAid in Ohio, performing with a reunited James Gang and jamming with The Breeders. On December 5, as fans began to wonder if the annual Hanukkah Sessions series would return given the circumstances, Dave brought Greg Kurstin and friends to Largo at the Coronet in Los Angeles to perform eight live songs, which would be filmed and would constitute this year's series. The event benefited the Anti-Defamation League.
Dave made a surprise appearance during Billie Eilish's show at Kia Forum (the same venue which hosted the LA Taylor Hawkins Tribute Concert), performing a duet cover of 'My Hero'. Before beginning the song, Dave thanked Billie for her tribute to Taylor at the 2022 Grammys, saying that the band's families had gathered to watch and were in tears. He finished by dedicating 'My Hero' to Taylor.
On December 19, Dave did a virtual live performance on the Letters to Santa 24-hour marathon, where he played a six-song set consisting of Foo Fighters set staples as well as songs he rarely gets to play – including 'Marigold', performed for the first time in twelve years, and an acoustic rendition of 'New Way Home'.
Fans ended 2022 expecting not to hear from the band as a collective for a long time yet, continuing to give them all the space they need to figure things out for themselves. But then, in the final hours of the year, the band's official socials lit up with one more announcement, on a healing white background instead of the solemn black that represented their previous statements: They, too, were reflecting on the year that they, and we, had survived.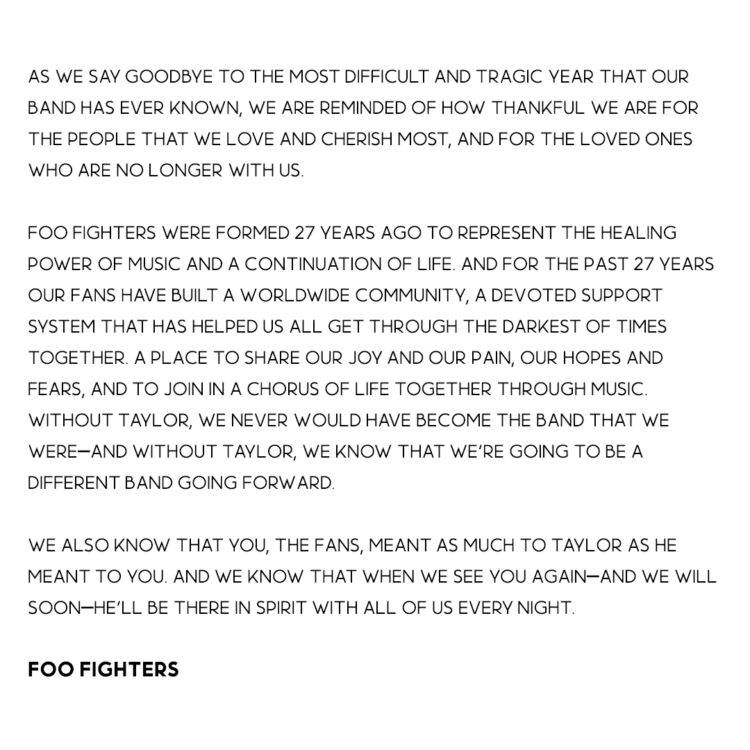 Fans initially began reading nervously, expecting this to be the official break-up announcement. However, in the final lines, Foo Fighters said they will be a "different band going forward" and that they will see us soon – conveying that, at an exact time yet to be determined, they will carry on. They will most likely be continuing as Foo Fighters, as they signed off using the band name and not the individual members' names.
This is where we find ourselves, and the band, in the new year. We chose the lyric "learning to walk again" as the title for this story because it seemed to befit the current state of the band and their passionate fan community who, as they wrote in their latest letter, have helped them to endure. One foot in front of the other, gentlemen. Whatever you need to do from here, however long it takes, we wait for you with arms outstretched.
Finally, to Taylor: Thank you for sharing your life and your unique gifts with us. We are forever transformed because of you. To Taylor's family: May the support of the Foo Fighters fan community be a source of strength and comfort.