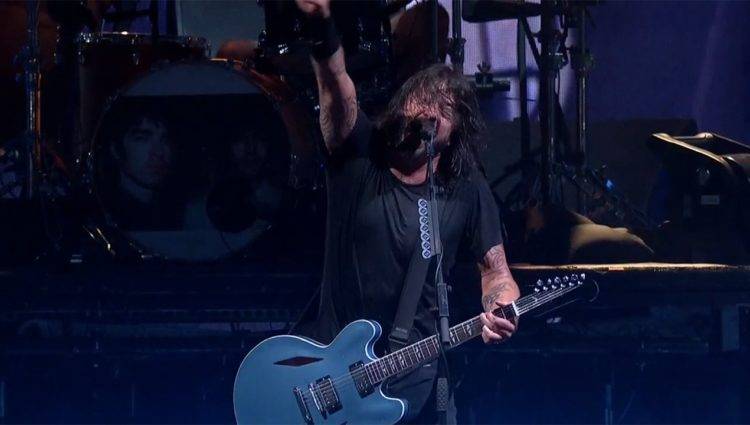 Foo Fighters and Reading have a long romantic history together, stemming from Nirvana storming the joint in 1992 to the many occasions when Foo Fighters came, saw, and conquered. Their 1995 set instantly became the stuff of legend. But when the band was announced to headline the Reading and Leeds in 2019, with their 25th anniversary looming, fans and festival-goers were primed to expect something a little extra special, and the band encouraged speculation from the outset.
Between the cryptic EP collections on streaming services and social media posts seeking fans who had been at the '95 show, fans recognized that Foo Fighters were planning a party. On what could be in store, Dave told NME: "At this point in our lifespan, there's so much that we could do. We could bust out the same set that we played in 1995. We could come out on stage with new songs. We could come out on stage and do a chronological history of the band, in reverse. It's just a matter of figuring out how to do it. That's usually something that we figure out on the afternoon of the show."
Dave also winked at the possibility of a new song he'd written and has been dead keen to show off. Indeed, the anticipation for this set in particular, as a precursor to FF25, seemed to suggest that all bets were off.
On what seemed to start as a mercifully clear night, with a fifteen-minute delay from their scheduled start time, Foo Fighters blitzed the stage, Taylor's drum head adorned with the gruff faces of the Gallagher brothers. The set opened with 'The Pretender' and 'Learn To Fly', before dedicating 'Run' to the dearly departed Keith Flint of The Prodigy, including – for the first time – an extended drum-laden outro, with Dave speaking of the time the band played with The Prodigy and encouraging the band to jump for Keith.
Laura Mace and new addition Lisa D. Foreman appeared with their soaring vocals ringing in 'The Sky is a Neighborhood'. Those very skies appeared to open during the chorus as the group hollered about the "bangin' on the ceiling". 'Times Like These' followed, with this being tonight's cue for Taylor's riser to creep up and his solo to rumble.
With the solo and 'Sunday Rain' being so early in a three-hour set, this boded well for them clearing the space for surprises to follow.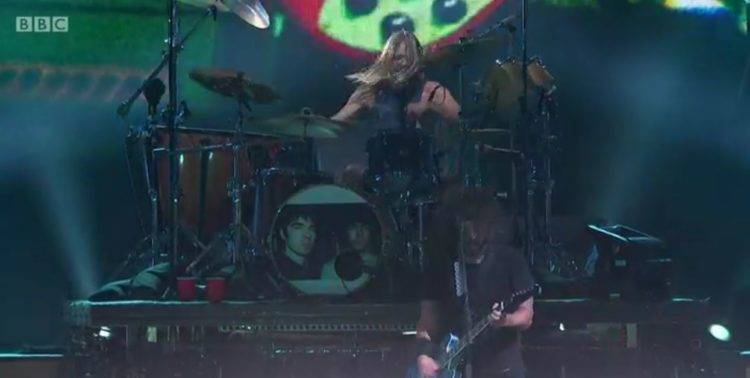 As Taylor returned to terra firma, Dave pointed out the tent where Foo Fighters had played their first Reading set in '95 and invited the crowd to sing 'My Hero', which he erroneously thought didn't exist yet, but it had been written in the Summer of '95 and played, in an early raw form, during their tent set.
"You want some noisy shit? Nate, give him that noisy shit!" Dave yelled before propelling us into 'La Dee Da', a track that only had a moderate showing on the regular tour but has become a staple of their end-of-cycle festival run. Dave's screams were delivered with particular guts tonight – seemingly unconcerned with preserving his voice for this particular crowd, each song was more raucous than the last.
Everyone in the band seemed to be happy and getting loose, from Nate busting out 'Rapper's Delight' and sneaking in a lone bass slap, to Pat strolling to the front of the stage with a bit of 'Ziggy Stardust' (and Taylor wailing "Pat Smear plaaays guitaaar!").
As Taylor and Dave switched positions, they implored the Reading crowd to start a petition for Oasis to reunite for a set, before tapping into their cover of 'Under Pressure'. "Come on, Noel, come on, Liam, get your fuckin' act together," said Taylor as Dave teased Nirvana's 'Smells Like Teen Spirit' signature fill.
"This is our last song," Dave deadpanned, met with boos from the gallery. "You fuckin' think i'm serious…We got a couple more songs. You want one more song? You want two more songs? You want ten more songs? Let's start here."
So the band erupted into 'All My Life', and it was starting to feel like the band was wrapping up, but at the halfway mark of a 2.5 hour set, excitement was only building. They edged us closer with 'I'll Stick Around', the first indication that they would pay tribute to the set they'd been reminiscing over earlier.
Another return to the set is their stripped-back version of 'Wheels', which Dave mentioned the fans know and he enjoys. The song also serves as a moment for band and crowd alike to catch their breath and a mobile light love-in. Not so sentimental but introduced as a "love ballad" anyway, 'Monkey Wrench' woke Reading up again.
"The Reading Festival holds a very special place in my (heart)," Dave said, counting off (with errors but who's counting?) the number of times he'd visited with bands of old and new. With that in mind, the next song would be a call-out to an old song that started it all.
Out from the shadows bounced Rick Astley, to the sounds of his monster hit reimagined Nirvana-style, as they performed their beloved cover of 'Never Gonna Give You Up'. Rick was clearly stoked to be there, vamping with the band more than ever before and out-singing even Dave's roars.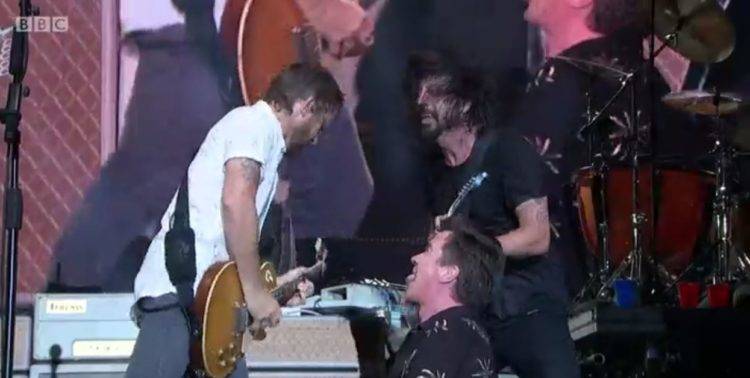 "You think we're done?" Dave challenged the throng, who already knew the answer. Unlike 'My Hero', he said, he does remember playing 'For All The Cows' in the tent, which rolled merrily into 'This Is A Call', a loving wink to the first set Foo Fighters played in '95. However, breaking the theme that looked to be emerging was a cover of AC/DC's 'Let There Be Rock'.
Even though this meant that the short salute to their Reading milestone had passed, Nate rocked and Dave rolled, zooming from left to right as the thousands surged to follow him.
Then, as soon as it felt like it started, it was over. "I love being in this band, and in this point, i'm not sure if we'll ever stop," Dave said as he warmed up his golden Gibson, and with his assurance that it's never really goodbye, he sent the world to bed with 'Everlong'.
So while Foo Fighters' 2019 Reading performance was not exactly the retrospective fanfare that had been anticipated and suggested in interviews leading up to the event, the band's journey from then to now was ever present in their minds as well as ours.
As the band gears up to play their 25th year with their status as one of the world's greatest bands firmly established, this night also served as a celebration of Foo Fighters themselves and the deep love for authentic live music that endures through changing times and invigorates us like nothing else.
Dave told Jo Whiley on her BBC radio show that they are coming up with new ideas every day, and many may see the light of day in 2020 when the FF25 celebrations go into full swing. In that case, this set, while otherwise very true to form, may have been an hors d'oeuvre while they lay the table for the feast.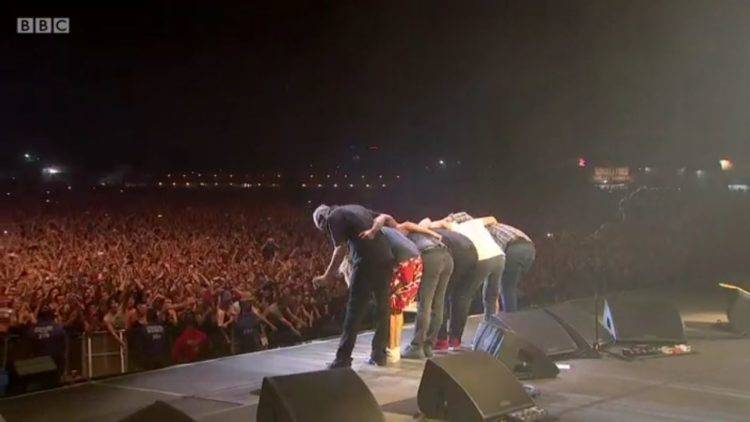 Setlist:
The Pretender
Learn To Fly
Run
The Sky is a Neighborhood
Times Like These/Taylor solo
Sunday Rain
My Hero
These Days
La Dee Da
Walk
Introductions (Crazy Train/Good Times/Ziggy Stardust/Dragon Attack)
Under Pressure (Queen + David Bowie cover)
All My Life
I'll Stick Around
Wheels
Monkey Wrench
Hey, Johnny Park!
Never Gonna Give You Up (w/ Rick Astley)
Big Me
Best of You
For All The Cows
This Is A Call
Let There Be Rock (AC/DC cover)
Everlong
On the setlist but not played: Alone + Easy Target, Weenie Beenie (speculated)