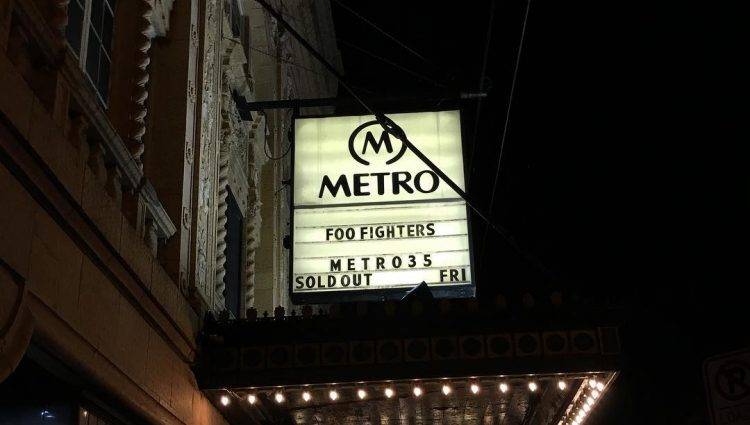 From the get-go, the 1,000-or-so fans packed tightly into the Metro Chicago – or the Metrosexuals, as dubbed by Dave – were warned they were in for a hell of a night, estimated to be the longest set Foo Fighters have ever played. "We're gonna play as many songs as we from the last twenty-two years," Dave greeted the crowd, "and we're gonna play as many new songs as we can for you guys." Beginning with the deep cuts, Foo Fighters opened the show with beloved fan favourite 'Aurora' and jumped right into current single 'Run' from the anticipated new album Concrete and Gold.
The show also happened to coincide with Pat Smear's 58th birthday, and during a chat break, Dave was leading into telling the crowd about it – but they beat him to it, ringing out 'Happy Birthday To You' for the man of the hour. Donning cat ears (you're reading that correctly, Pat Smear in cat ears), Pat modestly waved his gratitude before Dave also gave shout-outs to the other members of the band who didn't have birthdays today (because why not?).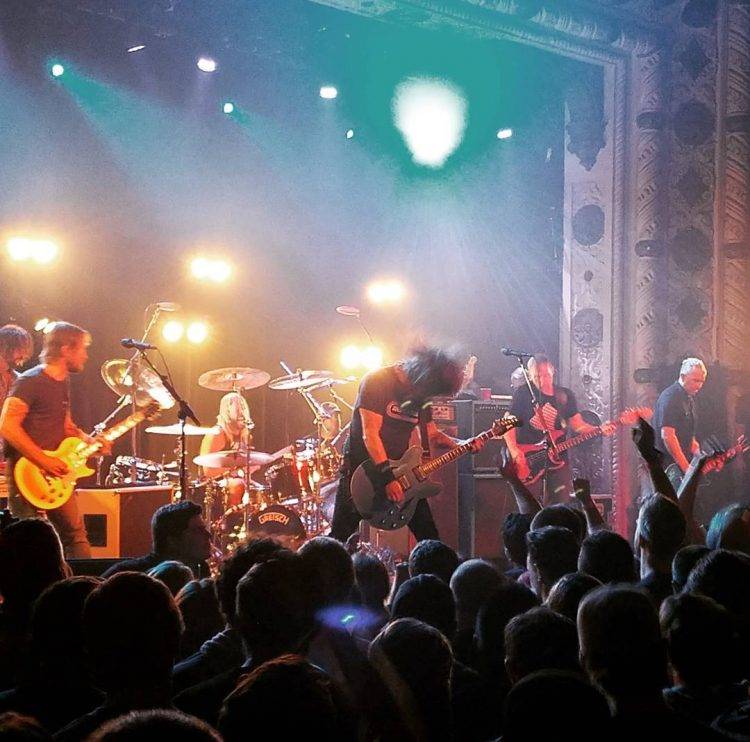 After a minor blooper in 'These Days' ("One of these days the ground will stop") they carried on, already soaked with sweat from playing to a small venue, but they were not even close to done. After a cruisy 'Skin & Bones' (for "the fans who hang out in my driveway"), 'Dirty Water' re-energized the room. Dave and Taylor swapped instruments for 'Sunday Rain', as Dave used this moment to confirm it as the track on which Paul McCartney sat in on drums during sessions for Concrete and Gold.
Seeing that the show was a Lollapalooza after-party, it would only make sense for its king Perry Farrell to show up, and sure enough, he emerged triumphantly, with Dave singing his praises, to perform the seminal Jane's Addiction track 'Mountain Song'.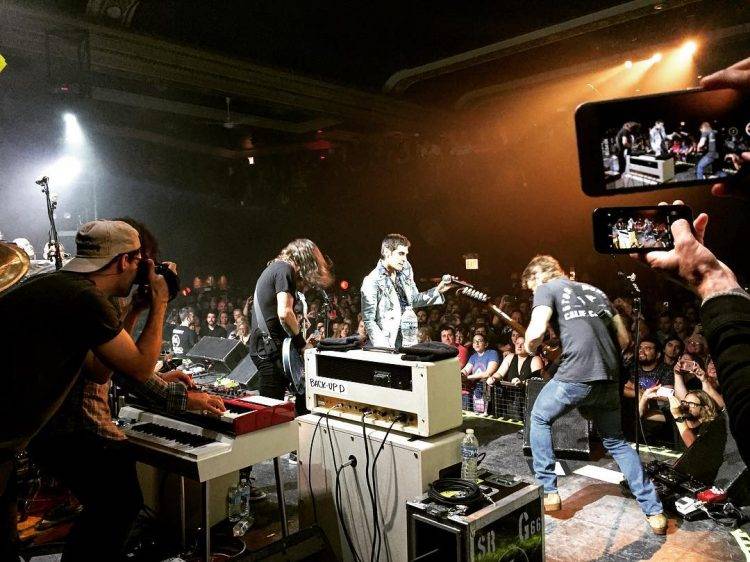 A "when I was a kid from Virginia" story – featuring Dave's cousin Tracey, who turned up the house lights, and the drummer of Tracey's band who was seven at the time but fully grown now and also present tonight – fittingly led to 'This Is A Call'.
Trying to keep the set under four hours (beating their Rock The Vote time to make it one of the longest sets they've done, if not the longest in their history), they flipped the orders of a few songs on their intended setlists and skipped others, namely what would have been the debut of two new tracks, 'Make It Right' and 'The Line'. However, "they gave us a 4a.m. curfew, so let's dip into that weird shit." What he meant by 'weird' was a whole bunch of covers, with Rolling Stones 'Miss You', Queen & Bowie's 'Under Pressure', The Faces' 'Stay With Me', and Tom Petty and the Heartbreakers' 'Breakdown' – in lieu, however, of debuting two new songs that had been seen on a typed setlist screencapped on Twitter when the show began. Not that the band and the crowd weren't bringing the walls down anyway with this unplanned jam, but as they got back on track with 'Best of You', it became clear that Foo Fighters are keeping the new material under their hats for a little while longer.
As they tried to wrap it up, Dave thanked Brian at the desk, manager John Silva, Chris in particular for playing guitar tonight, and again gave birthday boy Pat a shout-out (accompanied by a hodgepodge riff on The Beatles' 'Birthday')…but as the fans weren't finished yet, neither were they. So they soldiered on, launching into AC/DC's 'Let There Be Rock', and then – and only then, after four hours – did Dave sentimentally thank every last person in the room and the band closed out the show with 'Everlong'.
Set list:
Aurora
Run
All My Life
Times Like These
Learn To Fly
The Sky Is A Neighbourhood
Something From Nothing
The Pretender
Big Me
Cold Day In The Sun
Congregation
La Dee Da
Walk
These Days
My Hero
Skin & Bones
Dirty Water
Rope
Arlandria
Sunday Rain
Mountain Song (feat. Perry Farrell)
Monkey Wrench
This Is A Call
I'll Stick Around
Miss You (Rolling Stones cover)
Under Pressure (Queen & David Bowie cover)
Stay With Me (The Faces cover)
Breakdown (Tom Petty and the Heartbreakers cover)
Best Of You
Let There Be Rock (AC/DC cover)
Everlong