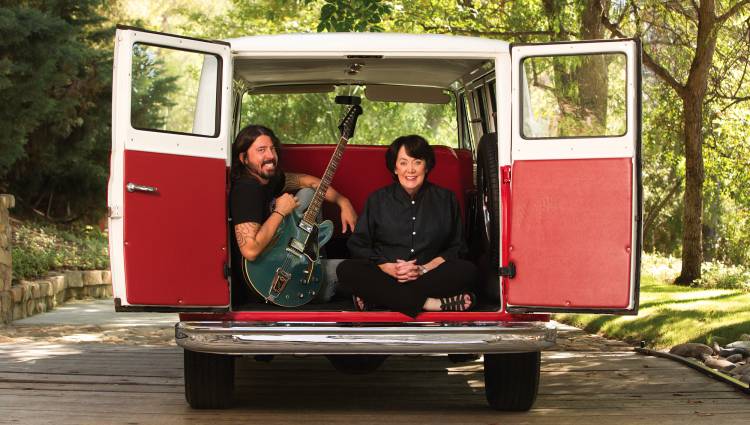 Whenever Dave Grohl speaks of his mother Virginia Hanlon Grohl, fans immediately warm to her and the affection that is abundant in their relationship. As a parent and educator, Virginia recognised the force driving her son away from school and towards the lessons of the road, and she gave her blessing for Dave to roam. The decision has more than paid off. As time passed and she watched Dave go from strength to strength, she began to wonder what the experience might be like for other mothers who had front row seats to their children's musical and personal evolution. The answer to that question is From Cradle to Stage, a book for mothers and music fans.
From Cradle to Stage is the result of a two-year expedition that took Virginia to the homes and stages of music-makers, connecting with such other revered mothers as Mary Weinrib (mother of Geddy Lee), Verna Griffin (mother of Dr. Dre), Marianne Stipe (mother of Michael Stipe), Janis Winehouse (mother of Amy Winehouse), Patsy Noah (mother of Adam Levine), Donna Haim (mother of the Haim sisters), and Hester Diamond (mother of Mike D). Together, in words and pictures, they ponder every aspect of life as the parents of people who found fame while pursuing their passions. Each woman shares stories of the roles that they and music played in the formation of their child's upbringing, and whether they had an inkling that their sons and daughters were destined to be the musical prodigies that they became. They discuss their pride, instincts, desires, misgivings, and the force that drives people to follow the beat of their own drums – sometimes literally – as they consider their children's journeys from the inside out. From Cradle to Stage presents an affectionate, honest, and humorous reflection on music and motherhood.
Virginia said: "Finding this unique sorority (some now in their 90's and still rockin'!) has been one of the great joys of my life. We laughed and cried together as we shared stories of the joys and hardships our journeys have wrought. I hope readers will enjoy meeting these mothers of music as much as I have."
Of course, the book would not be complete without Virginia posing the same questions to her own son, and the story of the Grohl family is interwoven throughout From Cradle to Stage. Dave also provides the foreword for the book and offers the testimonial that completes this collection as a celebration of the mothers who rocked and raised rock stars: "We are all indebted to the women who have given us life. For without them, there would be no music."
From Cradle to Stage will be available from April 25, 2017. For more information, check out the publisher's website.