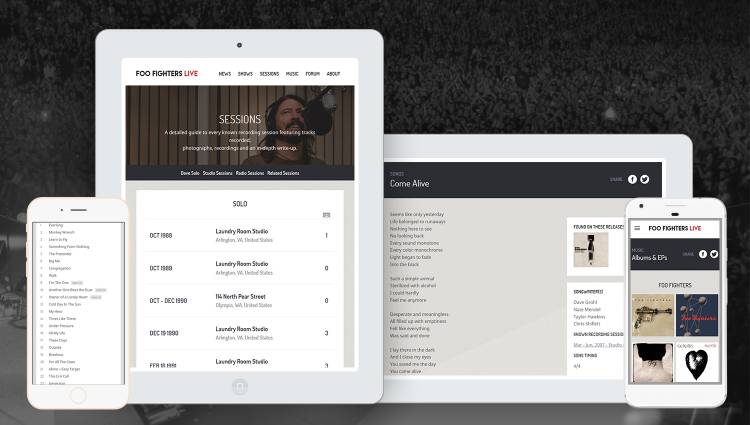 As you're reading this you've no doubt noticed that FooFightersLive.com has had a bit of an overhaul! A new design, new features, new content and lots of improvements make for a significantly better experience for Foo Fighters fans in 2017. There are too simply many individual changes to cover everything but we'll cover the biggest changes below.
Simplified & Easier to Navigate
Simplification. That was one of the key goals with the new website. We wanted to cut down on the jargon, cut out the fluff, make things clear and concise. This required a total rethink of what data we want to display and the best way to do so.
Information on live performances are now found under the simple 'shows' heading and details on recording sessions can now be found under 'sessions'. There are no unnecessary splash pages getting in your way and the navigation is simple and prominent. Songs and albums are now also much easier to find, with more details on these sections below.
We hope you'll find navigating the site much easier, and quicker, to find the information you're looking for.
Shows
The core of the website remains our extensive database covering the live performance history of Foo Fighters. As above we have cleaned up and simplifed the pages , so hopefully things are a little easier to find and understand.
You will still find shows listed by year, but without any distractions. At the bottom of each page you'll find statistics for that year. The show pages themselves carry most of the same information as before, but in a much clearer format. You'll see the setlist right off the bat, along with photos of the lineup that played the show. Following that is a simple grid of photos for the performance (if available) followed by the recordings available for each show.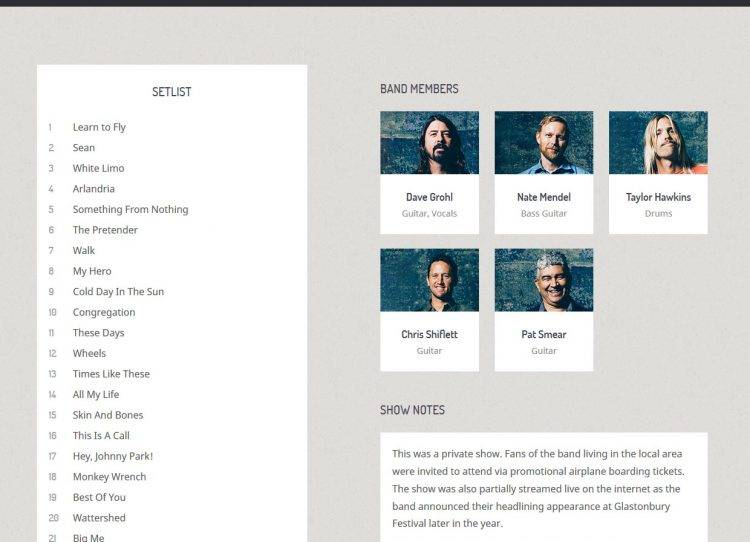 A lot of time was spent deciding on the best way to present this information and we think what we came up with is the perfect mix of simplicity and information. Each recording 'card' has an image, making identification of each much simpler. At a glance you can see which recordings are audio and every single video source has a screenshot to help illustrate the quality of the source.
Over time we'll implement even more information about video sources into the shows pages since you may notice, the old "Video Guide" section is no longer present on the site. For each recording, audio or video, the type of recording, it's number and equipment are listed in a clear and concise manner. Also available is a simple 1-5 star rating system to give you an idea of the quality for each.
Finally at the very bottom of each page will be a section for fans to discuss the shows! Talk about the shows you went to with other fans, or just chat about a show you've heard/seen a recording of. To do this you will just need an account at our new forum, more on those later.
Now, speaking of recordings……
Downloads
This is a big one, and something you've been asking about for a while. Direct downloads are now provided for over 600 live shows and 50 sessions, with 750+ recordings in total available to download!
In line with our previous policy these downloads are made available only for 100% unreleased, non-commercial recordings. No officially released material will ever be offered for download via this site, we instead encourage you to support the band and buy their official releases. Instead you can find hundreds of recordings made by fans as well as professional TV and radio broadcasts never commercially released.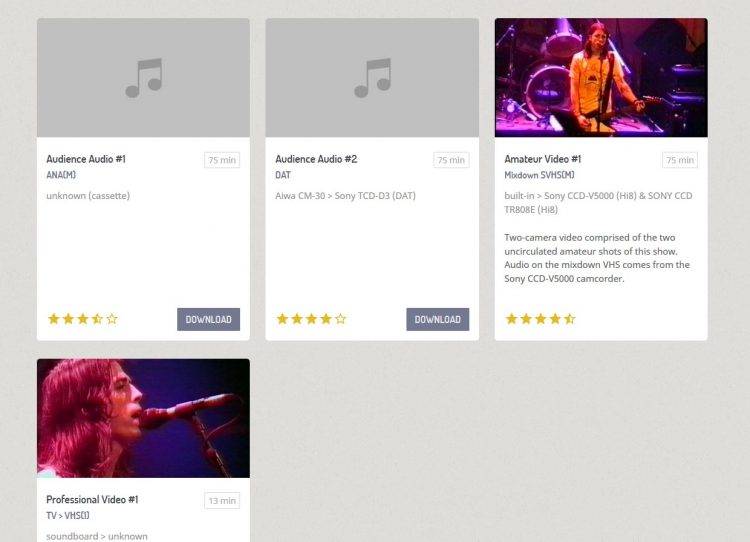 This was a very large undertaking and things are unlikely to run 100% smoothly but we hope this will make a lot of Foo Fans very happy as they look for a memento of the shows they attended.
Sessions
Formerly known as the 'recording history' this section of the website has also seen large changes in line with the show pages. First of all, sessions have been further filtered to make it easier to find what you're looking for. You'll now find the sessions which were undertaken by Dave Grohl alone, sessions by related artists and of course, the studio and radio sessions by Foo Fighters.
On the sessions pages themselves it's a similar story to the show pages, same data, but in a much cleaner and clearer manner.
Songs & Albums
This section of the site was a little hidden away in the previous design and that has been rectified with prominent position in the main navigation. On the new songs page you'll find an A-Z of every single Foo Fighters song as well as any cover songs they've played, plus songs by related artists such as Mission Impossible and Scream.
Clicking on those will take you through to a page for each song packed full of details – lyrics, live performances, songwriters, the timing of the song, who wrote it, when it was recorded and more!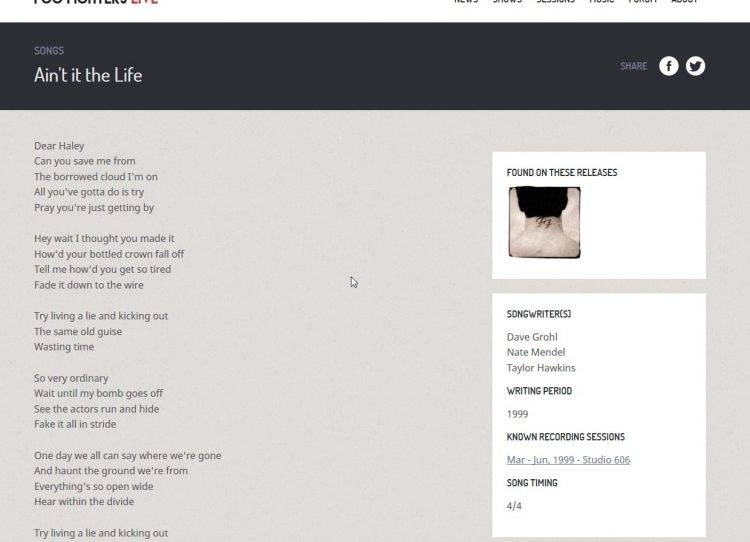 The albums page naturally lists every Foo Fighters album (and EP) plus below are related albums, such as Late! Pocketwatch and Dain Bramage.
The album pages themselves will give statistics on the songs for each album as well as some basic information on the album, such as producer and which sessions it was recorded at.
We also have a lot more planned for this area of the site, so stay tuned!
New Forum
The old vBulletin based forum has been replaced by a much more modern solution. Like the rest of the website the forum is responsive to any device allowing you to post on the move, wherever you are.
The default display of the forum also now brings all of the latest topics right to the top of the page, no need to go digging down into several old-fashioned sub forums, although that view is still available for those who prefer it.
More notes on the new forum will be posted in due time.
News
The news section has also not gone without some modifications, making articles easier to read as well as including better image formatting. We'll continue to bring you up to date Foo Fighters news, both myself and Kirri.
The Future
Bringing the website up to the present day has been a lot of hard work but we're definitely not finished. There are still lots more features and improvements we have planned, the first of which will be coming very soon – statistics.
We're working hard on new pages with a raft of statistics on both live performances and recording sessions. With plenty more in store over the coming months, stay tuned!
With Thanks
This update could not have happened without the help of several people. I'd like to thank Sam Smith whose initial codebase helped us along the way massively five years ago. Next I'd like to thank Hugo Berthier.
Hugo has been working with myself on the website for a few years previously, mainly focusing on the recording sessions, but he has also been a huge part in making sure the backend code powering this website was up to scratch.
Finally I'd like to thank the following websites which were big influences on the new website when it came to both design and features – RHCPLiveArchive , LPLive.net, Depeche Mode Live and U2Gigs.com.
We hope you enjoy the new website! As with any new launch we expect there to be a few bugs and niggles here and there, if you notice anything out of place or unusual please let us know.