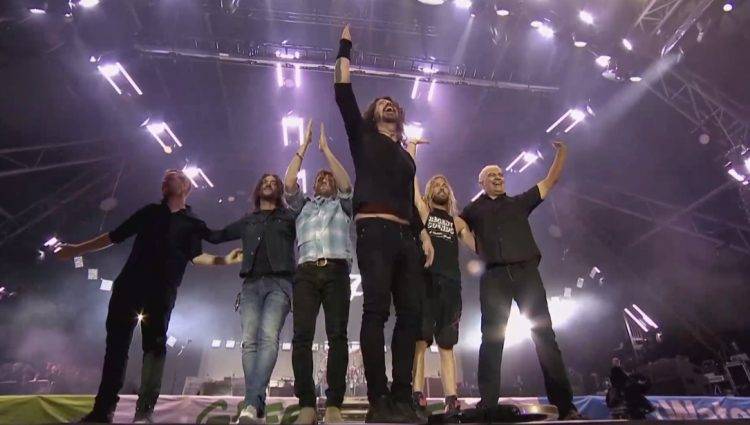 Although Foo Fighters have a slew of cities on their dance card this year, Glastonbury is considered 'the big one' for a number of reasons, one of them being that the band had to cancel their last performance due to Dave's leg break. In a pre-festival interview, Taylor said they were going to bring "the best performance possible".
"I'm about two years late to this…Traffic's a bitch," Dave greeted the crowd, talking about the time the band had to bail and Florence + The Machine went on in their place, before opening the set with the song that Florence and co. sang in tribute to them, 'Times Like These'. They launched into their hits with a promise that they'd deliver what the people came to hear, including songs they haven't heard yet.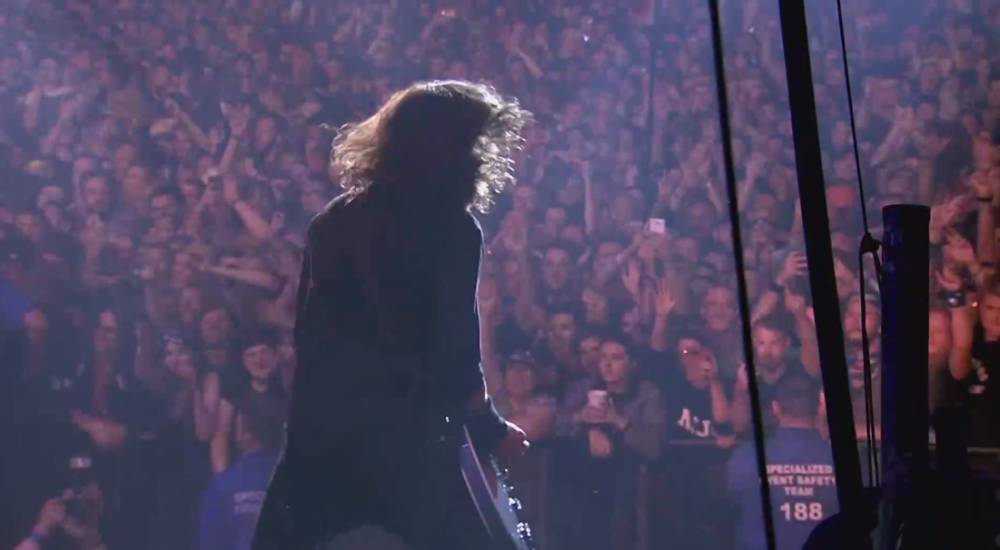 Fulfilling Taylor's vow on behalf of his band, they gave a high-energy set straight out of the gate, invigorated by the swarm of music fans spread before them and they interacted with unbridled joy. The weather that usually comes down heavy on Glastonbury-goers mercifully held out for their set as they lit up the skies.
Fans following their shows were anticipating two things in particular: New songs and any surprise guests. On the new material front, Foo Fighters played 'Run', the first single from Concrete and Gold, but no other tracks were given an airing – this set was about dishing up the crowd favourites. 'Sunday Rain' was on the planned setlist but not played, along with a mystery track marked with '???'. As for any friends joining them for a jam, members of Queen were originally invited but didn't appear with them (and the band did 'Under Pressure' anyway, with Dave and Taylor switching spots and Taylor commenting that Roger Taylor's children were running around backstage). This performance was theirs and theirs alone.
Dave dedicated 'Walk' and 'These Days' to his surgeon James, who attended to his leg after the Gothenburg incident, and he joked that he asked the specialist, "Could you make me look older?"During 'These Days', a spontaneous singalong rose up with thousands of people shouting "but it's all right" – a powerful and poignant line in defiance of the string of terror incidents in the UK of late. Dave beamed at the audience, even if they weren't singing the right part, and appeared truly touched.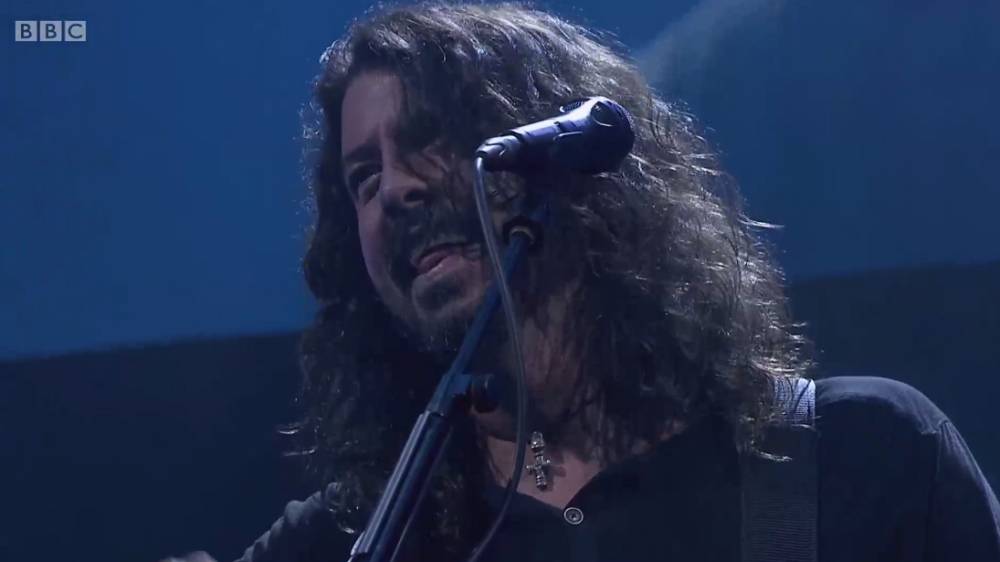 As the set ran over the 00:30 curfew, the crowd chanted for "ten more songs" and Foo Fighters were keen to oblige, extending their jams and bringing the crowdpleasers. Nor were the crowd going anywhere in a hurry, keeping the 'woh's going during 'Best of You' well beyond the usual singalong and prompting Dave to comment that if this was what it was going to be like, they were in for a long night. Not that it hampered their enthusiasm for the party.
Just as they appeared to be freestyling with the set, they were given the signal to wrap it up. In the lead-up to Glastonbury, a petition had been in motion to dedicate 'Everlong' to Laura Planes, a fan who lost her battle with cancer – a few weeks ago, Dave passed on a letter to her husband. It seemed this was his gesture towards his loved ones, but before playing the song, he fulfilled their wishes by paying tribute to the woman "who couldn't be here tonight".
As the song ended and the drone from Dave's guitar vibrated, they took their triumphant bows and waved goodbye to one more rousing crowd chorus of 'woh's.
Taylor's drum head was adorned with a blown-up image of his 'Run' old-man makeup.
Set list:
Times Like These
All My Life
Learn To Fly
Something From Nothing
The Pretender
Cold Day in the Sun
Congregation
Walk
These Days
My Hero
Wheels
Run
This Is A Call
Arlandria
Monkey Wrench
Best of You
Skin & Bones
Under Pressure
Everlong
In other news, earlier today, saxophonist and Dave's 'godson' Dave Koz announced that he, too, will be featured on Concrete and Gold.
Keep an eye on FooFightersLive.com for further Glastonbury updates and band news.