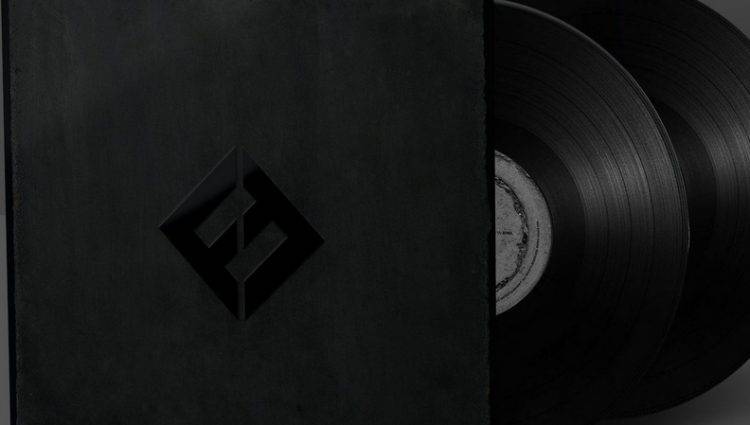 Foo Fighters listeners on Spotify were given a special thank-you treat today with the announcement of a limited-edition black-on-black vinyl pressing of Concrete and Gold via Merchbar. The double LP, to be shipped on the same day as the album's official release (September 15), has been produced with its own cover and will be released on " Audiophile-Grade 140-gram", which means that the run intentionally increases quality and durability. Although fans who aren't Spotify users can pre-order the pressing by following the link, the band's affiliation with Spotify by way of their mixtape goes some way to explaining what they've been up to and how logging in to the streaming platform would benefit fans.
The fun doesn't stop there – when the news first came out, the images on Merchbar's website included a high-quality preview inside the gatefold sleeve, allowing us to see the album lyrics and credits for the first time. Although the text has since been blurred out in Merchbar's gallery, the image has been feverishly shared amongst fan groups.
Merchbar notes that "the fourth side features a unique etching…that we can't discuss here". Early speculation has suggested a hologram, a hidden track, dual-groove technology, or some cryptic text containing a clue as to the mystery guest.
Along with the complete lyrics, the sleeve reveals a few more important details about Concrete and Gold, such as all band members contributing percussion to 'Run' and 'Happy Ever After (Zero Hour)'. Jessy Greene plays violin on 'Happy Ever After (Zero Hour)' and 'The Line' as well as cello on the title track. Producer Greg Kurstin contributes synth and vibraphone to a few songs. 'T-Shirt' may be a shorter introductory track, based on its lyrical content, although Dave has warned that listeners need to brace themselves. Meanwhile, the lyrical content of 'La Dee Da' (featuring Alison Mosshart) is undoubtedly politically-motivated, with references to the White House, Jim Jones, and "hate who I want to/love who I like".
Album photography comes courtesy of old pal Brantley Gutierrez and artwork is done by Grammy-nominated designer Andy Carne of thelongdrop, who also created the 'Run' cover.
The sleeve does not, however, appear to name the secret guest artist the world is clambering to uncover, indicating that they will remain a secret until identified upon listening.
Dave speaks of the album on Merchbar's website: 'This album has more twists and turns than a live senate hearing. Like a box of really loud chocolates. Hope you're hungry.'
FooFightersLive.com has transcribed these lyrics on the album listing page.