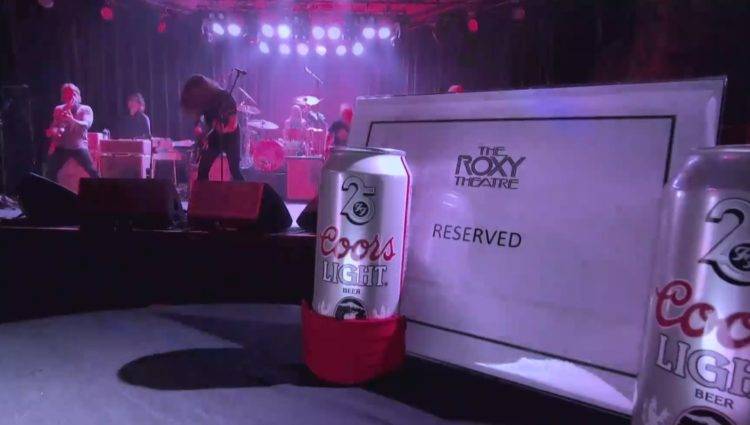 When Foo Fighters premiered their video for 'Shame Shame', we got a bonus gift: The announcement of a livestreamed show from the Roxy in Los Angeles, to take place only days later. Although they'd filmed a shorter acoustic set for the Save our Stages Festival on October 17, this would be the first full and electric set they'd played together since Let's Go Crazy: Grammy Salute to Prince, filmed in January. Coupled with the news that their tenth studio album, Medicine at Midnight, would be released in 2021, fans had every reason to be excited.
Tickets to the livestream went on sale immediately, along with event merch. In the days leading up to the show, the band shared photos and rehearsal footage on their social media and in Instagram stories, including a short black-and-white video of them bashing out a raucous instrumental outro amid the white hot stage lights of the Roxy, along with the invitation: "ARE YOU READY?"
When the virtual doors finally opened, behind-the-scenes footage from the Coors Light "Beer Can Cam" (socially distanced and wearing its own little mask) led us around the venue, while Dave's 2018 epic instrumental 'Play' warmed up the viewers. Five minutes after the stream was scheduled to begin, the feed faded to black and Foo Fighters emerged in line from a room at the side of the stage – to a noticeable silence. Perhaps apropos of the current global atmosphere's increasing threat to live music, Dave addressed this stillness early, saying: "I wish you were here – it's not the same". However, while the space occupied until recently by loving fans may have been empty, the air was anything but dead. From the first note, they opened the doors to our own private 90-minute soundcheck, offering no less than the same energy they would give if we'd been face to face at a stadium.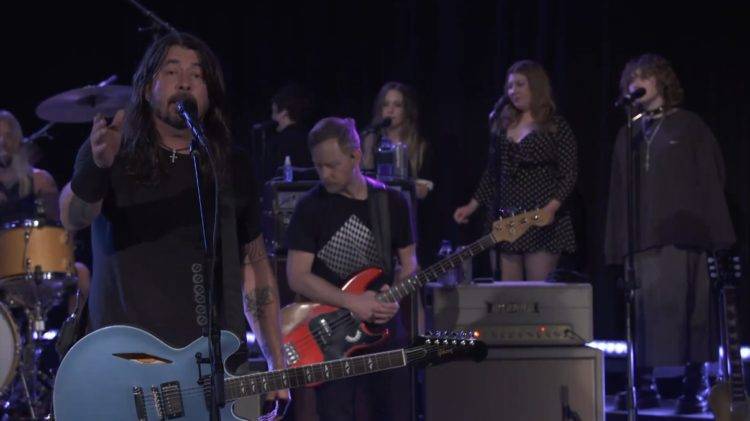 Indeed, everyone in the band appeared to be having a great time being Foo Fighters again. Especially jazzed was Pat, who always looks like he's on a higher plane than the rest of us but on this particular night, he emerged from seclusion as a lean, mean, Foo Fighting machine. The "Grohlettes" – Samantha Sidley, Barbara Gruska, Laura Mace, and Violet Grohl – also returned to the live show several times, proving particularly valuable in 'Shame Shame' (for which Barb contributed additional stick work) and the big choruses on 'The Sky is a Neighborhood'. Even the Foo Crew got their own solo, playing the fans' role (after some encouragement from Dave) in the singalong section of 'My Hero'. At the top of the breakdown, Dave remarked: "One way we'll be doing this face to face, motherfuckers, you know that, it's not long, I hope".
Earlier this week, Taylor was asked by 94.9 The Rock Toronto whether we could expect any additional new material during this set, to which he replied: "I don't know – we've been told by the powers that be that we should not, and we should focus on 'Shame Shame', and I don't yet. We haven't really rehearsed stuff much. There's a couple of songs that we know from the album, sort of, so you never know." The last sentence revealed the truth of what they had planned, as viewers were treated to three teasers from Medicine at Midnight – one at the very top of the show and two as outros.
Foregoing the extended band intros with solos that are a usual feature of their sets, the banter between songs was shorter but lost nothing in quality. We learned through sharing memories of their history at the Roxy that the Germs, Pat's pre-Nirvana/Foo Fighters band, were meant to be part of Cheech and Chong's Up in Smoke but they were the only band that got cut. Imagine that! Often emphasised was the weirdness of being apart from one another for so long (Dave: "Usually we're always together, it's like the Partridge Family") and what they see as their duty to provide relief and camaraderie in these times. "The most important thing right now is to bring joy and happiness. Everybody needs a little moment, every day. You wake up and you look at your phone and you're like, 'Aw, fuck, what's it going to be right now?' Fuck that shit. You need joy. You need a little happiness. So if we can't be in each other's face right now, I realise this is what we have to do."
From the looks of the photos and videos being shared by fans singing and dancing from home, their mission tonight was successful.
The event was mixed live by Darrell Thorp onsite and their long-serving monitor engineer Ian Beveridge, who couldn't travel, performing remote technological magic.
If you bought a ticket but missed out on the live feed, you can rewatch the show from the link emailed to you for the next 48 hours.
If all this just wasn't enough (and it never is), they also closed another livestream show that kicked off shortly after their own: Thundergong, Jason Sudeikis' annual benefit raising funds for the Steps of Faith Foundation which provides prosthetics for uninsured and underinsured amputees. Filmed earlier today at Studio 606 West, they contributed a performance of 'Walk'.
Set list:
All My Life (w/ Making A Fire intro)
The Pretender
The Sky is a Neighborhood
Times Like These
Shame Shame
My Hero (feat. Foo Crew)
These Days
Learn To Fly (w/ Holding Poison outro)
This Is A Call (w/ No Son of Mine outro)
Make It Right
Best of You
Everlong
Seen on setlists in the pre-show Beer Can Cam but not played (it's likely it was an old set from the last tour used as a prop or decoy): Walk, La Dee Da, Under Pressure, Monkey Wrench, Run, Breakout, Dirty Water, Big Me