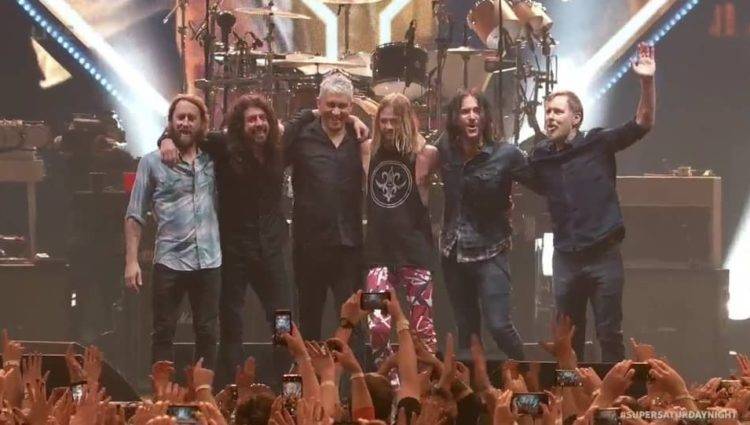 Tonight's super-sized event marked the second time Foo Fighters had played a pre-Super Bowl show, having done a set for the Bud Light Bowl in 2014 – which ended in anguish for the folks at home when the livestream abruptly died midway through. There were no such hitches for tonight as fans around the world assembled and watched Foo Fighters light up Atlanta.
Before the show, fans had the opportunity to stroll through a miniature Fooseum featuring the famous throne and moon boots, a collection of Grammys the band has won over the years, selected tour posters, tour itineraries, passes, the Sound City amp, custom drum heads, the prosthetics from the 'Run' video, and one of Dave's DG-335's hiding behind a curtain. A special key held by selected fans opened a swag locker gifting them with free merch.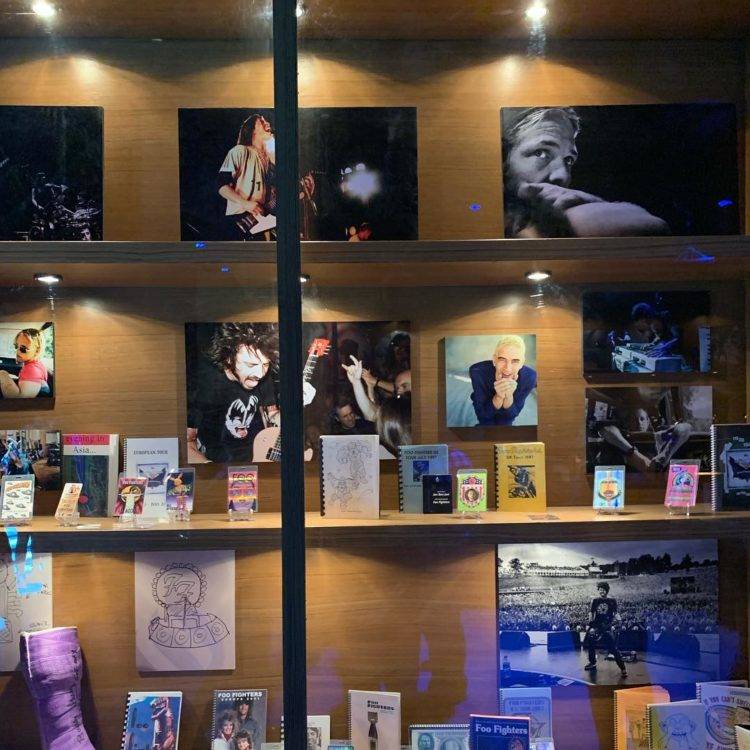 Decked out in their Jackalopes jerseys, they filled the purpose-built arena in Atlantic Station to get warmed up by openers Run The Jewels, featuring Atlanta native Killer Mike.
The livestream presented by DIRECTV opened with a timelapse of the venue's construction. Run The Jewels returned to the stage to the soaring chorus of Queen's 'We Are The Champions' – a little wink to one of the secrets Foo Fighters had in store. The group finished their set on the stream.
A five-minute countdown appeared over a replay of the band's Super Saturday Night video before the familiar frenetic strumming of guitars brought us back into the venue. Foo Fighters have arrived.
Opening with 'All My Life' to warm the crowd up (figuratively and literally), Dave asked, "Did you motherfuckers come here to dance tonight? I don't know", bringing the music back before releasing it like a slingshot. Barely pausing for breath, 'Learn To Fly' came up next. This would be a night of party favourites with a few sneaky tricks.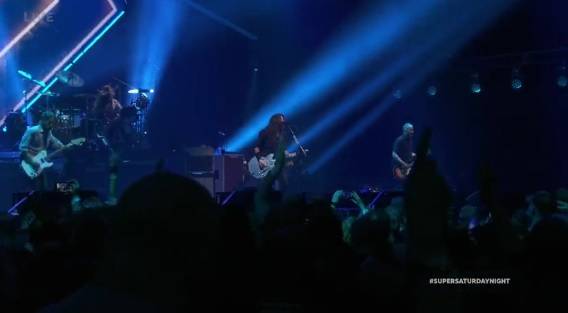 "This shit might go on all night long, it's up to you," Dave teased, waving the possibilities of the evening in front of the crowd as 'The Pretender' segued into an unexpected cover of The Yardbirds' 'The Train Kept A-Rollin", a little love note to Steven Tyler for the show Aerosmith played in Atlanta the night before. Backing singers Samantha Sidley, Laura Mace, and Barbara Gruska emerged, fingers pointed upwards, to usher in 'The Sky is a Neighborhood' against a backdrop mimicking the dancing lights in the music video.
A keen-eyed fan could spot a small blue circle with a heart on Pat's guitar – a tribute to his Germs bandmate Lorna Doom, who died on January 16.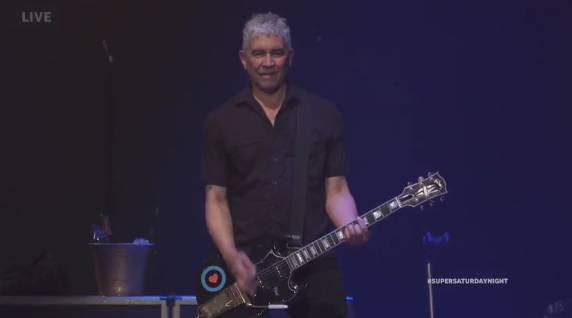 "We've been a band a long fuckin' time, it's been almost 25 years. But never has someone been fuckin' crazy enough to build something like this, have us come and play for two fuckin' hours, and then tear that shit down." A grateful Dave dedicated 'My Hero' to the people who erected this mammoth venue expressly for this night and all who made the night happen.
"It's about to go down," Dave announced after 'Walk', seeing as it's "a special night", bringing on Dave Koz to join the band for a round of 'La Dee Da' on saxophone, as Guy Fieri looked on from the crowd.
The next guest hardly needed an introduction but the build-up was out of sheer love for the man about to grace the stage and Taylor's kit – Roger Taylor has arrived. "Here's one Vanilla Ice stole from Queen – we're taking it back," he challenged as Roger thumped the familiar intro. On this, they have definitely succeeded, over and over.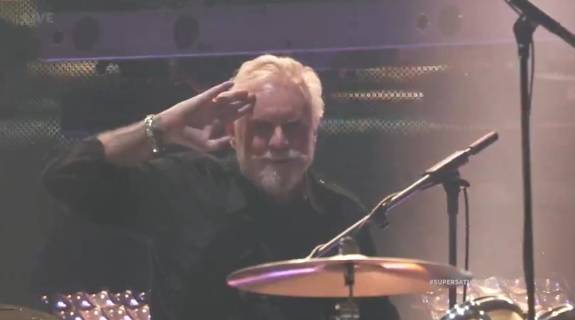 Foo Fighters were only scheduled to play for 1.5 hours, but that plan was going to be blown out of the water nice and early. Going into 'Monkey Wrench' and digging deeper into their treasure trove of hits, the band was just loosening up. They were now ready to unleash 'Run'. It appeared to be a tactical decision to put the songs that required more of Dave's vocals towards the second half of the set, and although it was beginning to show signs of fatigue at the pointy end, he persevered.
Next on the list of surprise guests was a double whammy – Zac Brown and Tom Morello to riff on a cover of Black Sabbath's 'War Pigs'. Foo Fighters have played this several times, including a Halloween set at the Ryman Auditorium in Nashville which also saw Zac join in. "This isn't some half-time shit, this is some good-time shit!" Dave yelled in celebration. In that spirit, Perry Farrell sauntered onstage, crash-tackling and play-wrestling with Dave to greet him, while Zac and Tom stayed on to play Jane's Addiction's 'Mountain Song'.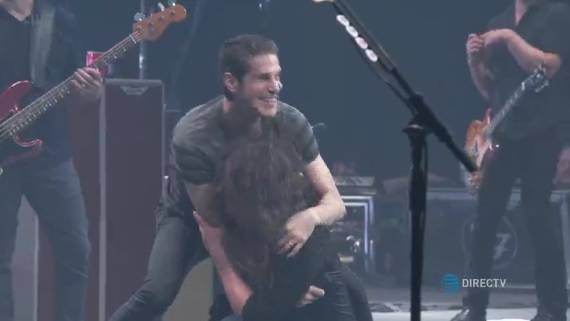 With the crowd's minds thoroughly blown, Foo Fighters returned to their own material to keep the venue moving with 'Best of You' – a song fittingly chosen in the whole Super Bowl setting considering Prince's famous cover and up-yours to the band during his own halftime show in 2007.
With nowhere to go to pretend to leave and put on an encore, they merely walked in a circle before admitting they'd been called on their bluff and going straight into their big finish. Thanking everyone for coming and taking part, and saying they don't know when we'll see each other again but "we're too fucking old to break up. It's like your grandparents getting divorced. It's not gonna fucking happen "- they bid Atlanta farewell with 'Everlong'.
The show will be available for 72 hours after the event on DIRECTV's Twitter, for those who couldn't watch it live or those who want to do it all again.
Setlist:
All My Life
Learn To Fly
The Pretender/The Train Kept A-Rollin' (The Yardbirds/Aerosmith cover)
The Sky is a Neighborhood
Times Like These
Taylor solo/Sunday Rain
My Hero
These Days
Walk
La Dee Da (w/ Dave Koz)
Introductions (Another One Bites The Dust, Imagine/Jump, Blitzkrieg Bop)
Under Pressure (Queen cover – w/ Roger Taylor)
Monkey Wrench
Run
War Pigs (Black Sabbath cover – w/ Zac Brown and Perry Farrell)
Mountain Song (Jane's Addiction cover – w/ Perry Farrell, Zac Brown and Tom Morello)
Best of You
Everlong