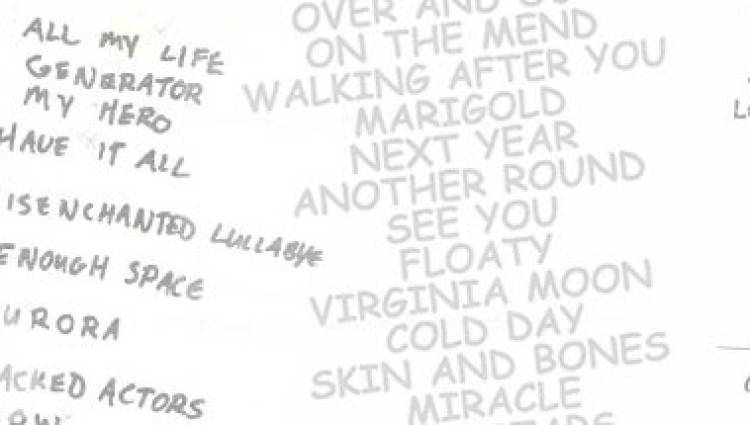 With the new FooFightersLive website we now have a lot of stats relating to live shows – which songs are played when, when a song was played first, the overall stats for each album and more. You can check out the full stats overview from here and you can also click on any song title in a set list to see the stats for that song.
So with that data we're going to perform an in-depth analysis, focusing on the live setlist data. Which songs are regularly played, which come out for occasional plays and which are long forgotten. We'll run through each studio album and see what we can discover from the data. Let's start at the beginning, the self titled record from 1995.
Foo Fighters (1995)
Of course when this album was released the band had no other material to play besides covers and they had already been playing most songs from the record for several months. Bearing that in mind it's no surprise that as of today most songs have had a healthy tally of overall plays although naturally there is a big variance.
Song,First Played,Last Played,Total Plays
This Is A Call,3rd March 1995,20th June 2014,644
Big Me,3rd March 1995,20th June 2014,427
For All The Cows,23rd February 1995,13th December 2013,419
I'll Stick Around,3rd March 1995,22nd September 2012,397
Alone + Easy Target,3rd March 1995,5th September 2012,289
Weenie Beenie,3rd June 1995,30th October 2009,200
Wattershed,3rd March 1995,5th September 2012,200
Exhausted,3rd March 1995,5th September 2012,115
Good Grief,15th April 1995,16th November 2000,74
Floaty,3rd March 1995,1st December 2006,73
"Oh, George",8th August 1995,16th January 1996,38
X-Static,4th May 1995,15th September 1995,28
Data correct as of August 11th 2014.
The four singles lead the overall play count, a theme that will continue through most of their following records. There is a clear disparity between them though, the first and most popular single 'This Is A Call' leading the way by a clear distance. It and the final single 'Big Me' are also the only songs from the album that can be considered regulars in current setlists although the latter went missing for many years. More on that below.
'I'll Stick Around' was the second single from the album but is placed fourth overall, appearing only occasionally on setlists in later years. There was a four year period from October 2007 to January 2011 where it was not seen at all and performances since then have been few and far between, just 16 performances in 2011, three in 2012 and none since. It is one of those songs that never seems to completely disappear though, so expect to see it re-appear within the next couple of years.
Third single 'For All The Cows' is also the third most played overall, just ahead of 'I'll Stick Around'. There has never a long period of time without this song appearing on a setlist somewhere, instead Cows appear every now and again but with no real permanency. It has come and gone seemingly at random throughout the years and with the last known performance just 8 months ago you can be sure it will continue to appear here and there on the sets in the future.
'Big Me' was the fourth and final single from the album and sits as the second most played overall. The song was always popular with the band, usually used as a softer song to 'calm' the crowd in the middle of some other heavier tracks. Always a regular in the set from its 1995 debut through to 2000 the song did have one issue, a side effect of the music video that accompanied it in which the band parodied Mentos candy with their own brand, 'Footos'. Following release of that video in 1996 some fans decided it would therefore be funny to throw packs of the real candy at Dave and the band during shows, something he later said "really fucking hurt!". As a result of this the track was eventually dumped from the setlist for five years, bar the odd performance.
In 2005 the band went on a co-headlining tour with Weezer and during the latter's set they decided to pull out a cover of the song. Grohl wondered if after five years it was now time for they themselves to bring the song back, hoping the candy attacks would be a thing of the past. The song was brought back in late 2005 and despite the odd 'attack' from nostalgic fans the candy did seem to have stopped flying. The song has therefore remained a staple of the set ever since and can be considered a 'setlist regular' once again.
So what of the other album tracks? It's somewhat of a mixed bag. 'Alone + Easy Target' was a radio single in the US and has had good coverage beyond the first tour but post 2000 performances have been very thin on the ground, just the four appearances on setlists in the last 14 years. Two of those however were in 2012, so who knows if it may be on their radar for the next tour?
'Weenie Beenie' and 'Wattershed' remain popular with the band and could probably be included in a 'best-of-the-rest' collection of songs that are not regulars, but also not forgotten. They've both been played on 200 occasions and both played in recent years although 'Wattershed' has been the more favoured of the two, 'Weenie Beenie' last being played at the Studio 606 Live performance in October 2009.
Throughout most of 1995 and 1996 'Exhausted' was the regular set closer but following the release of second album 'The Colour And The Shape' it was mostly dumped and by 2000, performances had stopped entirely. There was one further performance at an Australian show in 2003 but following that, it was seemingly once again forgotten. It was however brought back after an 9 year absence in surprising fashion for their Reading 2012 headline performance, so perhaps this one is also back on their radar now?
'Good Grief' and 'Floaty' were both relatively uncommon on most setlists and the infamous Black Cat show in 2000 is the last time to date the former was played. Floaty was also played at that show and similarly seemed destined never to return however the acoustic tour in 2006 gave the band the perfect opportunity to revive this softer song, as well as allowing Petra Haden to perform lead vocals as she had done on occasion in 1995 and 1996. Since that acoustic tour however the song has not re-appeared, perhaps because Dave doesn't feel he has the voice to perform it anymore.
The tracks 'Oh, George' and 'X-Static' brings up the rear, both seemingly disliked by the band and have not been played since 1996 and 1995 respectively. Grohl has in fact gone on record to say 'Oh, George' is a song he finds boring but he has not given any indication on his feelings towards 'X-Static'. It is worth noting the song was never played in the same arrangement as the album, instead it was always played at a much slower pace. Many older live guides and bootlegs would even label it is 'X-Static (slow)'.
So that covers the entire self titled record, what are your thoughts? Let us know in the comments below. The most up to date stats for the album, which may differ slightly from the above, can be found on the site here.
Continue on to the next pages to see analysis for further albums.
(Setlist images kindly provided to us by Emily Hopkins)