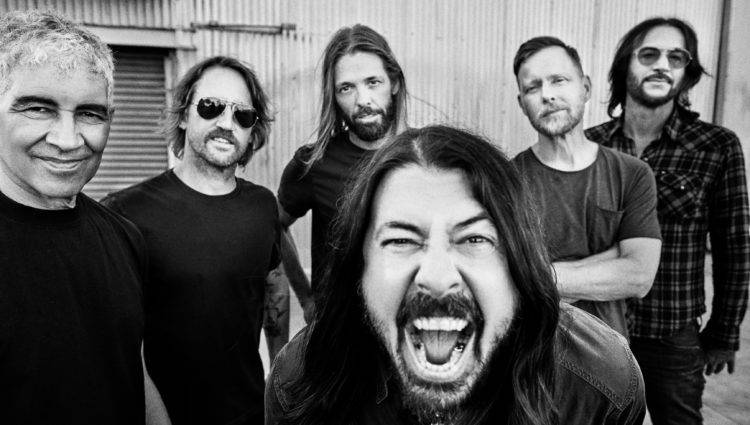 Foo Fighters are among the artists announced today who will be officially inducted into the Rock & Roll Hall of Fame in the class of 2021.
They join Tina Turner, The Go-Go's, Carole King, JAY-Z, and Todd Rundgren in the Performer category. Kraftwerk, Charley Patton, and Gil Scott-Heron will be honored with Early Influence awards. LL Cool J, Billy Preston, and Randy Rhoads will receive Musical Excellence awards. Clarence Avant will be acknowledged with the Ahmet Ertegun Award for non-performing industry professionals.
After being selected in the top five through fan votes, which count for one extra vote per nominee in the total ballot, Foo Fighters join Rock Hall's largest class since 2012. This is the first year they have been eligible for nomination, and with this they become one of 54 artists to be inducted in their first year of eligibility.
Dave Grohl also joins the 'Clyde McPhatter Club' as a two-time RRHOF inductee, having previously joined with Nirvana in 2014 – making him part of an even more exclusive club with only 26 members. Tina Turner and Carole King also join him in this group.
Even more remarkable, Dave is now one of only two people to be inducted twice as a first-time nominee. In 36 years of the RRHOF, the only other person to have such an achievement is John Lennon.
Foo Fighters reacted to their induction on their socials by pointing out the hilariously unlikely odds of their younger selves even imagining being here:
https://twitter.com/foofighters/status/1392460568649424902
In an interview with Rolling Stone today, Dave modestly projected we might hear an abridged speech from him this time: "It's time for those guys to speak." While he gave no indication of who Foo Fighters have lined up to induct them, the aspect of the event he's most looking forward to is returning to his home state and "taking my mother and sister back there so we can hang out with my uncle Tom".
He also reflected on the growth of the band and their considerably charmed life
"…if there's one common thread that's run through the last 25 years of being in this band, it's that everything just falls in our laps. It really does, like having the band begin with a simple demo tape, which was finished right around the time Sunny Day Real Estate was breaking up, and Pat Smear hearing the tape and offering his service.
Then we made our second record and were let out of our contact due to a "key man clause" because Gary Gersh was the president of Capitol Records. He was the man that signed Nirvana to Geffen. And we had a clause that said if he were to leave the company, we were free to go as well. So he left the company and we were free to go. Then we weren't obligated to be a band. We decided to continue because we loved being a band. We built a studio in my basement, not knowing what we were doing, nailing fuckin' sleeping bags on the wall for soundproofing.
And then coming out of that, winning Grammys … I don't know. It just seems like this band has been in the right place at the right time for the past 25 years."
The 36th Annual Rock & Roll Hall of Fame Induction Ceremony will take place on Saturday, October 30, 2021 at 8 p.m. ET at Rocket Mortgage Fieldhouse in Cleveland, Ohio, with a radio simulcast on SiriusXM's Rock & Roll Hall of Fame Radio channel 310. The Induction Ceremony will air at a later date on HBO and stream on HBO Max. Tickets go on sale to the public and RRHOF members in July via Ticketmaster.