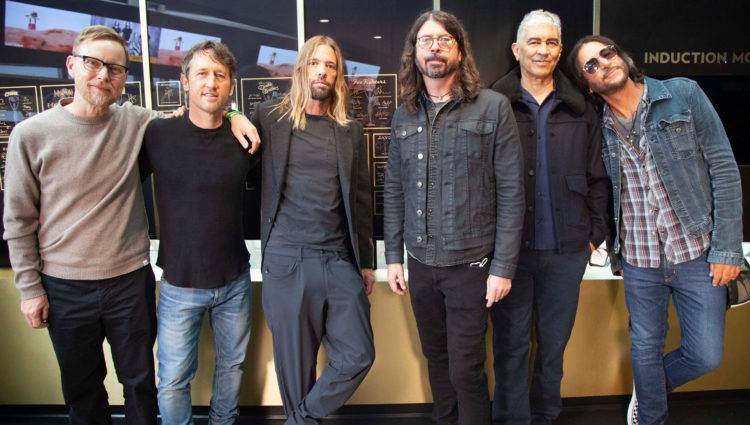 On October 31 at Rocket Mortgage Fieldhouse in Cleveland, Ohio, Foo Fighters officially joined the class of 2021 in the Rock & Roll Hall of Fame.
As we previously reported, Foo Fighters enjoy the prestige of being inducted in the first year they were eligible to be on the ballot, and were in the top five of fan voting, which counted for one extra vote per nominee. Dave Grohl also joins a select club of artists inducted twice in different bands, and is now one of only two people inducted twice as first-time nominees – the other being John Lennon.
Earlier in the week, the Hall of Fame's exhibit debuted the inductees' museum, which featured a collection of instruments, props, and other paraphernalia from the band's first 25 years. They also played a small show at the House of Blues Cleveland, bringing up famed photographer and old mate Danny Clinch for a cover of The Who's 'Young Man Blues'.
On ceremony day, Foo Fighters and their families arrived resplendent on the red carpet. Fans noticed Dave wearing a black leather jacket seemingly dug out from the Nirvana archives, while Pat winked back to his punk roots with a bespoke jacket picked up earlier in the week from MeowMeowz Pasadena, crafted on consignment by a young local designer. After that, it was a lengthy wait until their section of the ceremony, and of course, the big finale.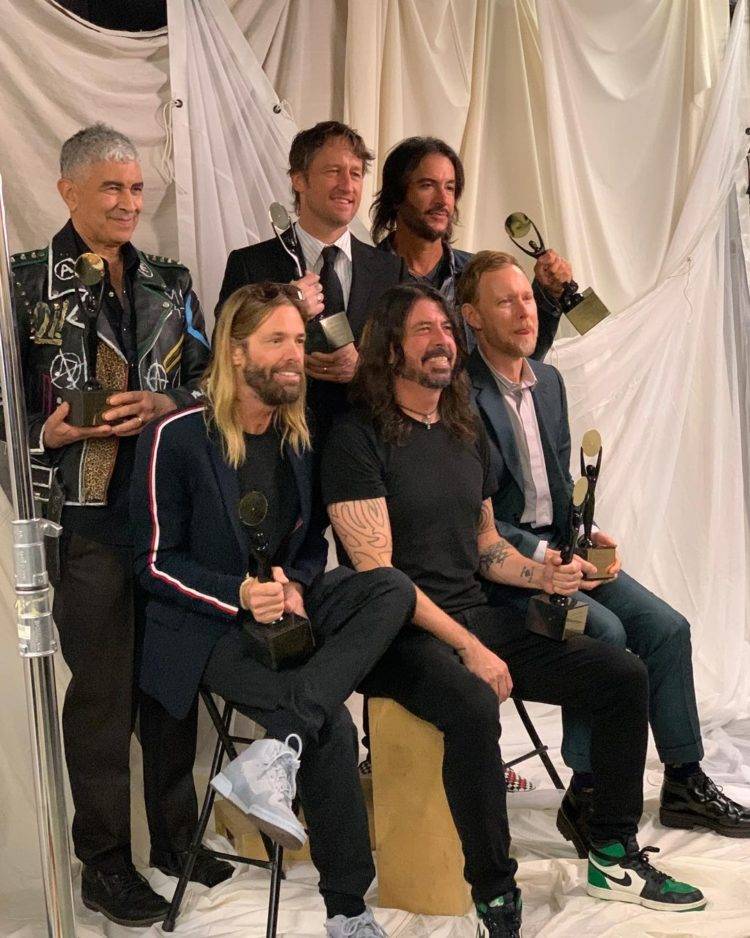 In what surely must have been a surreal moment for the guys, Paul McCartney was the fellow artist tasked with inducting them. During his speech, Paul drew parallels between his path and Dave's, from "falling into" rock 'n' roll to picking up the pieces after a band suddenly ends, reshaping it and themselves into something new. After throwing to a highlights package showcasing the band's triumphs, Foo Fighters themselves hit the stage, playing a medley of three of their biggest hits: 'Best of You', 'My Hero', and 'Everlong'. In just eight minutes, however, they brought three hours' worth of the live energy appreciated in their own shows – with Dave darting and forth across the stage and punctuating each chorus lead-in with his singalong prompts.
The audience needed little convincing to join in and knew instinctively when their presence would be called upon, every "whoa" and "there goes my hero" stressing how deserving the band is of their place in the Hall of Fame. Going directly to their acceptance speeches, Nate Mendel remarked, "It's been a long way from [Washington venues] the Party Hall and the Hoedown Center" and was the first to tip his hat to long-serving members of the Foo Crew, regarded by the band as "family" and who were in attendance with the band. Taylor Hawkins seized his moment with the mic to implore those in charge to consider fellow artists who hadn't yet been inducted into, or nominated for, the honor they were receiving – in particular, George Michael, Jane's Addiction, and Soundgarden.
Rami Jaffee's speech was short and sweet: "I'd like to thank five people. And you're looking at them right now."
Chris Shiflett thanked the friends and bandmates he'd ever worked with prior to becoming a Foo Fighter: "If it wasn't for you guys, I'd have never been ready in August of 1999, when I got the chance to try out for my favorite band, the Foo Fighters. I remember when I got the gig, Dave asked me, he said, 'Are you ready to pack your bags and say goodbye to your friends for a while?' I was like, 'Fuck yeah, are you kidding? What kind of question is that?' And luckily, 'for a while' turned into the last 22 years and this life that I never could have imagined."
Likewise, Pat Smear name-checked the bands from his earlier years, highlighting just how prominent he has been in the punk, rock, and alternative scenes: The Germs, the Adolescents, 45 Grave, Twisted Roots, Vagina Dentata, Celebrity Skin, and Nirvana. In a beautiful twist of fate, the Go-Go's were also inducted this same night, with member Belinda Carlisle having once been a member of the Germs as Dottie Danger. So although they did not make it in as an act, two members of the Germs are now in the Rock & Roll Hall of Fame!
Finally, Dave stepped up to the mic, promising to keep it brief as "the last 25 years has been me, just like, "Blah, blah, blah, rock 'n' roll, blah, blah, blah". After also making special note of the crew family seated nearby, he explained: "I think that's important because then you're doing it together, not just because it's work, but because you love each other." This affection was extended to his bandmates, without whom, he said, the band would not be there that evening.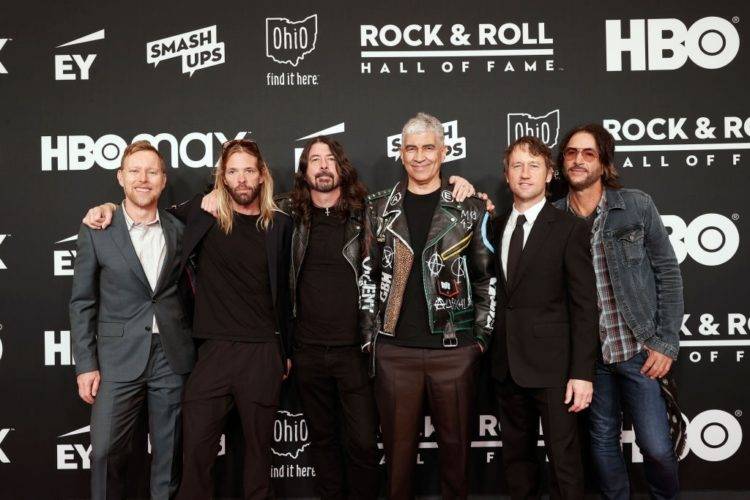 Foo Fighters tied a bow on the ceremony by inviting Paul McCartney to the mic for a performance of The Beatles' 'Get Back' – as Dave explained, "Everything I learned about rock 'n' roll, I learned from this man right here". During rehearsals the day before, an all-star jam (a Rock Hall tradition) was rehearsed by the band with Jennifer Hudson, Belinda Carlisle, H.E.R., Mickey Guyton, and the Go-Go's, however, this did not occur during the event itself, presumably because of COVID.
Departed band members William Goldsmith and Franz Stahl did not attend.
Now, Foo Fighters get to catch their breaths before returning to the road, starting with a headlining set at Tecate Pa'l Norte in Monterrey, MX. Check the tour dates on the band's official site and on FooFightersLive.com for updated show listings.
Congratulations, Foo Fighters, we look forward to following many more years of recording and touring!