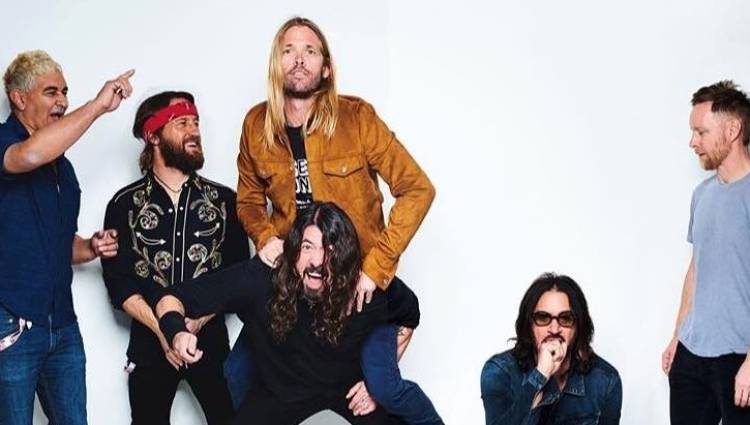 As 2018 draws to a close and the Concrete and Gold tour cycle winds down (or does it?), we like to send the year off with a reflection on what we and the band have enjoyed over the last twelve months. Because we're also suckers for stats, we did a bit of number-crunching, too. Here is how this year in the life of Foo Fighters breaks down:
1: Position on the Billboard 200 album charts for Concrete and Gold
71: Live shows
28: Support acts opening for Foo Fighters this year
2: Dates postponed (recovered later in the year)
12: Ranking on Pollstar's Top 100 Worldwide Tours list (mid-year analysis)
3: Pop-up bars (Sydney, Melbourne, and Seattle)
2: Babies born (Nate's twins, born while the band were scheduled to perform in Pittsburgh – longtime band friend Chris Chaney filled in)
2: Grammy nominations (and a third for Greg Kurstin as producer)
1: Grammy Award (Best Rock Song – 'Run')
1: Brit Award (Best International Group)
47,000,000: How much the band earned in 2018, according to Forbes
1: Surprise show (The Holy Shits/Chevy Metal in the Hollywood Palladium parking lot)
23: The minutes it takes to perform Dave Grohl's 'Play'
1: BBQ side hustle launched (Dave's Backbeat BBQ)
18: Episodes of Chris's podcast Walking The Floor
4: Chevy Metal shows (including the event coming up on December 22 in support of LA Regional Food Bank)
As always, we've enjoyed talking Foo with you in 2018 as well as bringing you the most comprehensive research on the band's touring and recording histories. FooFightersLive.com has always been by fans, for fans, and we wouldn't be able to do this without the support of the community as well as the valued input from those who are a part of that history. It is a testament to your generosity that the updated edition of 7 Corners: The Recording History of Foo Fighters, is coming to fruition. Available as an ebook edition and, for the first time, in paperback in early 2019.
We hope the rest of 2018 is good to you – come say hello on our site, on Twitter, or on Instagram!