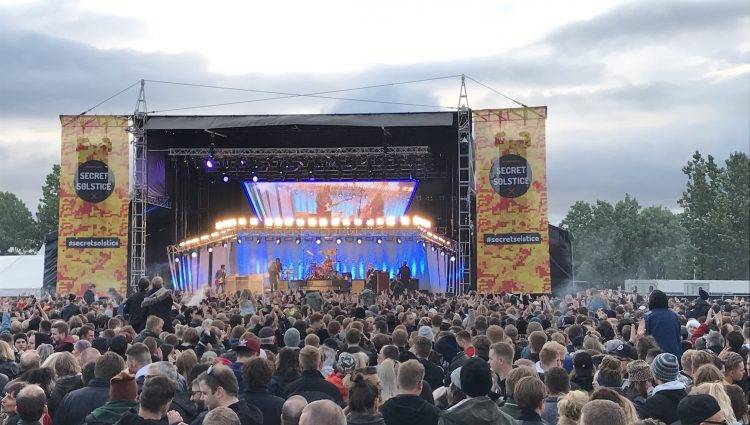 Foo Fighters have just stepped off the stage following their set at Secret Solstice Festival in Iceland and what a show it was! The show kicked off with a raucus version of 'All My Life' before being followed up with 'Times Like These'.
One might have begun to assume this was going to be a by-the-numbers greatest hits setlist, but oh no. Next up came the live debut of 'Run', the song recently given a surprised release by the band.
At the start of 'Cold Day In The Sun' Taylor remarked that he'd been chatting to a new drummer recently, before revealing that drummer to be Harper Grohl, Dave's daughter. She then got behind the kit to play a short jam on 'We Will Rock You' with Hawkins on vocals. Harper said hello to the crowd before leaving the stage.
The usual hits then came up but following 'These Days', fans got quite the treat. First up was 'The Sky Is A Neighborhood', the track previously debuted at a benefit concert acoustically. This time it was the full rock version, with Dave even playing the same part three times, noting how hard it was to play.
This was followed by a further surprise, with a totally new song. Well, almost. At the Cheese And Grain show in February 2017 the band played two song teasers. 'Run' turned out to be one of them, and the other was dubbed by fans as 'Keep Your Pretty Promise To Yourself'.
Some of the lyrics sang included the phrase 'Lah di Da', with most fans assuming them to be gibberish, placeholder words.
That was not the case. Grohl introduced the new song as, well, 'Lah di Da'. Another fairly heavy song, with thrashing guitars, suggests the upcoming record that they are teasing is going to be a heavy one.
Unfortunately the band were limited to a 90 minute set due to the curfew of the venue so things were quickly closed out with 'Best Of You' and 'Everlong', with Grohl promising to return and play for three hours in the future.
Whilst there was not an official live stream of the show fans were able to catch just about the whole performance thanks to Laif Magazine. The group streamed the show directly from the crowd and you can relive this in two video parts below:
Part 1, All My Life to before 'Cold Day':
https://www.facebook.com/watch/live/?ref=watch_permalink&v=1383923421726180&t=0
Part 2, the rest of the set (It may take a short while for this to become available)
https://www.facebook.com/watch/live/?ref=watch_permalink&v=1383954435056412&t=0
Don't have Facebook, or want to save the videos? We've done that for you!
Download a zip file containing both parts here.
The full set was as follows:
All My Life
Times Like These
Run
Learn To Fly
The Pretender
My Hero
Another One Bites The Dust (partial)
Cold Day In The Sun
Congregation
Walk
These days
The Sky Is A Neighborhood
Lah Di Da
Best Of You
Everlong