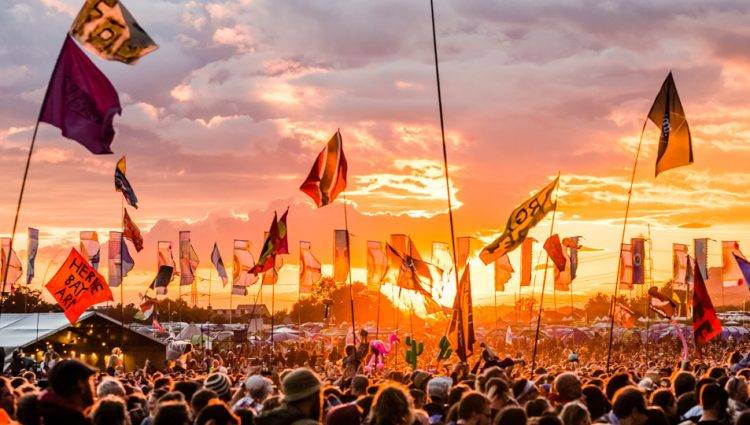 Unless you've been living far from Planet Foo recently you'll no doubt be aware that Foo Fighters will be making their long awaited appearance as a headline act at Glastonbury Festival later today (Saturday 24th June). The festival receives extensive broadcast coverage and Foo Fighters set will be broadcast in its entirety.
However, depending on where you live in the world, you may need to jump a few hurdles to tune it.
Watch and Listen in the United Kingdom
If you're in the United Kingdom it couldn't be any easier. Tune in to BBC2/BBC2 HD from 9pm onwards to catch the entire uninterrupted set which is due to start at approximately 9:45PM GMT.
Not near a television? Not a problem, so long as you have a TV license you can watch online via the BBC iPlayer. Simply visit this page when the time comes and you'll be able to enjoy the full live stream.
You can also just stream the audio via 6 Music Radio. There are a multitude of ways to listen to 6 Music, here are some of the channel numbers you'll need:
DAB
Freeview: 707
Freesat: 707
Virgin Media: 909
Virgin Media Ireland: 912
It is also available online. The highest quality stream available to UK fans is a 320kbps AAC feed, available via this link. Simply open that file in any popular media player that support internet streams (eg VLC Media Player, MPC-HC) and you'll be all set. If you have any problems with that of course you can just go directly to the 6Music website here.
Watch and listen outside of the United Kingdom
For Foo fans worldwide, things are a little trickier. Officially, only an audio stream will be available. To hear that, you'll need to tune in to one of the Worldwide streams of BBC 6 Music. Unfortunately the worldwide feeds are not available in the same HQ as the UK feeds, but three relatively good options are still available:
As with the UK streams, open these in media players like VLC to play the streams. Alternatively you can visit the 6Music website here to listen.
Worldwide stream (Shoutcast, 128 Kbps MP3)
Worldwide stream (48 Kbps AAC+)
Worldwide stream (96 Kbps AAC+)
Worldwide stream (48 Kbps AAC+)
Want to watch the show outside of the UK? Officially that is unfortunately not possible, the BBC only has the rights to broadcast to fans in the UK. However, there are a few sneaky ways around the geoblock.
The best option we have found is the Beebs extension for the Google Chrome browser, but we warn you, USE THIS AT YOUR OWN RISK. We take no responsibility for the extension but we have checked it out and it appears to be safe. Once installed you should then be able to view the livestream on the website here although since we're in the UK, we cannot verify it works.
There are various other ways you could get around the geoblock but we advise you to be careful. Popular tools such as Hola Unblocker can have some very nasty consequences, as such we advise against using that.
Other unofficial 're-streams' may appear closer to the event and we'll let you know of any that we see. Of course do bear in mind any unofficial way to watch the show could be taken away at any given moment.
Not able to watch or listen live? We'll have you covered
If you're not able to catch the show live, worry not. We'll have a full HD recording of the video and direct capture of the audio available as soon after the show as possible.
Other people are also likely to record the show and it'll probably end up on YouTube pretty quickly, although may not last too long for copyright reasons. Our downloads will however of course enable you to watch back the show at your leisure. Watch this space!