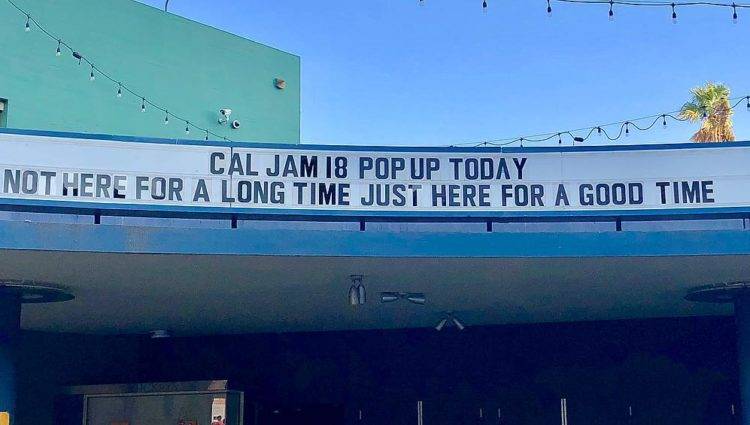 Fans in Los Angeles queueing in the Cal Jam ticket-holders and stand-by lines outside the Hollywood Palladium were richly rewarded with two stellar sets by Chevy Metal and Foo Fighters' pseudonym The Holy Shits.
A temporary stage was set up in the parking lot of the venue. Chevy Metal started out small with Taylor Hawkins, Wiley Hodgden, and Brent Woods getting the crowd warmed up, but grew in size with the addition of Chris, Rami, Pat, and Nate with a surprise appearance from Queen's Roger Taylor on 'Under Pressure'. With the arrival of Dave casually sauntering out from the left to lead the charge with The Faces' 'Stay With Me', the set was complete and the stage became the domain of The Holy Shits without pausing for breath.
Dave promised that the upcoming set would "give the fans what they want, what they've always wanted" and social media posts suggested a show curated by the hardcore fans, with the songs they'd longed to hear but had long been absent from standard tour set lists. To the rapture of those present and fans watching the livestreams, they delivered a short and sweet set filled to the brim with deep cuts, along with a small handful of hits.
Opening with 'White Limo' as they did at the Cheese & Grain, 'Wattershed' confirmed that this would be no ordinary show and the surprises did not stop there, dusting off such fan favourites as 'Gimme Stitches' (last played in 2008) and 'New Way Home' (four years since its last airing).
"That's our target demographic tonight…the nerds," Dave said as the group returned for their encore, performing 'Everlong' before leaving on a high. Elated fans expressed their hope on social media that this set might signal what is in store for Cal Jam and the next leg of the Concrete and Gold Tour.
Elsewhere in the Palladium parking lot, fans could grab a bite from the Rock & Roll Pizza pop-up and take selfies posing on Dave's famous throne made for the Broken Leg Tour. The White Limo was also parked nearby, emblazoned with the band logo and sporting a comically oversized megaphone.
General Admission Lawn-Only tickets for Cal Jam are still available for $49pp + fees via the festival website.
Set list:
White Limo
Wattershed
Congregation
Gimme Stitches
Weenie Beenie
Low
Hey Johnny Park
Alone + Easy Target
New Way Home
Everlong (encore)