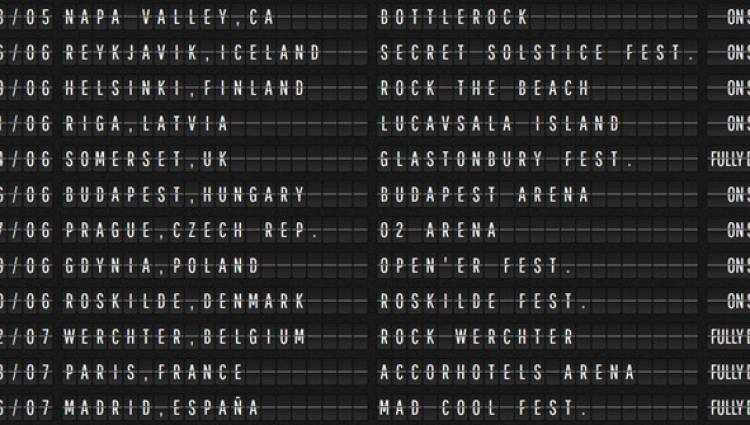 It was announced today that Foo Fighters will be one of the headline acts at the Corona Capital Festival, taking place in Mexico City, Mexico, this November. With the addition of that show it now means the band currently have 17 scheduled for the year.
Ordinarily this wouldn't be newsworthy in itself, the band have been playing concerts for over 20 years, sometimes over 100 per year, and we don't expect them to stop any time soon. There is something a little curious about this set of shows, however. Foo Fighters last released a studio album in 2014. It was assumed touring for that album was completed at the tail end of 2015 with Grohl noting as such with release of their EP 'Saint Cecilia'. Since then they have played only a private show at their studio in LA and the 'Cheese And Grain' Glastonbury announcement show earlier this year.
A new album is also not believed to be releasing soon. There have been a few comments here and there from band members suggesting it's in the general pipeline, but nothing concrete. Certainly, we've seen no evidence of recording and no release date has been set.
The first show they're due to play is Bottlerock Festival later this month and the CEO of the event did suggest that the band would be spending most of this year recording an album, but this was not corroborated by anyone else.
So why then, are they preparing to headline some huge festivals and play some of their own shows this summer and now, into the winter?
Playing shows In between album cycles is not a totally strange concept. In 2013, they played two huge shows in (coincidentally) Mexico. It wasn't known until after the fact but these turned out to be in part to help fund the Sonic Highways documentary and album.
In 2001, the band headlined a trio of festivals in Europe before going off to record 'One By One'. They were scheduled to play Woodstock Festival in July 1999, before the release of 'There Is Nothing Left To Lose' later that year, although they pulled out after Franz left the band. In 2004, before recording for 'In Your Honor' began, they headlined Rock In Rio festival (which confusingly took place in Portugal).
In 2017 however, there are so far 17 shows, a much larger number. There could even be more, with strong suggestions of a return to Bangkok after 21 years.
You could of course just look at is as a case of "why not?". They're one of the biggest bands in the world, they can sell out venues anywhere they go at any time, why not just go out and play shows, just because they feel like it? There can be no real argument against this case.
One other possibility is another run of shows to fund something, as with the 2013 Mexico shows. With a larger number the potential revenue is obviously going to be much higher, so what do they have in mind? Perhaps Dave wasn't joking when he mentioned recording in space!
Another eventuality could be some form of 'surprise' album release. Many artists have gone down this route in the past and Foo Fighters love to tease and surprise their fans. Provided they could keep recording secret, it's possible an album could just drop before some, or even all of these shows.
Some fans have speculated that the shows themselves may form some part of the recording process. "Maybe they'll record the album live" has been one popular suggestion, or a worldwide edition of "Sonic Highways", with the band visiting recording studios in the countries they are to visit.
There is of course a good chance none of these scenarios are true and Foo Fighters have something else in mind. We can only wait and see how things play out but we're certainly excited for what 2017 will bring Foo Fighters fans, and not just for those lucky enough to be going to one of the shows!
On an unrelated note, a few of you have been asking about the lack of activity/updates on the website. We realise it looks like things haven't been updated but rest assured we've not abandoned it and you'll see some activity on the site VERY soon, so keep an eye out!