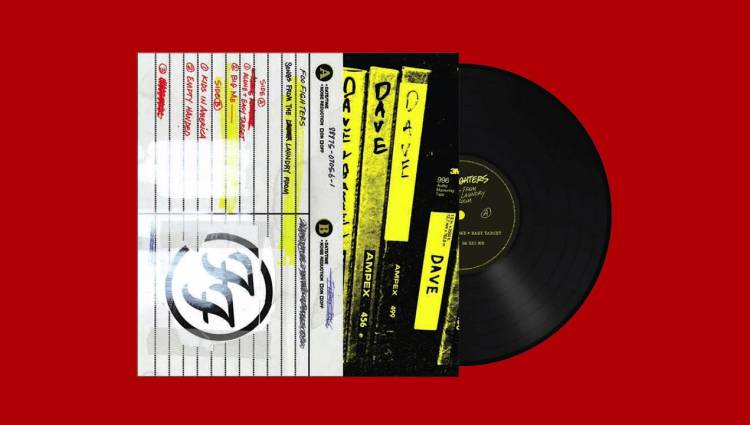 Last month it was revealed that Dave Grohl would be the ambassador for the 2015 edition of Record Store Day, a special initiative originally set up in 2007 to celebrate and promote the independent record store. Ever since then artists have been releasing special, usually limited edition items for the day, sold at independent record stores across the world. Now it has been revealed just what Dave has in plan for this year.
It was previously reported that he would be releasing a 4 track, 10 inch Vinyl EP entitled 'Songs From The Laundry Room' however no further details were revealed. Now, thanks to Paul at FooArchive.com, we can see the artwork for the release which in turn also reveals the tracklisting.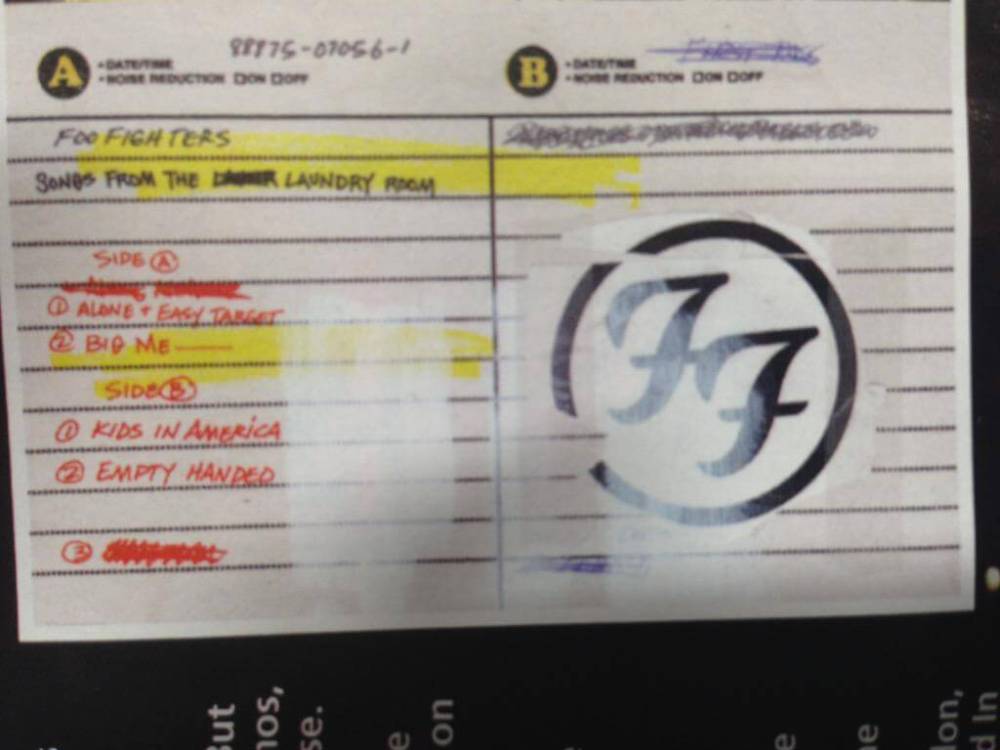 According to Paul the image comes from the latest issue of UK Magazine 'Kerrang!', the creator of RSD providing them with an interview and the image. Paul reports that RSD had asked Dave to be ambassador in previous years but he had wanted to wait until 2015, the band's 20th anniversary.
As we can see the title of 'Songs From The Laundry Room' is confirmed and it is released under the Foo Fighters name although as far as we know, these tracks are all Dave solo recordings. So what do we have here? Well as the title suggests, the tracks are all recordings created at Barrett Jones Laundry Room Studios. The tracks themselves, then..
First up, Side A:
Alone + Easy Target
Big Me
Two well known Foo Fighters tracks of course, but from what timeframe are these demos? Hopefully this is detailed on the artwork but for now we can only make an educated guess. During the Seattle episode of 'Sonic Highways' Dave and Barrett are seen playing demos and one of the tracks they specifically listen to is 'Alone + Easy Target'. Dave mentions that the date of that one is 'January 1992' so we can only assume we are going to be hearing that version, in full. It won't be the first demo of the song we've heard though. Many years ago an early version of the song was leaked online to fans, heard below:
Only a small snippet of the song was played during the Sonic Highways show but it seems to be a different version, with slightly different lyrics. We know the song was first demoed and played in 1991 so it's possible the version above is the earlier, 1991 version whilst the version set to be released on this EP is the later, previously unreleased January 1992 version. Of course we can verify for sure once we hear the full track, or see the full liner notes. We may be wrong!
Secondly on Side A is 'Big Me' and once again a demo version of that song already circulates amongst fans. However, we have so far been unable to pinpoint the recording date down further than being sometime around 1992 and 1993.
Is this the version being released on this EP? With no preview it's of course impossible to say at this stage but if it is of course the quality will be much improved over the leaked cassette version.
Side B
Kids In America
Empty Handed
?????????????
Here is where things get really rather interesting for the Dave/Foo fanatics! First up we have the now well known cover of Kim Wilde's 'Kids In America'. First mentioned by Barrett Jones several years ago the track got a sneak teaser sampling on the same 'Sonic Highways' episode as mentioned above. During the credits we hear Dave say that he covered the song before a 40 second sample of the track is played. The track was recorded by the pair in February 1991 and it seems next month we'll be hearing it in full for the first time.
Track two on Side B is perhaps the most interesting of the lot, since it is a completely unreleased, 'new' song by Dave. We say completely unreleased, but once again the Seattle 'Sonic Highways' episode did give us a quick sample, sampling a heavy riff and fast paced drums. Again, we currently don't know when this one was recorded so hopefully the liner notes will reveal all.
There is one final point of interest on track B, a track 3 title scribbled out. Is this just a handwritten, artistic style or does it hint to a 'secret' hidden third track. We're guessing the latter, and the likely candidate seems to be one of the other tracks sampled during 'Sonic Highyways'. 'Hooker'. We discussed the track in this article here and given it's less than serious nature it seems suited to being the hidden track. Of course, only time will tell whether this comes true.
For any serious Dave Grohl & Foo Fighters fan this release is going to be highly sought after, fans having desired to hear Dave's early demos for many, many years. Whilst this information and image does reveal the tracklist and artwork of the release full details, including numbers being pressed and country availability, are not yet known. This information is expected to be released, along with full details of all releases, by RSD this month. Stay tuned for more information.
Record Store Day 2015 takes place on Saturday, April 18th 2015.
Thanks to Paul/FooArchive for the information and images. The full Kerrang! article can be viewed below.