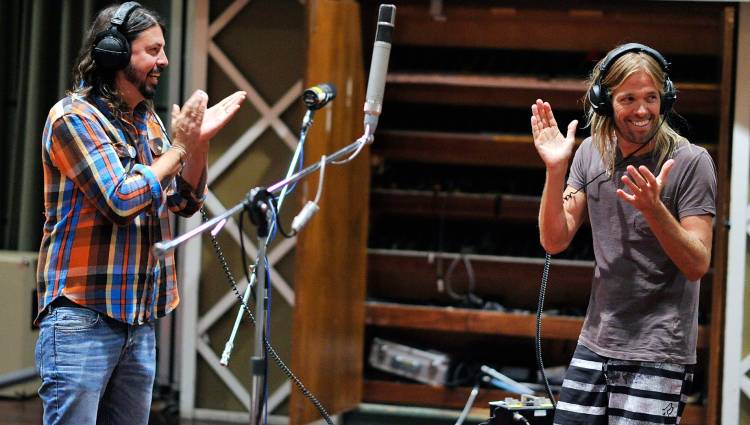 As previously announced the first broadcast of session tracks recorded in September for Radio were broadcast tonight. The band were at the famous Maida Vale Studios (Studio 3) on September 8th and today we can hear some tracks that were recorded, as well as an interview with all five band members.
'Something From Nothing', 'The Feast And The Famine' and 'Congregation' were all broadcast tonight by Zane Lowe from 8pm and you can already grab a recording of the entire segment right here!
Download via Dimeadozen.org (Torrent, registration required)
If you don't download via torrents don't fret, we'll have a direct download link up as well very soon. Below is the text file detailing the recording. Enjoy!
Foo Fighters
September 8th, 2014
Maida Vale Studios (Maida Vale 3)
London, United Kingdom
SOURCE (SBD #1):
soundboard > unknown
TRANSFER:
Roof mounted aerial > JVC UX-G3 > Creative Sound Blaster Audigy SE > Adobe Audition CS6 > CDWave 1.98 > Trader's Little Helper 2.7.0
GENERATION:
FM > WAV [44.1khz] > FLAC [Level 8]
LENGTH:
31:46
NOTES:
– Broadcast November 5th, 2014 on the Zane Lowe show, BBC Radio 1.
TRACKS:
01. interview 1
02. The Feast And The Famine
03. interview 2
04. Something From Nothing
05. interview 3
06. Congregation
07. interview 4
MD5 FINGERPRINTS:
a7726b4da691ad9c51f3d9ec038f0195 *FooFighters2014-09-08t01.flac
4efd97ca4013f6669aa2c6edf21a0108 *FooFighters2014-09-08t02.flac
ecbd9a6c14b4b60beb9657529b081d63 *FooFighters2014-09-08t03.flac
85005aa4b9f4ae6788e12ec2c05e1a35 *FooFighters2014-09-08t04.flac
af86086a7f4a07e23f469eff92ea576e *FooFighters2014-09-08t05.flac
d9e5f20a82a261c578a542722b93078d *FooFighters2014-09-08t06.flac
7b93aa042667a88fe21185e3d1306d7f *FooFighters2014-09-08t07.flac
RECORDED AND TRANSFERRED BY:
FooFightersLive.com
**PLEASE DO NOT ENCODE TO LOSSY FORMATS OR SELL!**
As previously stated there are two further broadcasts planned relating to this session, on Radio 2 at 8PM tomorrow night and on BBC 6 Music on November 10th. Whether these broadcasts will simply repeat the above songs or play others remains to be seen. Tune in, and check back here afterwards for recordings!