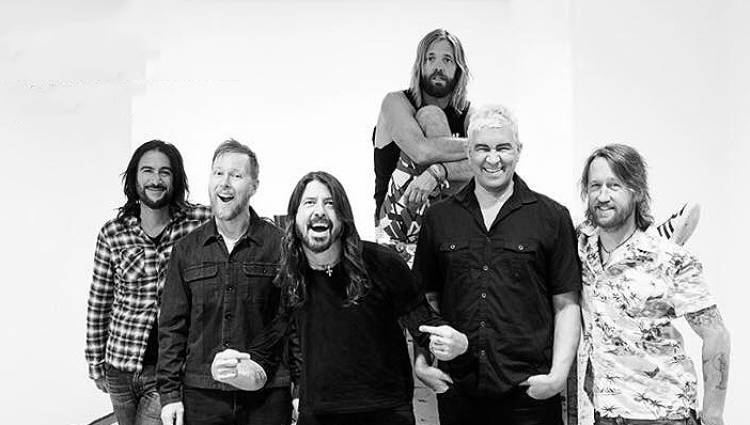 With the Concrete and Gold tour wrapped up and the yet-to-be-titled new cycle in its elusive early stages, the energy felt among fans hasn't waned. The fact that 2020 marks such a momentous occasion for Foo Fighters – their 25th anniversary – isn't lost on anyone. The anticipation is mounting not just for the next official album, but for whatever celebration plans they might have. In this post, we will walk you through what we know so far and the little breadcrumbs that the band has been leaving for us to follow.
The album
At the tail end of their colossal headline set at Rock in Rio, Dave seized the opportunity to announce that "we go home next week and we start making the new Foo Fighters record". Right on schedule, a photo from inside Studio 606 West via FeelNumb.com indicated their presence, and suggested at least that they have begun pre-production. Taylor Hawkins told Hotpress that, much like he did for Concrete and Gold, Dave rented a house recently and recorded demos with his own gear, "so we started recording pretty quickly", but the drummer was not forthcoming with any further details.
However in another interview Taylor might have put his foot in it by inadvertently revealing the scope of the project. In an interview with British newspaper The Independent on November 7, he was discussing the bands live performances and said: "We're pretty tight, and hopefully that energy and excitement will make it on to the live record." Perhaps on a related note, he told Jo Whiley on the same day that "Dave's a firm believer in spending more money and going somewhere else when we have a perfectly good studio! No, I get it. It'll all be revealed, but we are going somewhere different."
It's worth noting, though, that Taylor may not be referring to a single album – it is possible, with no further information at this stage, that there could be a studio album and an official live release – what would be the first live album from the band featuring their rock material, having released the acoustic 'Skin And Bones' album in 2006. Or he may be speaking of one and the same. Dave also hinted at this possibility in a pre-Reading interview with NME: "There is one new song that would fucking destroy and I would love people to hear it. It's written for a live performance, so we'll see. I don't know."
Speaking with Eric Blair at a bowling fundraiser for the Ronnie James Dio Stand Up and Shout Cancer Found on November 7, Dave described the upcoming album as "fucking weird" but didn't want to give too much else away, saying they're "in the middle of it".
On Whitney Cummings' Good For You podcast released November 13, Dave played brief voice memos from his phone with ideas for songs he had hummed or noodled with on an acoustic guitar. These can be heard from around 1hr 17m in. The clips are very brief but it will be exciting to see if what we hear turn out to be ideas that become fully realized for the album.
Other developments
During a radio chat with Jo Whiley on August 22, Dave casually mentioned ideas that been tossed between the band on the flight to London. He specifically referred to a "documentary-style project". On September 22, during an interview with country artist Tim Montana backstage at the Pilgrimage Festival, he made another off-hand remark about an upcoming documentary and film. He made a third reference towards the end of his keynote at Adobe Max on November 4, among a list of other noteworthy developments:
From Cradle to Stage, the documentary based on his mother Virginia Hanlon Grohl's book, will be a six-part series
A second documentary
A movie
The next Foo Fighters album
The premiere date for From Cradle to Stage is not yet known, nor do we have any further details about the documentary and movie. We can safely assume that the documentary he mentions here could be the same one he was thinking about when he spoke to Jo Whiley, and given that it was a band discussion, it proposes that the project will have a group focus and be in recognition of FF25. Further details about the movie, however, are not publicly known at this stage.
Meanwhile, the Foo Files continue to be rolled out on a weekly schedule, with the latest file 01050525 being an update/correction of a previous release. It seems the '02' at the beginning of the previous file was an error. The current file keeps with the numbering convention we have previously speculated on, and adds more B-sides from the In Your Honor era. Their cover of 'I Feel Free' and another live version of 'Best Of You' are now the only two era-specific B-sides not featured in this collection.
Dave and Taylor admitted during an interview at Rock in Rio that they are not involved in these compilations, meaning that someone else has been putting them together (presumably on their behalf), but they have been keen on the trip down memory lane. The question still remains what the overall purpose of the Foo Files actually is – whether it is simply a way to satisfy the fans who beg and plead for these deep cuts to be made streamable, or if they serve some higher purpose.
In other news, 2020 will mark the first year that Foo Fighters are eligible for the Rock & Roll Hall of Fame. Eligibility, for those unaware, is determined 25 years after the release of an act's first official record. For Foo Fighters, that would be the eponymous album recorded almost entirely by Dave. Technically, as far as we know, that would make Dave the only official nominee. In saying that, we're sure Dave or the HOF would find a way to recognize other band members as key contributors in this period, particularly Nate, William, and Pat who joined the band so that the album could go on the road. These details will no doubt come to light if and when Foo Fighters are inducted.
So as you can see, 2020 and beyond is already shaping up to be an exciting time for Foo Fighters and their fans. An album release is soon followed up by a world tour announcement, which means we can look forward to seeing the guys onstage again soon. There are particular hopes for a third Cal Jam in particular, but nothing has been indicated for the coming year one way or the other, though it would be fitting to hold this event to commemorate the new album and/or FF25. Also, both Dave and Josh Homme have expressed interest in a second Them Crooked Vultures album, but this does not constitute any confirmation of firm plans as they've said similar things in past years. For any and all possibilities of what lies ahead, we will endeavor to inform you as soon as it happens. Check back here and follow us on Twitter and Instagram for the latest updates.