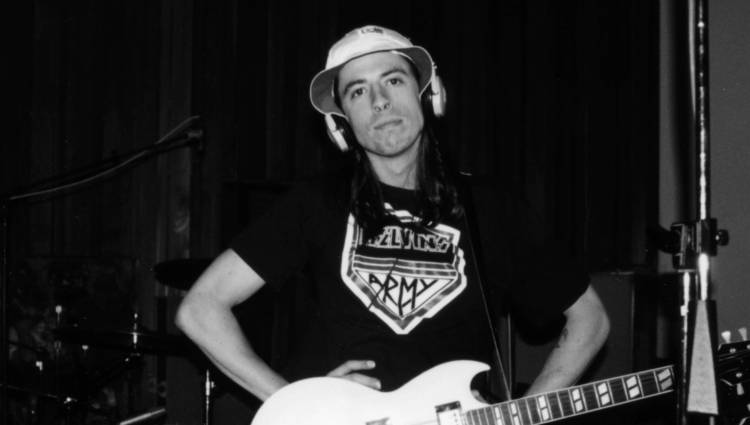 As described in our first article here, this week marks the 20th anniversary of the recording session which eventually led to the 'Foo Fighters' album and we are marking this with a series of articles looking back at the session. The session took place at Robert Lang Studios in Seattle and for most of the week, only two men were part of the core team creating and producing the music – Dave Grohl and his long-time friend and producer, Barrett Jones. The only other person present throughout was Steve Culp, engineering.
Even whilst in Nirvana Dave had become known as a talented multi-instrumentalist, not just proficient behind the drum kit. The 'Late! – Pocketwatch' release saw him on all instruments as well as performing the lead vocals and ever since the late eighties he and friend Barrett Jones would record material together, helping each other on their projects and most featured no other musicians. During that time the pair had unsurprisingly got the process working together down to a tee. "Barrett and I had perfected our own method of recording" explained Grohl in an interview. "Start with the drums, listen to playback while humming [the] tune in [my] head to make sure [the] arrangement is correct, put down two or three guitar tracks — mind you, all amplifiers and everything are ready to go before recording begins – do [the] bass track and move on to [the] next songs, saving vocals for last". It was because of this speedy method the pair were able to knock out a total of 15 tracks in the 7 days. In contrast for the most recent recording session by Foo Fighters the band spent 7 days in a studio to record just ONE song.
It wasn't just their pure speed that enabled them to finish songs so quickly however. Some pre-planning was involved with Grohl first whittling down 35-40 song ideas to the best 15. He then spent the months before the session further honing the songs and then decided on a sequence for an 'album'. "In the months before I recorded the record, I spent a lot of time getting it together and figuring out the sequence of the album" Grohl told Richard Kingsmill of Triple JJJ in a 1995 interview. "Then [we] recorded it in the sequence that it is on the album and I just got everything together so that the one week I had in the studio I could get it finished" he added.
Midway through recording a fourth person arrived at the studio. Greg Dulli of The Afghan Whigs was good friends with Grohl, the pair having worked together recording the soundtrack to 'Backbeat' earlier in the year and was invited studio to observe. Straight away Dulli was impressed at the speed Grohl and Jones were working in the studio. "He'd do a whole song in about 40 minutes" recalled Dulli. "I was completely fascinated by it. He could do it because he has perfect time. He'd lay down a perfect drum beat and work off that. He'd play drums, run out and play bass, and then put two guitar layers over the top and sing it". Dulli did not remain only an observer however. "I was just watching him record, and he asked me if I wanted to play. I didn't even get out of my chair. He just handed me a guitar". The song he recorded a guitar track for, 'X-Static', was the track to feature an additional musician.
Grohl stuck to his initial plan and 15 tracks were recorded, in the planned 7 days.
This Is A Call
I'll Stick Around
Big Me
Alone + Easy Target
Good Grief
Floaty
Weenie Beenie
Oh, George
For All The Cows
X-Static
Wattershed
Exhausted
Winnebago
Podunk
Butterflies
Stick around for further articles this week as we explore those songs recorded, where they ended up and how they eventually became 'Foo Fighters'.
(Some of the above article features excerpts from the '7 Corners: A Recording History Of Foo Fighters' ebook. Purchase a copy by clicking here!)