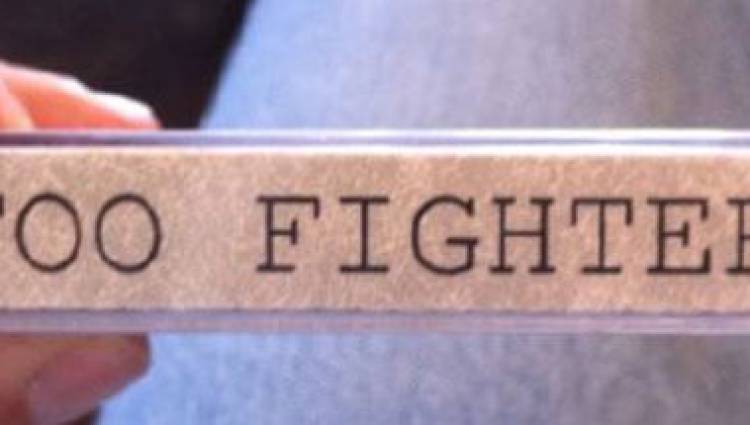 As per our previous articles here and here 20 years ago this week Dave Grohl was in a Seattle recording studio creating what eventually became the first Foo Fighters album. But just how did that come to be? In this article we'll take a look, but first a recap of the session itself.
After 7 days, from October 17th through to October 23rd 1994, Dave Grohl, with the help of his producer Barrett Jones, his friend Greg Dulli and engineer Steve Culp had created an album. As planned and with extreme speed Grohl had recorded what he believed to be 15 of his best songs, some of them old, some of them new.
THIS IS A CALL
One of the new songs, Grohl had written the lyrics of this song he says" It's just sort of like a little wave to all the people I ever played music with, people I've been friends with, all my relationships, my family. It's a hello, and in a way a thank you.". As far as is known publicly he had demoed the song just once before, earlier in the summer.
I'LL STICK AROUND
This was another new song that he had first demoed a few months earlier. A recording of that version can be found here and according to producer Jones initially it didn't have a title, the pair instead would refer to it with a symbol, what that symbol was has never been specified. For many years following the eventual release of the song fans and media alike assumed the lyrics were in reference to Courtney Love, widow of Kurt Cobain. Grohl denied the link for many years but in 2010, finally caved. "I've denied this for 15 years but yes, It's about [her]" he told Paul Brannigan in an interview for MOJO Magazine.
BIG ME
'Big Me', along with several others, was first written and recorded by Dave whilst he was still in Nirvana. He would use breaks in their touring schedule as an opportunity to head home and record his own ideas, retreating to the Laundry Room Studio with his friend Barrett Jones. The song was not only demoed exclusively by Grohl however. In January 1994 Nirvana had booked time at Robert Lang Studio to record some new, post-In Utero material. There was only one real problem. For the first two and a half days of a planned three day session, Kurt Cobain did not turn up.
That left Grohl and Novoselic with an empty studio and a lot of time to kill waiting for Cobain to show. Rather than record their parts to Nirvana material without him, Novoselic was happy to join Dave in working on some of his songs. "It was just Krist and I screwing around with funny things. And I recorded a couple of my songs. We just tried to make do with the time we had" Grohl recalled. One of those songs was an early version of 'Big Me'. Unfortunately, no recordings of the song have surfaced to date.
ALONE + EASY TARGET
This track was first recorded by Grohl again during Nirvana downtime, around late 1991. A recording of an early version can be heard here. This is another track which has a connection to Nirvana, although a different one to 'Big Me'. According to Grohl in an interview conducted after his passing he had told Kurt Cobain that he was home recording and that Kurt asked him to bring the songs to him to listen to. Grohl duly agreed and says he played the song for Cobain whilst he was sitting in the bathtub. Cobain enjoyed the track according to Grohl and he also mentioned that the band as a trio would occasionally jam on the track during sound checks for Nirvana shows.
GOOD GRIEF
'Good Grief' was first written and recorded at a similar time frame to 'Alone + Easy Target', a demo version of the song from that era can be heard here.
OH, GEORGE
Along with 'This Is A Call' this was also a relatively newer song, first demoed in the summer of 1994. No recordings of that session are currently available.
WEENIE BEENIE
A slightly later song from the Nirvana period, 'Weenie Beenie' was first "thrown together" by Grohl in early 1993, that early version available to listen to here.
FLOATY
First written and recorded in a similar time frame to 'Alone + Easy Target', an early version with vocals only on the verses can be heard here.
WINNEBAGO
Winnebago was perhaps the most known song Grohl recorded at the session with it previously being recorded in 1991 and featured on the 'Late! – Pocketwatch' release. The version recorded during this session was relatively similar, Grohl obviously feeling it was one of the strongest tracks from that tape.
X-STATIC
One of the few songs Grohl recorded during this week with no real known history. It may have been a new track, it may have been old, we just don't know! What we do know is that according to Grohl it's a song that allows him to "express grief or happiness."
FOR ALL THE COWS
Another track with no known early demos or recordings although there is a mysterious version of the song heard during the 'Back And Forth' documentary which is not the version recorded at this session nor any other known version. Is it an early demo? Who knows!
EXHAUSTED
Like 'Big Me' this is another Grohl original that has history with Nirvana, one of the other tracks he and Novoselic dabbled with in January 1994. It's also another track that Cobain reportedly heard and enjoyed. You can hear Dave speak about both songs in the below interview.
PODUNK
This track was first recorded back in May 1992 under the 'Allister Lobb' project. That version was instrumental and can be heard here. There are no other demo versions of the track available so it's unknown if it remained without lyrics right up until this session or not.
WATTERSHED
According to Grohl this track was "inspired by [his] love of hardcore and old school punk rock". Unfortunately like a few others, no earlier demo versions of this song circulate amongst fans. That's not to say no demo's were made previous to this session but if they were, we don't know about them yet!
BUTTERFLIES
The 15th and final track recorded during the week-long session was 'Butterflies', a track with a first known recording in May 1992. That version of the song does not circulate and neither does a recording made with Novoselic at that same January 1994 Nirvana recording session.
So, what now for the tracks? What was Grohl's next move? According to later interviews his initial plan was to start his own record label and release music on Vinyl, without his name on it. He would instead come up with a name that sounded like a band, that name of course being 'Foo Fighters'. "I wanted to get an independent distributor to send it out into the world" said Grohl of the idea. "Maybe 10,000, 20,000 copies, so that people would think, 'God, who is this band Foo Fighters? I've never heard of them before'". Unfortunately, the very next day after recording was complete he essentially blew his own cover.
With a rough mix of the entire session in hand Grohl headed to a cassette duplication lab in Seattle and created 100 copies. He had J-cards printed to go along with the tape which didn't feature his name, as planned; the problem came in that he began handing them out himself. "That fucking tape spread like the Ebola virus, leaving me with an answering machine full of record company jive." recalled Grohl. "I'd give tapes to everybody. Kids would come up to me and say 'Nirvana was my favourite band' and I'd say 'well here, have this'".
It clearly hadn't taken long for people to put two and two together and realise the music on the tape was Grohl. His plans of an anonymous commercial release were scuppered long before a record was even pressed. His cover blown, a new plan was formed. He set up a record label as planned, Roswell Records, but if he wanted to go out and play these songs live he was either going to learn to be a one man band live or find a new band…..
To Be Continued.