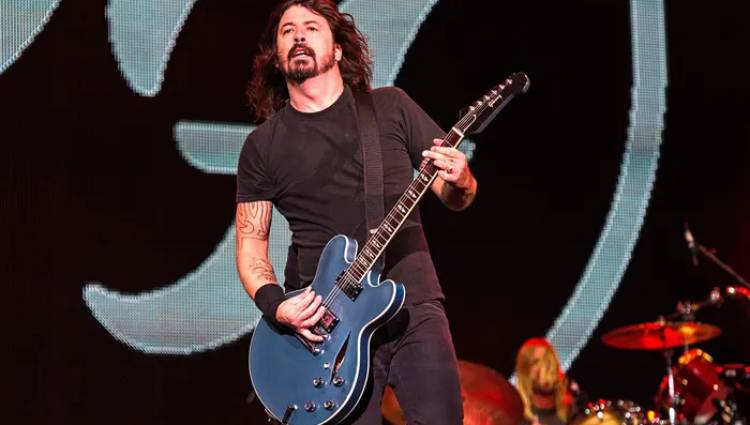 Today we have made available a DVD of the Invictus Games Closing Concert performance. Shortly after the performance a complete High Definition Feed was made available of the show and now for those with no interest in HD or no way to play it, we present a standard DVD Video created from that source.
Thanks to that high quality source the quality of this DVD is similarly very high, with a great clear picture and similarly clear and punchy audio. Click below to download the DVD via BitTorrent:
DOWNLOAD HERE (Dimeadozen.org free account required)
Full details of the DVD are as follows, screenshots are also attached below.
FOO FIGHTERS
September 14th, 2014
Queen Elizabeth Olympic Park (Invictus Games Closing Concert)
London, United Kingdom
GENERAL INFORMATION:
Generation: Satellite Feed > DVDR(0) [PAL]
Source: PRO #1 – Professional Video
Running Time: 64:11 minutes
TECHNICAL INFORMATION:
Transferred By: FooFightersLive.com
Video Information: 8 Mbps VBR / 720x576i / 25 fps
Audio Information: 256kbps MP2 (Stereo)
Transfer:AVISynth 2.5.8 w/ ffms2 > Cinema Craft Encoder SP3 > Adobe Encore CS6
TRACKLISTING:
All My Life
Times Like These
The Pretender
Learn To Fly
My Hero
White Limo
Arlandria
Cold Day In The Sun
Walk
Best of You
Everlong
MD5 FINGERPRINTS:
c4ed9f9c1daff9643a8931108e8ca835 *VIDEO_TS\VIDEO_TS.BUP
c4ed9f9c1daff9643a8931108e8ca835 *VIDEO_TS\VIDEO_TS.IFO
a2fa75bf48414d2aa498f42c0c9a7524 *VIDEO_TS\VIDEO_TS.VOB
298c40f04a693fd83672498097ef3a59 *VIDEO_TS\VTS_01_0.BUP
298c40f04a693fd83672498097ef3a59 *VIDEO_TS\VTS_01_0.IFO
3883e43babc67fff92f84f5edf771912 *VIDEO_TS\VTS_01_0.VOB
7b3d94586e30256024d72092fc8a3b73 *VIDEO_TS\VTS_01_1.VOB
43fbf7dbb45474d93ce07d33afff9d2f *VIDEO_TS\VTS_01_2.VOB
109bf0825f0a0cfbe14316975652d2c8 *VIDEO_TS\VTS_01_3.VOB
95c7c24a5ca929294fdfd276360030a5 *VIDEO_TS\VTS_01_4.VOB
57cf92fd9bdb32a40ce94c4808d34720 *VIDEO_TS\VTS_02_0.BUP
57cf92fd9bdb32a40ce94c4808d34720 *VIDEO_TS\VTS_02_0.IFO
9d9af39f6234c85c7d81b2aaebd6f61a *VIDEO_TS\VTS_02_0.VOB
a2fa75bf48414d2aa498f42c0c9a7524 *VIDEO_TS\VTS_02_1.VOB
REVIEW:
Sourced from a very high quality professional satellite feed this DVD features the complete performance at the show in very good quality. Thanks to the source the picture quality is very good with great clarity, no evident compression artifacts and no broadcast logos at all. The audio is of similarly high quality, the original MP2 source of the feed losslessly boosted in volume using the BeSplit tool. The mix is very good with no noticible problems.
The DVD features a menu with chapter points for each song. There are no extras on the DVD.