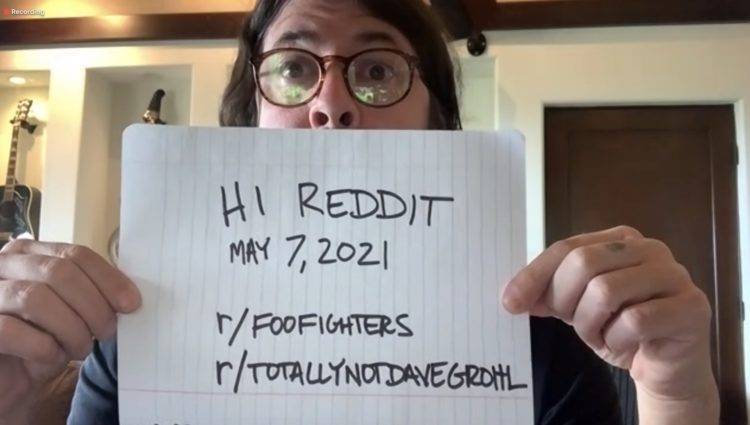 The Foo Fighters Reddit sub, a lively and valuable source of fan-generated content, hosted Dave Grohl himself for an AMA (Ask Me Anything) on May 7. Celebrating the premiere of Dave and his mother Virginia's docuseries From Cradle to Stage – based on the book of the same name – Dave was also there to answer questions about Foo Fighters' latest album Medicine at Midnight, the band's 25th anniversary, his documentary What Drives Us (which debuted April 30 on The Coda Collection, exclusive to Amazon Prime), and his upcoming memoir The Storyteller, due October 5.
Dave spent around 30 minutes answering a handful of questions from over 3,000 submissions at last count, utilising the same username – "totallynotdavegrohl" – he used for his first Reddit AMA eight years ago in support of Sound City.
FooFightersLive.com's writer/editor Kirri was on-hand at this AMA to help with juggling the influx of eager fans hoping to get Dave's attention.
We've compiled some of the highlights below.
Q: How do you find the energy and inspiration to keep touring and putting out such great music year after year? Also, you're collaborated with so many other musicians. Who would you love to work with next?
A: First of all, I love my band. Secondly, I've wanted to do this since I was a kid and still feel the same. Plus I drink a lot of coffee.
I don't know, those things just fall in my lap, so I like not knowing who's next.
Q: Will you do a book signing tour? Even a virtual book tour with Zoom calls like Tenacious D did maybe?
A: I will definitely do a book tour but I prefer that it's in person.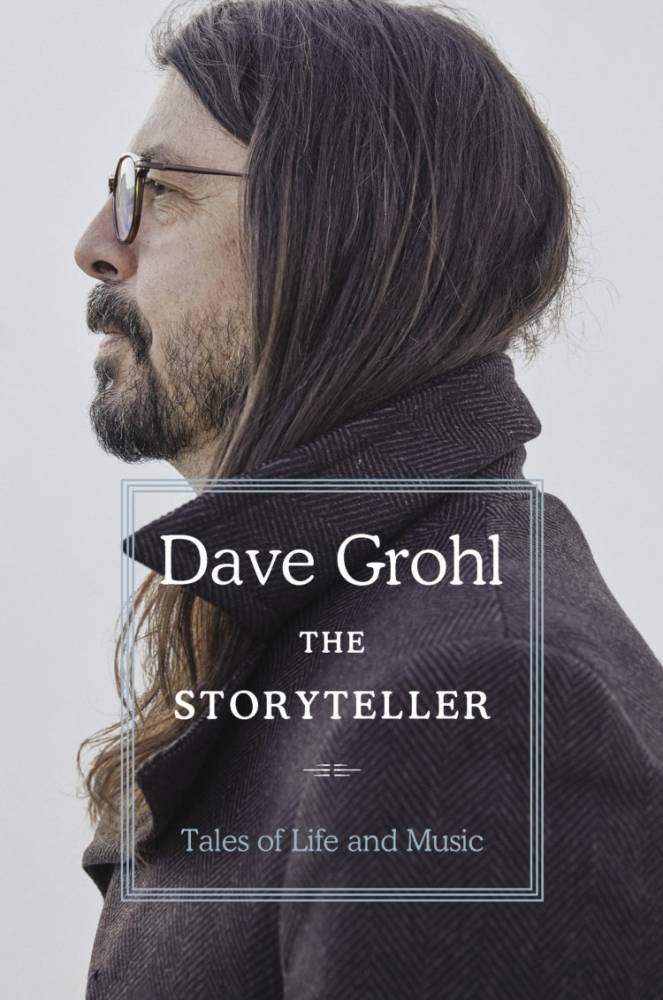 Q: What drives us was SO great. How did you feel about doing the Nausea cover with Violet?
A: It was amazing! It was the first time Violet and I have recorded just the two of us and she killed it!!! The fact it was one of my favorite songs and with my favorite singer made it great.
Q: What's your favorite moment from making the new album?
A: I'd say probably the first playback of 'Love Dies Young' because it was so pop-y we fell on the ground laughing.
Q: 1) You mentioned that you guys recorded a few extra tracks for Medicine at Midnight, will we ever hear those?
2) Will we ever get to hear other rare tracks and/or demos (maybe a box set)? I would love to hear full versions of songs like Watered It Down and Slackers Password.
3) Any advice for finding people to play with and start a band with (teen here)?
4) Do you have a favorite song to play drums to? Mine would have to be either Stairway to Heaven or New Fang by TCV.
A: 1/2 – Maybe? We have an entire back catalog of songs we've recorded and never used so we could have an entire boxset but we'll see!
3 – The most important thing is that you vibe with the person even more so than musically. You should want to spend time together as friends.
4 – Mine would be Elephants by Them Crooked Vultures.
Q: After spending so many years as the interview subject, what has it been like doing projects like What Drives Us, From Cradle to Stage, and Sound City – being on the other side of the conversation?
A: Well I never really look at them as interviews. They are mostly just conversations between two musicians so just being able to sit down with the person is great.
Q: Dave, on your last AMA in 2013 you answered THIS QUESTION from my 6 year old Son…8 years later he has a FOLLOW UP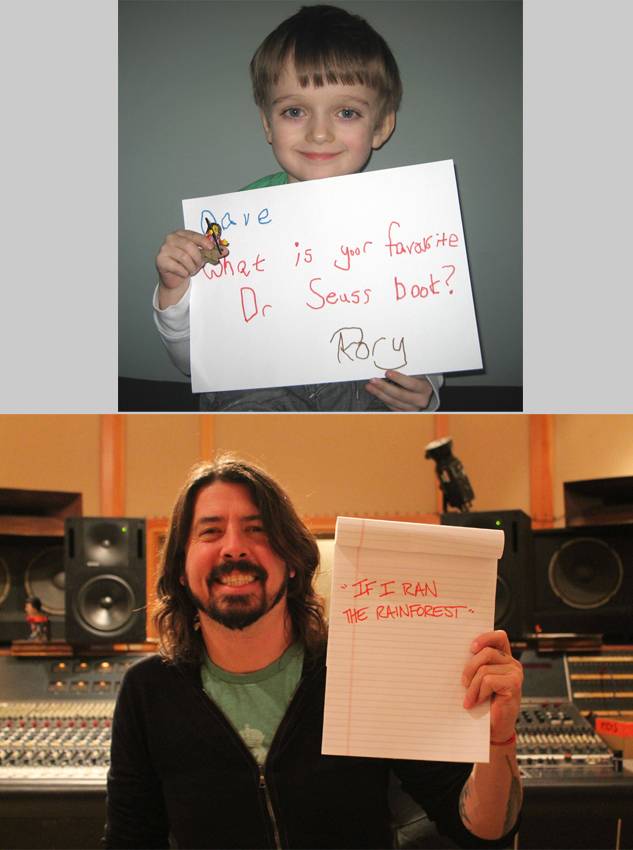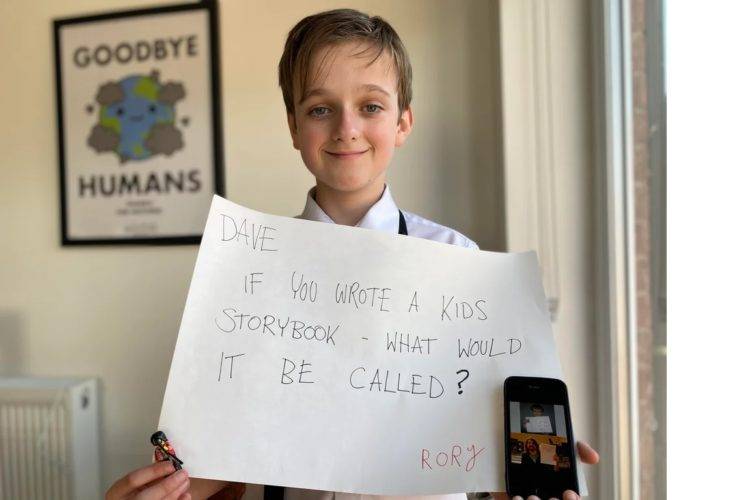 A: Hey Mom! I wanna be a drummer!
Q: Hey Dave! Who do you think had the biggest impact on your life in making you who you are today?
A: Definitely my mother, my biggest inspiration.
Q: From Cradle to Stage is sooo good! Absolutely brilliant!! Are there any plans for a follow up..another book with more amazing stories?
A: Well there's plenty of musicians, which means there's plenty of mothers so it's quite possible.
Q: I want to thank you for making some of my favorite songs and albums! I was wondering what keeps you focused when you have periods of writer's block or when you just have a lot of shit to do?
A: I don't try to write when I have writer's block, I just write when I'm inspired. But I do wake up every day with new ideas for other projects.
Q: I love the band and your videos are so fun. Which one was your favorite to make? Why?
A: The Chasing Birds video is my favorite we've done in a long time.
Q: Hey Dave! A question I have had for years. When you have dinner with McCartney, do you go veggie? If not, does he say anything?
A: I always go veggie when I'm with McCartney. He's a fucking Beatle.
Q: What's your favorite Foo Fighters song that doesn't get played at concerts very often?
A: Gimme Stitches
Q: What was the last gig you went to before the pandemic?
A: Prince tribute on CBS
Q: Favorite guilty pleasure band/music?
A: I don't believe in guilty pleasures. I believe you should enjoy, what you enjoy. That being said…Taylor Hawkins solo projects.
Q: In 2015, the Million Dollar Demos appeared here on the subreddit. Between the username Dale_Nixon, the Austin Powers references, and other demos leaking around that same time, some fans theorized these could have come from you. Would you be able to confirm or deny any involvement in the songs appearing?
A: I don't even have a tape of those demos. I don't know if I ever did. So wasn't me.
Q: Hi Dave, I'm 17 I've just bought my first kit, what the hell am I doing with it?
A: The first hurdle is figuring out how to set up. Then go get Back in Black by AC/DC.
Q: You've been all over the world… have you been to Dave Grohl Alley?
(I mean… World's Largest Drumsticks!)
A: A few times…anonymously & I acted like a fan.
You can view the entire AMA thread on the Foo Fighters Reddit here
From Cradle to Stage is available now on Paramount+ and MTV Classic in Australia and New Zealand – check local schedules and streaming services for availability in your area.
What Drives Us is available on The Coda Collection via Amazon Prime in the US, and through Amazon Prime's general service outside the US. Listen to Dave and Violet Grohl's cover of 'Nausea' by X anywhere you stream music.
The Storyteller will be released on October 5, 2021.
Medicine at Midnight, the tenth studio album by Foo Fighters, is out now.