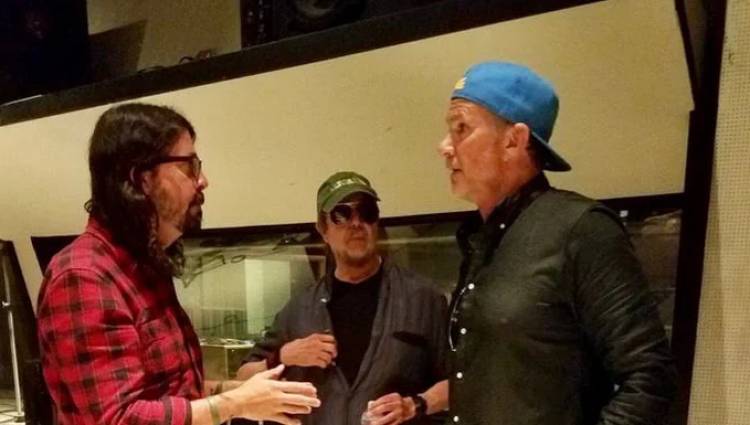 In case the name of this article didn't tip you off, Spinal Tap bassist Derek Smalls (aka. Harry Shearer) has been working on a new solo album and photos popping up on social media show that he's recruiting a stellar line-up of guest artists to pitch in, including Dave Grohl.
Chad Smith let the cat out of the bag with a tweet showing him at EastWest Studios in Hollywood with Dave and fellow drummer Jim Keltner (with whom Dave also collaborated for the Sound City project) for the recording session. Also tagged in the post was long-time Spinal Tap producer/musical director CJ Vanston, further confirming the project that has been in the works since mid-to-late 2016.
This particular musicians' summit appeared to be a one-day affair, and Derek/Harry himself is not seen in any pictures posted on social media, nor do the photos give any clues as to how Dave will feature on the album. But it's safe to assume that he's been signed up for drumming duties considering his company that day and that the project has previously attracted such skinsmen as Gregg Bissonette (David Lee Roth/Ringo Starr & His All-Starr Band), Todd Sucherman (Styx) and Russell 'Russ' Kunkel. The latter might be making the other drummers nervous as Russ is also known as 'Stumpy Joe' Childs, one of the many Spinal Tap drummers who died under curious circumstances – in his case, he choked on vomit, which may or may not have been his own. The inclusion of several drummers is likely to be a simple case of necessity but also makes a nice wink towards this gag.
It is also possible that each track may feature a different drummer, as is implied with numerous guitarists (such as fellow Spinal Tap alumnus Danny Kortchmar, Richard Thompson, and possibly Peter Frampton) being called in to contribute. At least three drummers appearing in-studio on the same day, however, suggests a rather epic collaboration.
We'll keep you posted on further news about this project as it comes to light.
Dave made another visit to EastWest Studios yesterday for an unrelated occasion, as an invitee to preview a new album by Shania Twain.