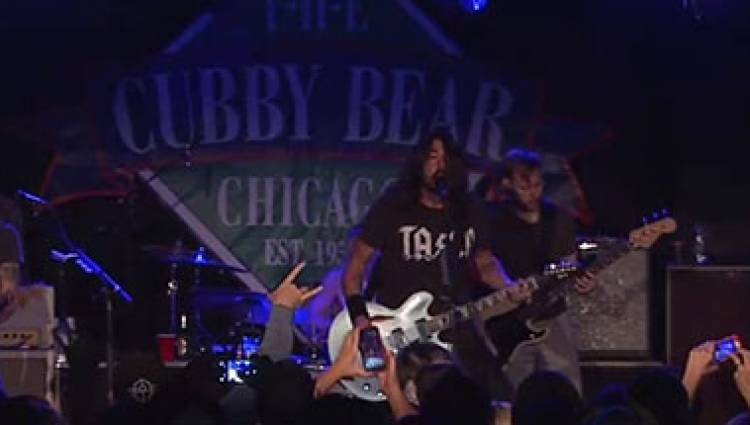 Three days after the event a video capture has been made available for download of the special Cubby Bear Foo Fighters show. The show was livestreamed via the Livestream website in HD quality and a direct capture of this was uploaded earlier today on live music torrent tracker Dimeadozen.
The video is not quite complete however as all viewers experienced a total loss of the stream during 'Walk', so much of that song is missing. The rest however is present without any hiccups.
Free registration is required to download and share content at Dimeadozen, so click below to sign up if you're not already, if you are the link will take you straight through to the torrent to download.
Thanks to Dime user 'Indykid' for the capture and share! Full technical details of the torrent:
Foo Fighters
The Cubby Bear
Chicago, IL
October 17, 2014
Lineage -> Live Webcast (livestream.com) -> Livestreamer -> .flv -> mkvmerge GUI (join) -> .mkv -> Avidemux 2.6 (cut) -> .mkv (no transcoding)
Video: MPEG4 Video (H264) 1280×720 2000 Kbps 29.97 fps
Audio: AAC 320 Kbps 44.1 KHz stereo
Setlist:
All My Life
I'll Stick Around
Rope
Up in Arms
Big Me
White Limo
Arlandria
My Hero
Stiff Competition (Cheap Trick cover w/Rick Nielsen)
Cold Day in the Sun
Miss You (The Rolling Stones cover)
Generator
*Walk (cut)*
Learn to Fly
This Is a Call
The Pretender
Best of You
Surf Combat (Naked Raygun cover w/ Jeff Pezzati)
Weenie Beenie
Surrender (Cheap Trick cover w/Rick Nielsen)
Something From Nothing (w/Rick Nielsen)
Everlong
TRT = 2hr 12min 36sec
* Note: The livestream died during "Walk" resulting in an incomplete version of this song *
MediaInfo in text file.