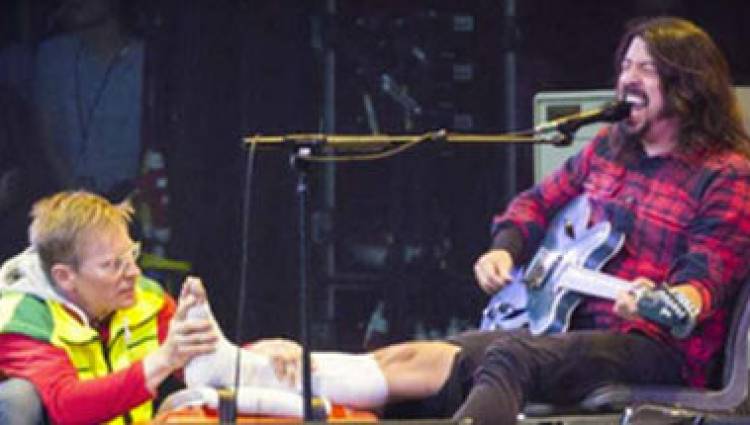 It has of course been extremely well documented what happened on June 12th at Ullevi Stadium in Gothenburg, Sweden. In what should have been a pretty standard Foo Fighters show on their Sonic Highways world tour everything changed mid-way through the second song of their set, 'Monkey Wrench'. Dave Grohl fell from the stage, breaking his leg, and seemingly ending the show prematurely. Dave is however not one to disappoint fans even if it goes against medical advice and amazingly he returned to the stage not long after, along with a medic to hold his leg in place. The rest, as they say, is history and certainly this show will go down as one of the more significant in the history of the band with Dave performing most of it sat on a chair.
Thanks to YouTube user sreddan you can now relive the show if you were there or just enjoy a rather unique show and performance if you weren't. They shot nearly the entire show from the stadium seating to the left of the stage and the results are a very nice quality amateur video, just a little shaky in places. There are also a few small cuts, so it's technically not the entire show, but most songs are only missing a few seconds at most. The final song, 'Best Of You', also does cut out about a minute before the end but it is otherwise the complete show.
So thanks again to sreddan, here are links to first of all download the highest quality version, 1080p resolution and 50fps, fluid motion. The files are split RAR files totalling 5.4GB and once you've downloaded them all you'll need WinRAR, 7zip or similar program to extract the MKV video file.
[Links Removed]
We're also making a standard definition DVD available, for those who don't want or need the HD version. This is a ready made DVD ready to be burnt to a blank DVD9 disc, or just played on your computer.
[Links Removed]
As with the HD version, you'll need WinRAR, 7Zip or similar to extract the parts.
Enjoy!