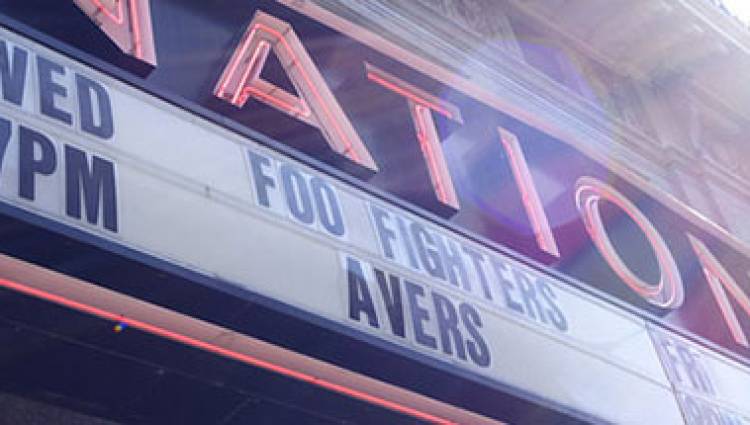 An audience recording for the crowdfunded show at the National in Richmond, Virginia just under a fortnight ago has been made available online.
The setlist of the show was nothing too far out of the ordinary and was similar to that of the three UK club gigs the week previous. There was however the inclusion of many jams throughout the set, some of which are already identified as teasers for tracks from 'Sonic Highways' and other unidentified jams which may also be from new tracks. The Queen track 'Son And Daughter' is also briefly played, with Taylor on vocals.
The recording was made by Jennifer using a clip-on mic and iPhone4 and the resulting quality is pretty good, although there is a fair bit of crowd noise very close by. For this reason there are a lot of 'spikes' in audio volume making the recording itself pretty quiet throughout. So, turn up the volume on this one and enjoy, as long as you don't mind a few cheers and fans singing along!
DOWNLOAD HERE (FLAC Format, 644MB)
The full, technical text file is below.
Foo Fighters
September 17th, 2014
The National
Richmond, VA
SOURCE (AUD #1):
Tascam iM2 > iPhone 4
TRANSFER:
iPhone 4 > USB > Adobe Audition CS6 > CDWave 1.97 > Trader's Little Helper 2.7.0
GENERATION:
AAC(M) [128kbps VBR] > WAV [44.1khz] > FLAC [Level 8]
LENGTH:
140:45
NOTES:
– Unknown instrumental jams played in the middle of 'Rope' and 'My Hero' and at the end of 'Breakout'.
– 'Outside' is jammed on in the middle of 'The Pretender'.
– 'Son And Daughter' is a Queen song.
TRACKS:
01. All My Life
02. I'll Stick Around
03. Rope
04. Up In Arms (jam)
05. Up In Arms
06. Big Me
07. White Limo
08. Alrandria
09. My Hero
10. Cold Day In The Sun
11. Generator
12. Walk
13. These Days
14. The Pretender
15. Learn To Fly
16. Son And Daughter (jam)
17. Breakout
18. Skin And Bones
19. Weenie Beenie
20. Monkey Wrench
21. Hey, Johnny Park!
22. Everlong
23. Times Like These
24. This Is A Call
25. Something From Nothing (jam)
26. Best Of You
MD5 FINGERPRINTS:
26b437f92daf96128bf7a1e8187df1d8 *FooFighters2014-09-17t01.flac
17f45f544aa5ceaf8a64ad56e038e751 *FooFighters2014-09-17t02.flac
c63a47796cce7f2b6e4a86e4c8265ee6 *FooFighters2014-09-17t03.flac
2865ad33ffb6f9507ed95a18505fbfdb *FooFighters2014-09-17t04.flac
a33e3c2dae20e0dd4e29b2c84951b8f5 *FooFighters2014-09-17t05.flac
8dce208bb1b00d08681a3b334f09c5c7 *FooFighters2014-09-17t06.flac
d99f738686b8f20d8b65dc36a1f69124 *FooFighters2014-09-17t07.flac
f255e8fb10720ca8cdb00022e5bacc02 *FooFighters2014-09-17t08.flac
2acfa82163e1806c08d3cc38781ecb81 *FooFighters2014-09-17t09.flac
ff7b8737d0822c217862577708903b7b *FooFighters2014-09-17t10.flac
0ea93515645a13663150c42c6ab5926d *FooFighters2014-09-17t11.flac
6e66092050bf30a73295176bd403b437 *FooFighters2014-09-17t12.flac
249e2ecb2d36ff847a79bb5fef24a7d5 *FooFighters2014-09-17t13.flac
12fa1285ab327ca40740d27bfb63262b *FooFighters2014-09-17t14.flac
7fe32fee0b800bd049eac6de76500e4d *FooFighters2014-09-17t15.flac
30ac3cdca02f9e1fa50b2b05d7133f0e *FooFighters2014-09-17t16.flac
528467871673e29df40df013babf1234 *FooFighters2014-09-17t17.flac
bfaa4713c69c3c7939d3a1705fda6065 *FooFighters2014-09-17t18.flac
e20ea5a07a0604ba9260e077a94d5be2 *FooFighters2014-09-17t19.flac
d20bd9b6fc000b7305c207a6935bbbb9 *FooFighters2014-09-17t20.flac
4950e54bbbba83a264f384fdd0d93d8a *FooFighters2014-09-17t21.flac
cadbc2ccdda06125e8b20a7ccefbbab5 *FooFighters2014-09-17t22.flac
2f456b31c3c6a6143c56063e7845933d *FooFighters2014-09-17t23.flac
aa785f5bf11e2a7994db5f4fd81b03b7 *FooFighters2014-09-17t24.flac
5cceb5783ef31aa0e579ff52822cf6a5 *FooFighters2014-09-17t25.flac
da7c1098952c5a2f2b40f967dbd44d2c *FooFighters2014-09-17t26.flac
RECORDED AND TRANSFERRED BY:
Jennifer
**PLEASE DO NOT ENCODE TO LOSSY FORMATS OR SELL!**
Thanks again to Jennifer for making this recording and getting it out there for other fans to enjoy! Photo credit on the article post also goes to Jennifer.