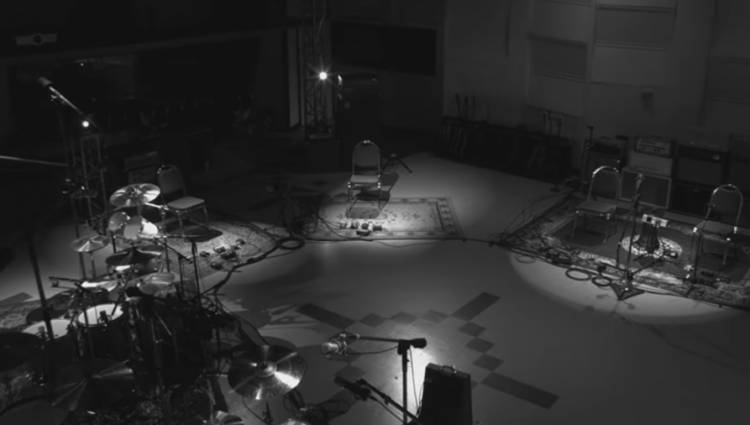 In April this year Dave Grohl revealed in an interview with British GQ that he was planning a new, extravagant "secret project".
"I have a studio, EastWest in LA, where I'm going to set up an expanse of instruments, Several drum kits, a load of guitars, bass, rhythm and lead. I'll hit play and the clock will start ticking. I will record the first drum part, then I will run to the next drum set and play another drum part that will record over the first. Then I will do the same with all the guitars, all assigned to a different moment in the instrumental.
We'll film everything with multiple cameras, so by the end of it you will see and hear one song being played for 25 minutes, with six different Dave Grohls playing every note, on every single instrument, all the way through in one take".
Now, in a newsletter email that went out to fans a few hours ago it seems FFHQ are teasing a release of that project soon. The newsletter starts out like most others, advertising upcoming tour dates and posting a short video from the recent show in Canada.
Advertisements for CalJam 18 are followed by an advert for their merch pop-up show in Chicago this weekend. and many readers may have skipped the rest of the newsletter, expecting further adverts.
But then, at the very bottom of the newsletter is a question.
"Are You Ready To Play?"
No further text is provided, but an image is shared, overlooking the live room at EastWest Studios. The location Dave suggested he would record the music. The image also shows an arrangement of instruments around the room, and empty seats. It seems almost certain that this image is teasing the Grohl solo recording, the only question remains just what will be revealed, and when.
If you want to keep up to date with Foo Fighters goings on directly from the band and receive these newsletters yourself, make sure you are signed up to their mailing list. You can do that directly from the official website, clicking the "Sign Up To The Newsletter" at the bottom of the page. You can also use this direct link.