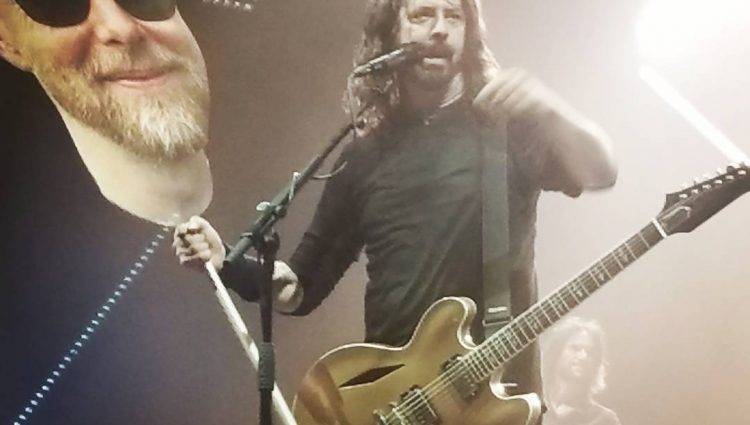 The Concrete and Gold world tour has officially kicked off in the US, with more dates and special events coming thick and fast and a setback forcing the postponement of a handful of shows to 2018. We'll take a look at what's happened so far and give you the word on what's coming next with this edition of the round-up!
Shows postponed in three cities
Mere hours before the doors in Lexington, Kentucky were due to open, an announcement was made by venue staff and via social media that the performance had been postponed due to an emergency involving a member of the extended Foo family. Two further shows were also pushed back to dates in 2018 for the same reason. Attendees for these original dates were informed that their tickets would be honoured for the reorganized shows. Although the band has not formally given details of the emergency, Dave had a chat with the crowd in Birmingham and said apologetically that they rarely have to do that, but that he "had to take care of shit at home". Fans made the most of the last-minute ditched plans by meeting up in nearby bars and seeing shows by support act The Struts. The shows in Lexington, Memphis, and Nashville have been postponed to May 1, 3, and 4 2018, and ticket-holders can contact Ticketmaster or the respective venues for questions.
New tour dates
Further dates have been added to the world tour, including additional cities in the US, a UK stop, and two festival slots in Germany. Nineteen more dates have been included in the North American run (see below), along with two nights at the London Stadium and a visit to the Etihad Stadium in Manchester, UK (details – two of the three shows are sold out at the time of publishing but the band has arranged fan-to-fan resale for face value via Twickets, in response to overwhelming demand).
Foo Fighters will also headline Rock am Ring and Rock im Park in Germany, June 1-3 2018.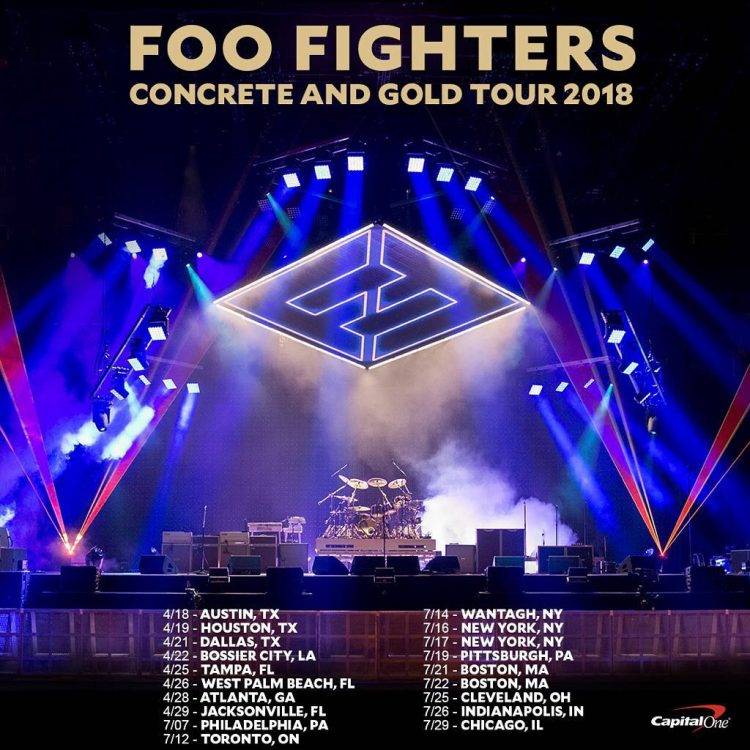 A big giant head and a serenade – fan moments at recent shows
Speaking of the tour, the audience participation at the shows so far has been top-shelf. The header of this article refers to a moment in Cincinnati when the band introduction segment was Natebombed by a giant cut-out of the bassist's head on a stick. Naturally, Dave had to have it and paraded it around onstage while Nate grooved on 'Another One Bites The Dust'. At other shows, lucky fan Jeremy requested via a sign to play 'Big Me' with the band and got his wish granted, while during their set at Voodoo Festival in New Orleans, a man dubbed "The Kid" also had a sign, but instead Dave serenaded him with 'My Hero', a moment that reduced The Kid to tears by the time the chorus swelled. Watch the beautiful bromance as it blossomed in the online stream below (thanks Foo Fighters HD).
'Soldier' released as part of 7-inches for Planned Parenthood project
Earlier in the year, it was announced that Foo Fighters would be among the many musicians, visual artists, and comedians lending their craft to a compilation benefiting Planned Parenthood. Contributors, according to the project's curators, are pitching in as a show of support for access to sexual health care for millions of Americans. The song that the band would lend to the compilation was unknown until Dave and Taylor mentioned during a Triple M interview in Australia back in July that they'd recorded an additional song, 'Soldier', during the Concrete and Gold sessions, and that they would release it in a different way. 'Soldier' was announced and released online via Spotify. The mellow track has reminded many of the There Is Nothing Left To Lose vibe and is an atmospheric call to arms.
NYE in Vegas
CBS Radio will be hosting a monster New Years weekend party featuring Foo Fighters, Duran Duran, and the Zac Brown Band at The Cosmopolitan in Las Vegas. Foo Fighters will be playing on NYE with a 10:30pm set, which will surely see them ringing in the New Year onstage. Tickets are available from $150 via Ticketmaster.
Dave steps in for a night on Jimmy Kimmel Live
Jimmy Kimmel is taking time out from hosting his show in the coming week to be with his son as the family prepares for a second heart procedure, so a roster of guest hosts has been announced including Dave Grohl. Dave will take over the Halloween show on the 31st, with guest Kristen Bell and a performance by Alice Cooper. US viewers can tune in on ABC at 11:35pm (check local listings).
Preview the Landmarks Live in Concert special
On November 10, PBS will air the full episode of Landmarks Live in Concert filmed with Foo Fighters in Athens. A preview of the show has been released by City Drive Films showing the full ten-minute performance of 'The Pretender' and is a beautifully-shot, invigorating taste-tester of what is to come. Watch the clip below. Fans in the US can watch the full episode on PBS at 10pm (check local listings).
Chris Shiflett and Rami Jaffee drop in on Kendall Marvel's release party
During the few days when Foo Fighters shows were postponed, Chris and Rami popped up at the Exit/In in Nashville to jam during a party celebrating the release of Kendall Marvel's CD Lowdown & Lonesome. The pair riffed on party-starters from the Allman Brothers and Merle Haggard, and were joined by the Brothers Osborne and Steve Gorman of the Black Crowes. No doubt Chris also took this opportunity to line up future episodes of his podcast Walking The Floor (a truly entertaining and informative hour so if you haven't subscribed yet, run, don't walk).