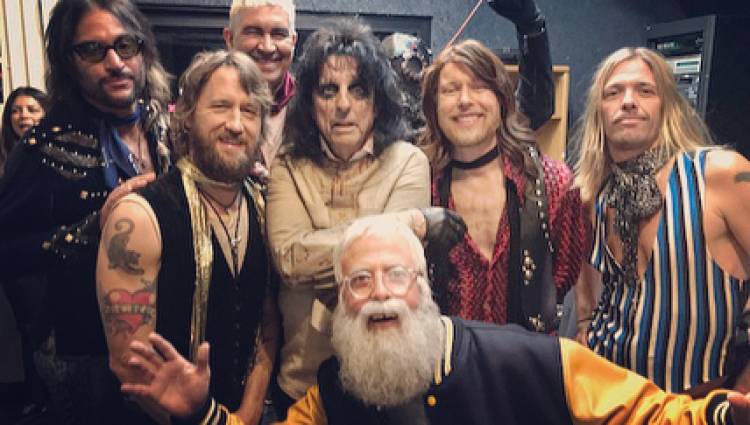 Welcome to another edition of the FooFightersLive.com weekly rewind! The band has been busy as usual and we've all feverishly worked to keep up. We bring you the highlights of the latest band happenings. Just like a Foo Fighters song, it's all killer, no filler.
Foo Fighters to headline Download Festival in 2018
The band officially announced their slot as second headliners at Download Festival. They will join Ozzy Osbourne in Paris at Air Base 217 from 15-17 June 2018. Foo Fighters will close out the Friday lineup, which includes The Hives, Dead Cross, Slaves, Frank Carter and the Rattlesnakes, and Wolf Alice. Eager punters can register for the festival waiting list here.
An ailing host doesn't stop the party
The first Foo Fighters visit to Des Moines has been marred somewhat by the disappearance of a very important human element (pardon us) – Dave's voice. The frontman has been struck by "basically laryngitis", as Taylor described it. Not one to be deterred, Dave pushed through a punishing three-hour set and belted the songs as far as his condition would allow him, with support from Taylor doubling his vocals for most of the set (despite admittedly not knowing every last word). Despite being advised by a doctor to cancel, the band insisted on keeping their date with their fans. Dave croaked to the crowd: "I don't know if you remember, but I'm the guy that broke his fucking leg and continued playing a show". With his own legend to live up to, the band also continued the tour in Sioux Falls and further dates, for the time being, will continue as planned.
This is not the first time a tour has been threatened by a vocal blow-out – shows were cancelled in 2005 and 2008 due to the same condition, and in 2012, the band made the difficult decision to cancel a Singapore date after being medically advised to have mercy on his vocal chords. We wish Dave good health and give him official FooFightersLive.com permission to rest!
Landmarks Live In Concert
The exciting lead-up to the debut of Foo Fighters – Landmarks Live In Concert was rewarded with a dazzling national broadcast on PBS on November 10. For those who couldn't tune in, you may view it on-demand via the PBS website or download our HDTV capture with both 5.1 Surround Sound and 2.0 stereo audio here. Noticeably left out of the final edit, though, is the live debut of 'Arrows' for reasons unknown; if you want to see it, though, amateur footage can be found on YouTube.
Concrete and Gold tour going gangbusters in ticket sales
The tour supporting Concrete and Gold is still in its infancy but the demand for this band continues to grow. Blabbermouth reported that ticket sales have approached nearly three quarters of a million dollars for the North American leg alone. Numerous dates have sold out well in advance with some doing so within minutes. With the Sonic Highways tour placing fifth on 2015's list of highest-grossing world tours, the Concrete and Gold tour is surely on its way to similar if not greater success.
Dave transforms into Letterman for Jimmy Kimmel Live guest-hosting gig
Dave Grohl's Halloween-themed guest-hosting appearance on Jimmy Kimmel Live kicked off with a fantastic transformation into another legendary late night host, David Letterman. Nearly unrecognisable between the convincing make-up and signature gestures, Dave hosted the show's annual costume contest and interviewed the night's guests, Kristen Bell (donning a Magnum P.I. get-up) and Alice Cooper (no costume required). Along with a surprise 'Enter Snowman' mash-up with Kristen, the episode ended with an appearance by all members of Foo Fighters, dressed to the nines, behind Alice Cooper for a dramatic performance culminating in a live beheading.
Taylor nominated for International Drummer of the Year
MusicRadar is running its annual Best in Drums awards for 2017 and Taylor Hawkins is nominated for Best International Drummer. The list sees Taylor in excellent company but to see him get him the title, you can vote for him in the website poll here.