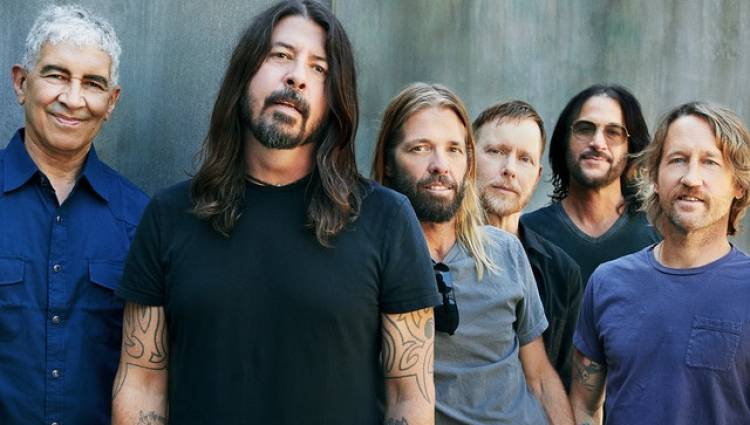 Well, it's safe to say this wasn't the year anyone expected, nor what we thought the 25th anniversary of Foo Fighters would look like. But despite the challenges, the band still made the most of the cards they were dealt, giving us something to look forward to in the coming year and revealing the first of the many surprises they've been planning for this occasion. With the top priority being to keep themselves and their loved ones safe, isolation didn't dampen their productivity, as the circumstances prompted them to find alternative routes to creative output. As a result, individually and collectively, they have embraced what Dave said during the Live at the Roxy livestream was their responsibility as artists to spread joy and happiness when the world is in short supply.
First, let's look at the group effort. As they have said repeatedly in recent interviews, they had a big one planned this year, with the roll-out of their tenth studio album, the Van Tour that would take them back to the small clubs of yesteryear in their original touring van "the Big Red Delicious", DC Jam on July 4 (Independence Day in the US and the anniversary of the first Foo Fighters album), and documentaries and movie projects galore. They optimistically held listening parties in the UK for select entertainment media and began pre-release magazine coverage of the album's production, planting the seeds for a "haunted house" narrative that gave the impression it would build to a theme.
Two live performances earlier in the year, at Grammy events honoring Prince and Aerosmith, warmed them up for an anticipated year of touring their own music. However, plans rapidly fell through, and the band took some time to regroup as well as refocus their energies on the more important task of looking after their families. After a while, it was beginning to look like FF25 would be an impossible feat.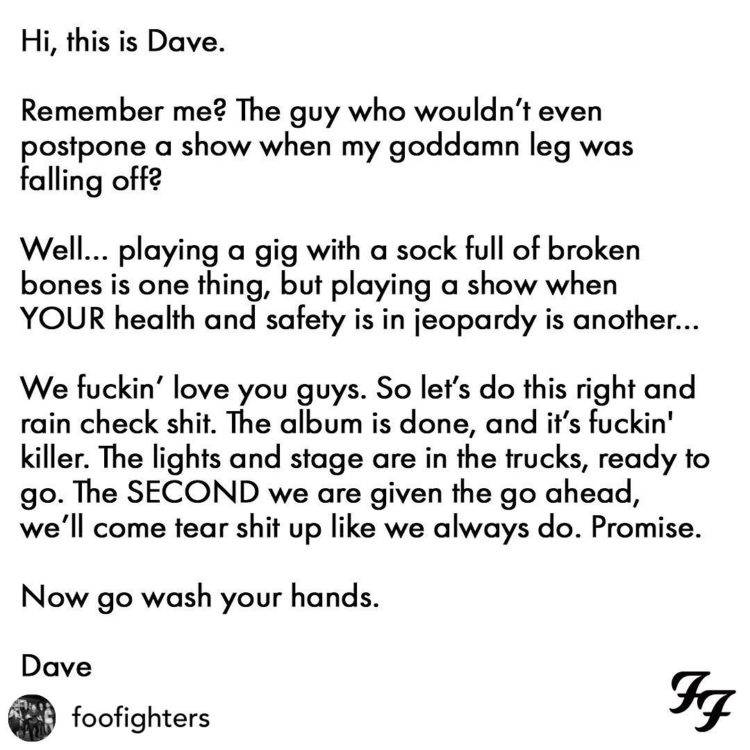 Yet it became clear that not only would it take a new shape, but a new meaning. In April, BBC's Live Lounge Allstars came together for an at-home cover of 'Times Like These', including Dave and Taylor, to raise money for Children in Need, Comic Relief, and WHO'S COVID-19 Solidarity Response Fund. The accompanying video received its world exclusive premiere during BBC One's The Big Night In programme on April 23rd, and the single hit number one on the UK charts. Commenting on the campaign Dave said he was genuinely moved: "When my manager first called and explained the project to me, I literally had to fight back tears – that's how flattered I was that the BBC would consider one of my songs for such an important cause." The reinvigorated enthusiasm for Foo Fighters' discography saw their previous works also returning to numerous charts. Having the world's attention, the band set about rearranging plans for FF25.
It was early October when Foo Fighters cautiously poked their heads out again. Following a short but very sweet acoustic set in aid of the future of independent venues for SOS Fest, their official website revealed the "People of Rock and Roll" e-zine, showcasing the sights and sounds of the fans who'd helped them stick around (heh) for 25 years. A new discography section highlighted their studio recording history, with FooFightersLive.com recruited to write the retrospective. On the tenth anniversary of "FRESH POTS!", the whole band joined in on taking the gag to the next level, turning it into a parody pharmaceutical ad purely because they could.
Then, out of nowhere, teaser billboards began appearing in select major cities around the world. Three confirmed sightings were found in the space of a few weeks – two in the Los Angeles area and one in Sydney, Australia. The digital billboards ran a looped animation of a coffin on fire and the text "LPX" (denoting the tenth studio album and revealing frames from the 'Shame Shame' video). The same burning coffin was then found as an animated cover for random songs in their Spotify playlist: First seen on 'The Pretender', then shifted to 'These Days' and finally 'Best of You'. Soon thereafter, the band's official socials began posting more teaser loops, each one adding new layers and building to a reveal. All pages on their website were suddenly redirected to a countdown page, with three X's and the first gradually filling to a block letter. When the time ran out, the X's transformed to 'MAM' – Medicine at Midnight.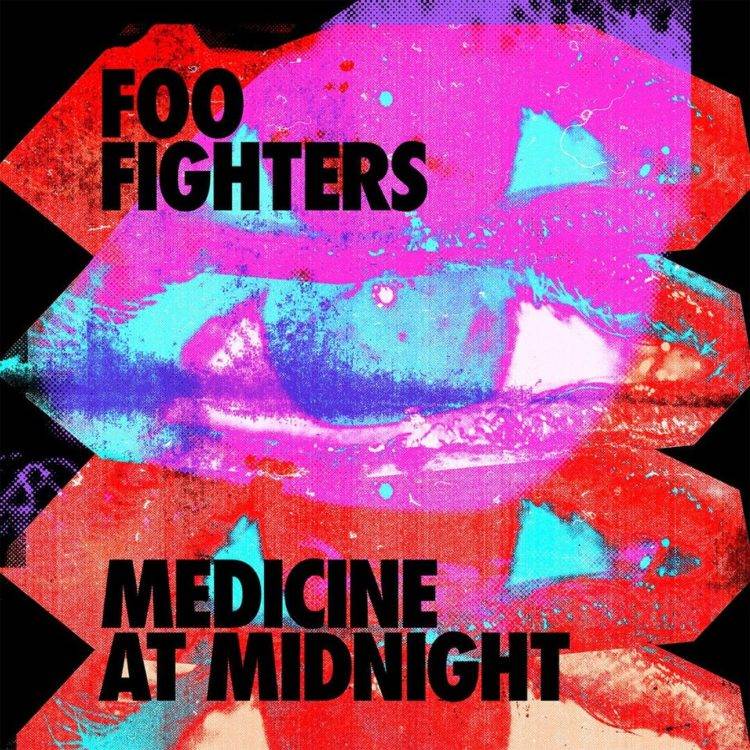 Their tenth studio album was announced at the end of the countdown, with a release date of February 5, 2021, and a major merch drop in their official store. 'Shame Shame', the lead single, was released on all streaming services simultaneously. Shortly after the reveal, Foo Fighters debuted 'Shame Shame' during their performance on Saturday Night Live, following it up with a rousing rendition of 'Times Like These', celebrating the US presidential election results.
They made use of YouTube's Premiere feature for two further releases: The 'Shame Shame' video and the Times Like Those mini-documentary. (You can read more on each of those on FooFightersLive.com's news page). Alongside the music video premiere was the surprise announcement of "Live at the Roxy", a pay-per-view livestreamed concert where fans around the world could enjoy a Foo Fighters set from the comfort of their living rooms. Their 90-minute set included the expected hits, the newest single, and three short teasers to give a taste of what to expect from Medicine a Midnight. A special performance of 'Walk' was also recorded earlier that day in Studio 606 West for Jason Sudeikis' Thundergong benefit concert. The performance footage from both SOS Fest and Live at the Roxy has been recycled for other recent streaming festivals, such as Georgia Comes Alive on December 27 to support voter registration in the Georgia runoff elections.
Foo Fighters ended the year with a special set for Amazon's Holiday Plays, closing it with a rip-roaring version of Chuck Berry's 'Run Rudolph Run'. A recording of the song was released as an Amazon Music exclusive shortly afterwards.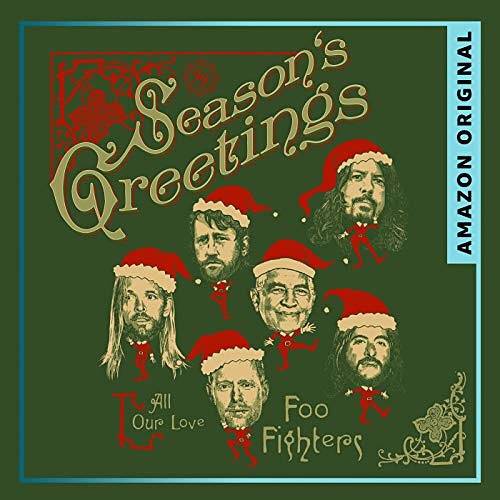 Now let's review how each band member has been keeping himself busy this year:
One of the most exciting developments for Dave from a band's perspective is Dave's True Stories, his official Instagram account where he shares timely anecdotes about his early years. This quickly invited an offer from The Atlantic of an occasional column. Displaying a natural gift for storytelling, Dave heavily implied in a recent interview with Q1043 that Dave's True Stories will soon evolve into a fully-fledged book, with 80,000 words already written. He has also kept himself entertained by his epic drum-off with Nandi Bushell, which apparently ended when he conceded defeat but hinted that, although the battle was over, the time rocking out together had only just begun.
In early January, he and the other surviving members of Nirvana came together for a special performance at the Art of Elysium charity gala, bringing his daughter Violet along for the ride as well as Beck and St. Vincent. He and Beck would play together again at the "Better Together" Oakwood School Benefit in early April. Further solo spots were sprinkled throughout the year and shifted to virtual appearances, such as iHeart's Living Room Concert for America, Preservation Hall's 'Round Midnight Preserves fundraiser, and Ringo Starr's 80th birthday concert.
A more obscure, but no less typical, spotting of a Grohl in the wild was during Pat Finnerty's 24-hour "Grohl-A-Thon", an ambitious effort to keep streaming until they "got Grohl" – and they did! While bunkering down at home, he got to know his home recording equipment and collaborated with several artists, some of whom have yet to be revealed. Those that have been released include tracks with Stevie Nicks, Inara George, The Bird and the Bee, Ringo Starr, and St. Vincent. When Bill & Ted Face The Music was released to VOD on September 1, it featured a surprise cameo from Dave, filmed in Los Angeles in 2019.
Speaking of film releases, Brian Johnson Meets Dave Grohl: A Life On The Road – a documentary about touring experiences – debuted on Sky Arts in the UK on September 17. Finally, Dave wrapped up the year with some holiday tunes – not with a Christmas song, but by an eight-day Hanukkah extravaganza with the help of Foo Fighters producer Greg Kurstin. Together at home, they recorded covers of eight songs by Jewish artists, with rather unexpected choices. We bet you never knew you needed Dave singing 'Fuck The Pain Away' by Peaches with Peaches, did you?
As for Taylor, the spaces between Foo Fighters albums is when his own music comes out to play, and times haven't changed with the revelation of his latest project, Nighttime Boogie Association, teaming up with Matt Cameron. Also embracing the challenge of virtual collaborations, he has contributed to new music by Miley Cyrus, Nancy Wilson, and Ozzy Osbourne. He paired up with Dave to fanboy together as guest DJ's on SiriusXM's special Queen channel, and also appeared at the Better Together school benefit.
Meanwhile, you could find Taylor on several livestreamed performances in 2020, from Nuno Bettencourt's At Home & Social (playing Heart's 'Barracuda' with Nuno, Nancy Wilson, and Liv Warfield), the Neil Peart tribute at Modern Drummer Festival, and 'Alice and Chaney', a supergroup Alice in Chains tribute for the MoPOP Founders Award with Dave Navarro, Chris Chaney, and Corey Taylor. He also made a special appearance on the online iteration of Lollapalooza with Perry Farrell, as well as Stella McCartney's multi-day virtual event Stellafest.
Nate has contributed to a new release by Porcelain Raft, aka musician Mauro Remiddi, which dropped in May. He did the podcast circuit, checking in with Ruinous Media's Tour Stories and Friday Beers with Jim Ward (during which he casually mentioned a second Lieutenant album on the horizon). Solo appearances included the Pygmalion virtual festival and a Zoom collaboration with various artists on a cover of 'The Highwayman', for SMooCH 2020 in aid of the Seattle Children's Hospital. He also created a Spotify playlist for Joy To The Polls, an Election Defenders bipartisan initiative to bring high spirits back to voting.
Chris's podcast Walking The Floor has been going steady this year, attracting bigger and brighter guests. Early in lockdown, he staved off boredom by hosting several Instagram Live acoustic gigs, drawing from his solo work and dusting off some Jackson United favourites as well as paying tribute to some of his favourite country and Americana artists. He made a cameo in Molly Tuttle's video for her cover of The Rolling Stones' 'She's A Rainbow'. As well as guest-hosting Luck and Amazon Music's Hello Walls, he played at the SpeakEasy livestream event and did a quick set for the BMI Jam Sessions.
Rami recently unveiled a collaboration with former Foo Fighters violinist Jessy Greene, a collection of meditation instrumentals for Legendary Disciplines. Along with Rage Against The Machine's Tom Morello and the Go-Go's Kathy Valentine, he joined in with Afghanistan group The Miraculous Love Kids/Girl With a Guitar on their cover of the Eurythmics' 'Sweet Dreams' to support women affected by violence in the Kabul region. Rami has also contributed to new music by Charlie Overbey, Folk Uke, Johnny Hallyday, and Cordovas.
As for Pat? Doing Pat stuff, we guess.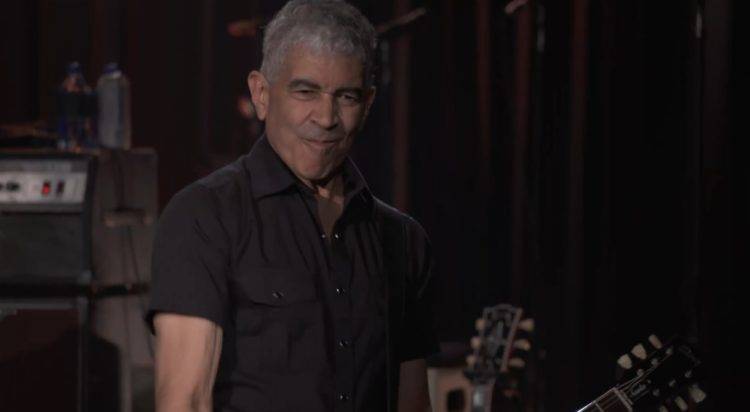 FooFightersLive.com also had a big one this year – along with contributing to the official discography for the People of Rock and Roll e-zine, we unearthed the earliest known live footage of the band, from their fourth show at Velvet Elvis on March 4, 1995.
So if this is Foo Fighters in standby mode, we can only imagine how wild it's going to get when Medicine at Midnight is released and live music returns! We've already got a lot to look forward to in 2021: Besides the new album, Chris mentioned on an episode of Tone-Talk that we can expect "one or two" more singles before the album release. Several tour dates optimistically still stand with previously postponed festival slots pending reannouncement. New shows are starting to be announced virtually, such as iHeart Radio ALTer Ego on January 28.
Virginia Grohl's book From Cradle to Stage was commissioned as a docuseries and is expected to premiere sometime next year. In addition, there is a rumoured Foo Fighters horror movie and plenty more to come, as Dave hinted at the end of Times Like Those: "25 years…I can't say it's gone by quickly, but time does fly when you're having fun. Good thing we've got something up our sleeve next…"