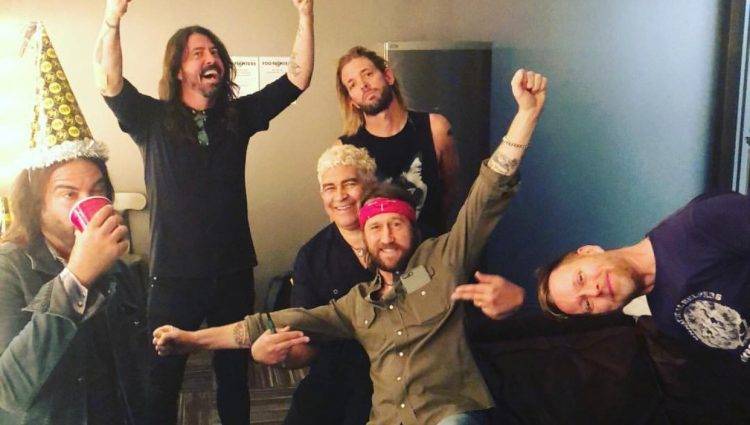 Happy New Year! As we launch into what is sure to be another exciting year for Foo Fighters and fans alike, we're whetting our appetites for 2018 and taking a minute to look back at the fun and games (and the band brought plenty of both) in the year that passed. These were the moments that went viral, lit up fan communities like Christmas – literally, in one case – and heralded the start of another hectic cycle in the life of Foo Fighters.
Concrete and Gold
Starting with the biggest event, Foo Fighters announced details on the album they'd secretly been working on unbeknown to most fans. Concrete and Gold was recorded at EastWest Studios in Hollywood, California, with Greg Kurstin at the helm, and the location spawned collaborations with numerous guest artists including "one of the biggest popstars in the world" that was to be kept secret for as long as possible (except that didn't last long). The album was released worldwide on September 15, 2017, and became their second album to debut at #1 in the US Billboard 200, hitting the ultimate spot in sixteen other official charts and the top ten in twelve others. At the time of writing, two music videos have been released: 'Run' and 'The Sky is a Neighborhood'.
A bonus track, 'Soldier', left over from C&G recording sessions, was also released on a separate compilation, 7 Inches for Planned Parenthood. The track was made available to stream on Spotify, through which fans could also make mixtapes – a fun little site feature that, for those who spotted it, also hinted at the imminent release of 'Run' – and order a limited-edition black-on-black release of the record.
This album marked the official introduction of Rami Jaffee, a long-time session and touring member, as an official sixth Foo Fighter.
The Wild Ride with Obelisk Airlines
Late in 2016, the band's official website and social media profiles were stripped down, cryptically pointing people to a virtual passport. With only a handful of festival slots confirmed at that point, the hints continued to drop with the evolution of the Obelisk Airlines teaser concept, moving on to an airport flap display with some shows identified and others scrambled. A check-in pop-up referenced the fictional airline where, it transpired, UK fans who received 'golden tickets' in the mail could register with their unique codes and prepare for an 'adventure' to be revealed at a later date. Voracious info-hunters spotted a tweet from Glastonbury organizer Emily Davis, suggesting a headliner announcement was pending and "there might just be a little thing before". It all culminated in a show for the golden ticketholders at the Cheese & Grain, livestreamed worldwide, leading with their official announcement of a headlining appearance at Glastonbury 2017.
The Cheese & Grain show also gave the world its first snippets of what would turn out to be 'Run' and 'La Dee Da'.
Chris Shiflett Released West Coast Town
In April, Chris dropped his latest record West Coast Town, his first as a solo artist. Supported by a North American tour, the album was recorded in Nashville the year prior, took a leisurely stroll between traditional country and contemporary Americana, and garnered overwhelmingly positive coverage in music media.
Virginia Grohl Wrote Book, Won Hearts
On April 25th, Virginia Hanlon Grohl – mother of Dave – released From Cradle To Stage, a collection of testimonials on raising rock stars. A book tour followed, often with her son lovingly at her side, and included an appearance on The Late Show with Stephen Colbert (that naturally had to include Dave jumping in with the Preservation Hall Jazz Band, making up for a story they'd told often on this circuit about the time a young Dave put his name down to jam with another jazz act). The book was warmly received by fans and highly regarded by peers. Virginia has since penned shorter pieces for other publications on the same subject and her gifts for storytelling and sincerity – that which she has undoubtedly passed on to Dave – have endeared her further to the Foo Fighters fan community.
Rocking (ahem) Athens
Foo Fighters made history by performing a live show at the Herod Atticus Theatre in Athens, Greece, a special event for the PBS program Landmarks Live hosted by Red Hot Chili Peppers drummer/longtime friend Chad Smith. The venue dates back to 161 A.D. and was the first rock show of its calibre to be held there – while initially announced as an acoustic, invite-only event (due to concerns from the Central Archaeological Council about the nature of the show and the heavy equipment required), tickets were made publicly available and the show went ahead fully plugged in. The special episode aired on November 10 on PBS and affiliated US stations.
CalJam
The band's first festival (an entire festival, guys) was held at Glen Helen Regional Park in California, with Foo Fighters naturally tying a bow on the big event. Besides the stellar lineup of musical performances, the big drawcards were the Fooseum to end all Fooseums put together by the band and crew, the pop-up water park, and the barbecue where Dave was spotted manning the grill.
As an album release party, Foo Fighters' show was not short on surprises and special guests, with several Concrete and Gold friends hopping up for a jam: Oroducer Greg Kurstin, Alison Mosshart, Dave Koz (whose contributions, as revealed by Taylor in a recent interview, were left out of the final mix but for which he was given a credit anyway), and Inara George. But they were nowhere near finished – reprising their spontaneous mash-up, Rick Astley appeared to perform 'Never Gonna Give You Up', before Aerosmith's Joe Perry – who performed at the original CalJam in the 70s – riffed with them on 'Draw The Line'. The set then went to the next level by inviting Greg and Liam Gallagher to join them on a cover of 'Come Together' – during which Liam leapt into the crowd, fumbled the lyrics but didn't care, and Liam Gallaghered as only Liam Gallagher could.
Dave shared a letter via social media thanking everyone for making CalJam such an extraordinary success, hinting at the possibility of doing it all again sometime – and sure enough, the word got out that CalJam '18 is a go.
Banging on the Ceiling with James Corden
Before the album's release, the band was spotted in a van with The Late Late show host James Corden on the streets of LA, rigged with cameras, a clear indication that a Carpool Karaoke instalment with the band was on its way. On September 20, the episode went to air, with all six members squishing into a van and belting out a selection of hits between obligatory question-and-answer segments with their host/driver/karaoke king. Watch their appearance again here and keep an eye out for Chris looking at his phone for the lyrics to 'Learn To Fly', which he said – after years of playing it – he didn't actually know!
Foo Fighters Arms
Following a cryptic teaser in the band's newsletter, the 'Foo Fighters Arms' pub was unveiled. Situated in the City Of London, the pub served as both a pop-up shop selling British-themed memorabilia and a place for British fans to gather, knock back a few, and enjoy the sights and sounds of their favourite band. Staged in partnership with Live Nation, highlights of the watering hole included 'portraits' of the band in full noble regalia, similarly-themed tea sets, and a Polaroid wall behind the bar. Winners of the trivia night won piles of band swag and although the lines to enter stretched quite far, those who made it in reported that the fan experience was well worth it and new friendships were forged over a cold one (or more).
The Concrete and Gold Tour Began (With A Shaky Start)
The band hit the road again in support of the new album, beginning in Richmond, Virginia on October 14. The early days of the tour haven't been without their mishaps: Dave's vocals took a pounding and laryngitis hampered his performance, yet he powered on with support from Taylor doubling his vocals and the three backing vocalists joining the band on tour (Samantha Sidley, Barbara Gruska, and Laura Mace). Dates were also postponed in Lexington, Memphis, and Nashville due to a family emergency. However, the band took any setbacks like champs and the tour continues into 2018 with several more dates added globally
Vegas, Baby!
It seemed only natural that Foo Fighters would finish off their year by wilding out with fans in Las Vegas with a show at the Cosmopolitan Hotel. On a floor that seemed to double as a giant trampoline, the band and fans danced into 2018 in deservedly high spirits, setting the tone for the year to come with a cover of AC/DC's 'Let There Be Rock'.
Thank you for joining us at FooFightersLive.com this past year and we look forward to bringing you even more Foo Fighters news, shows, and media in 2018 and beyond!